Beach Volleyball
Borger/Laboureur and Mol/Sørum claim their first Queen and King of the Court crowns
Germany and Norway were the winners of the first Queen & King of the Court European Finals after the teams of Chantal Laboureur/Karla Borger and Anders Mol/Christian Sørum secured the women's and men's titles in Utrecht, the Netherlands, on Sunday.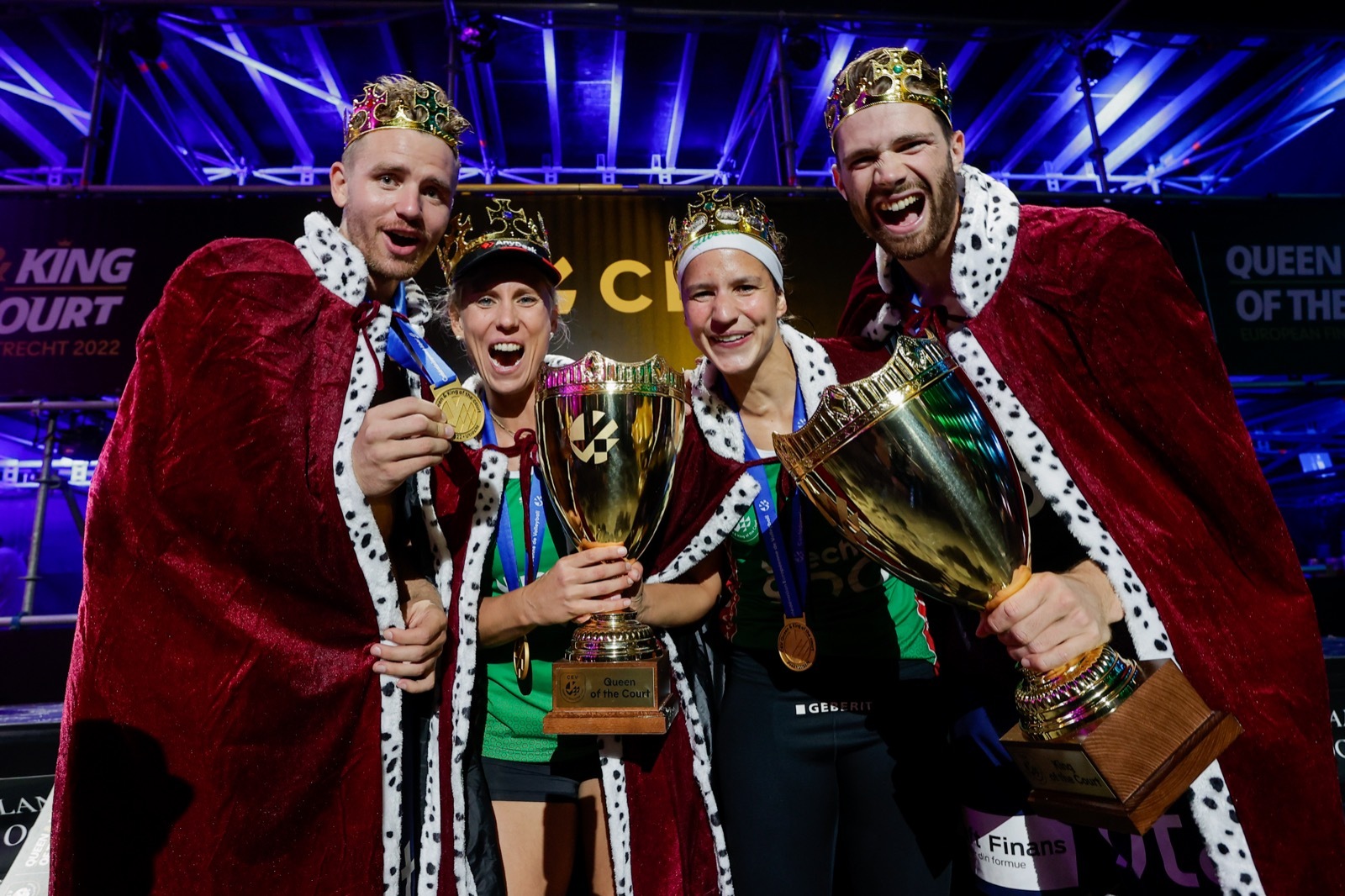 Norwegians and Germans at the podium in Utrecht
Laboureur, who recently announced her decision to retire at the end of the season, and Borger are not partners. The two only joined forces for this tournament and had a memorable Sunday, starting the day in Utrecht on the playoffs and ending it with the crowns on their heads.
The Germans were one of four teams competing for the fifth and final spot in the final and they scored 14 points to overcome Ukrainian twins Inna and Iryna Makhno, who had nine, and Danish Clara Windeleff and Sofia Bisgaard, who got four.
The Germans started the final well, winning the opening round with ten points, but finished third in the second. In the third and decisive series, they scored the same 13 points as Swiss Nina Brunner and Tanja Hüberli, but came out on top because they had a longer stay on the Queen's side.
"We entered the final determined to not look at the clock and play and see what would happen. I felt that maybe it made us play a little more relaxed. I was really exhausted after the playoffs and I wasn't sure how well I'd be able to play. I think we just got into a rhythm, kept siding out and didn't think too much about it. It's funny to win it with Chantal because we've known each other for about 20 years and we've always been opponents."
Karla Borger
German Beach Volleyball Player
The men's final was no less exciting with all three teams keeping their hopes alive until the very last seconds. In the end, Mol and Sørum had the edge, getting to 14 points against ten of their competitors David Åhman and Jonatan Hellvig of Sweden and Kusti Nolvak and Mart Tiisaar of Estonia.
"We didn't have the golden ball today and we were really unsure about how things would play out because it had helped us in every round. We were a little bit nervous and we were behind in all three rounds. It wasn't pretty, but we got the points that we needed to win the trophy."
Anders Mol
Norwegian Beach Volleyball Player
With the victory, the Norwegians become not only the first European King of the Court champions but also the first players to have secured CEV EuroBeachVolley, CEV Nations Cup and European King of the Court titles.