Beach Volleyball
Brunner and Hüberli lead Switzerland to #BeachNationsCup title
After triumphing in the last two editions of the CEV EuroBeachVolley, Switzerland have further established their status as a women's beach volleyball powerhouse in the continent by winning the inaugural A1 CEV BeachVolley Nations Cup on Saturday in Vienna.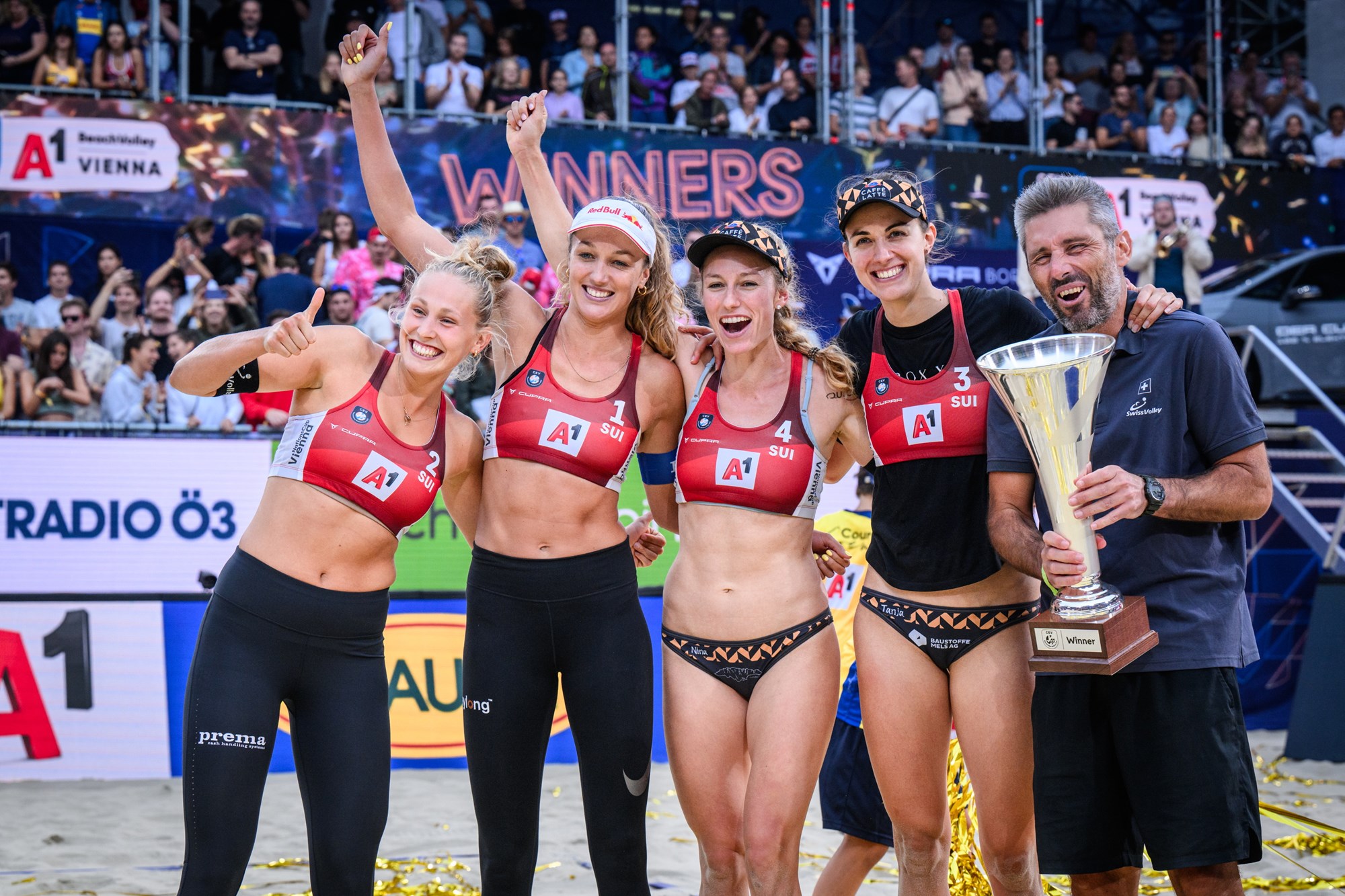 Swiss players pose with the trophy alongside their coach
The quartet of Nina Brunner, Tanja Hüberli, Anouk Vergé-Dépré and Menia Bentele went undefeated during the five days of competition at the Red Bull Beach Arena, overcoming opponents from four other European nations in the innovative country vs. country format to take the title. Germany took silver while Latvia captured bronze in Vienna.
Reigning #EuroBeachVolley champions Brunner and Hüberli, who won the continental title last year at the same venue in the Austrian capital, were instrumental in the Swiss victory against Germany in the gold medal series.
"It was so much fun. We were a little nervous at the end of the second set and we almost gave our lead away. Having our coach on the court on our side was super helpful in that moment. This tournament was so much fun, especially with us retuning to Vienna. It couldn't be any better."
Tanja Hüberli
Swiss Beach Volleyball Player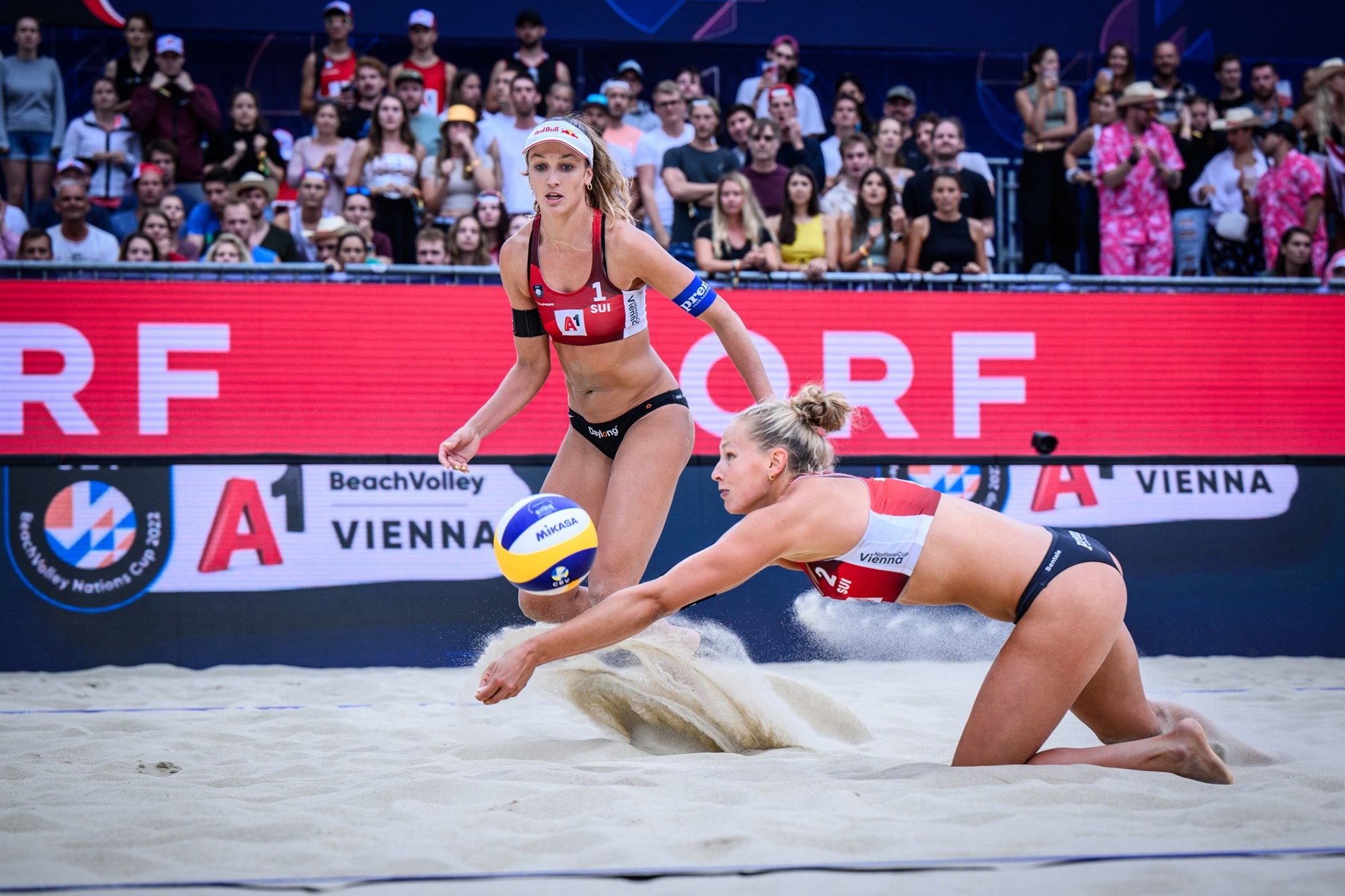 Bentele and Vergé-Dépré in action during their match against Borger and Sude
The Tokyo Olympians had no room for mistakes after Vergé-Dépré and Bentele fell to Karla Borger and Julia Sude in the opening duel between the countries and played spectacular beach volleyball to top Cinja Tillmann and Svenja Müller in two sets and tie the series before downing Borger and Sude 15-8 in the one-sided golden set that determined the champions of the event.
"Germany has two very good teams and that's why they made it to the final. We knew that any of their teams could play in the case of a golden set and we were ready for it."
Nina Brunner
Swiss Beach Volleyball Player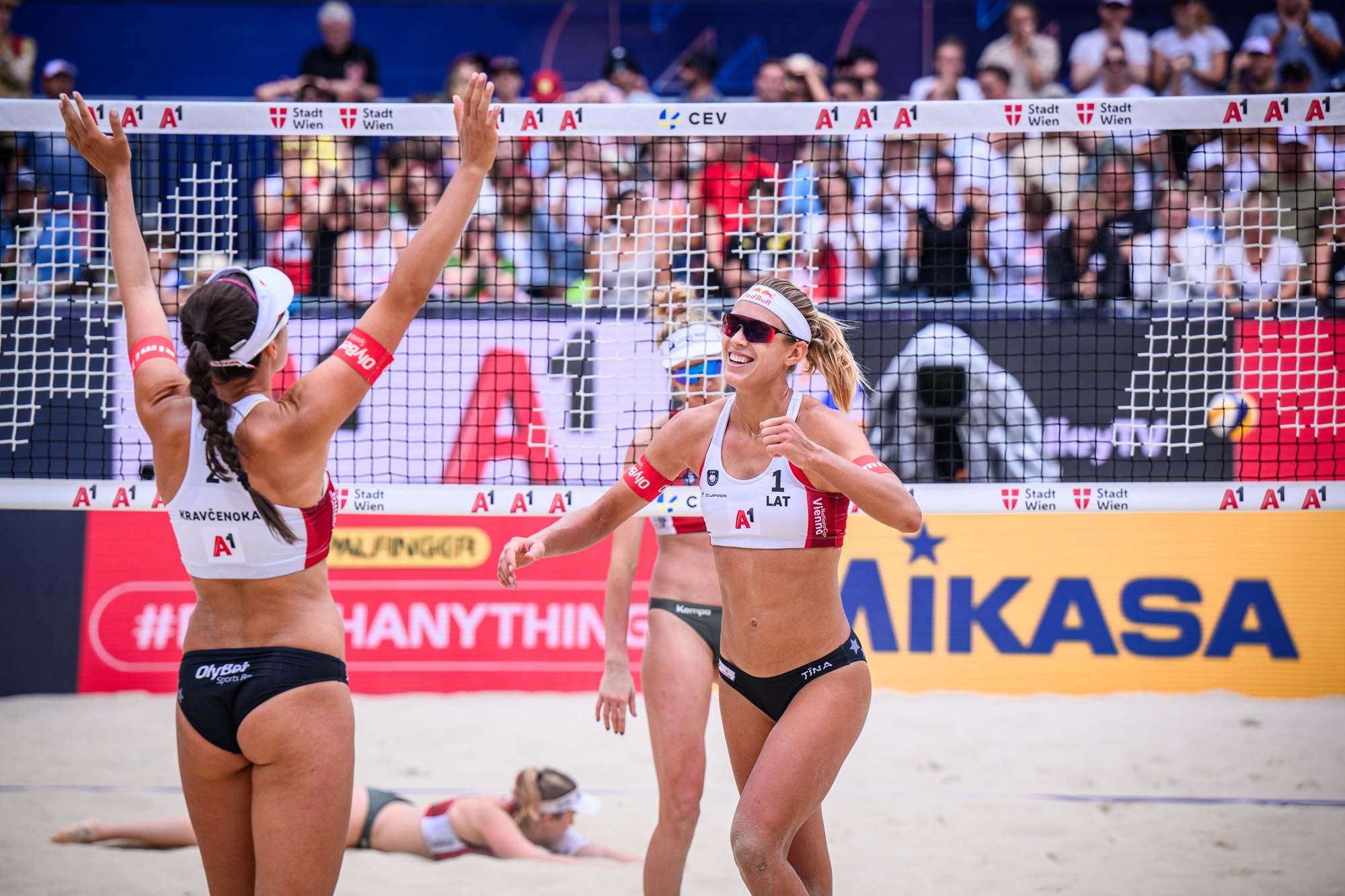 Kravcenoka and Graudina carried Latvia to the podium
Latvia counted on another solid display of young stars Tina Graudina and Anastasija Kravcenoka to win bronze in the first edition of the #BeachNationsCup and also step on the podium in Vienna, leaving hosts Austria empty-handed.
For the third time in the event, the 2019 #EuroBeachVolley champions were able to change the course of a series after entering the court at a disadvantage. In the bronze medal match, they saw teammates Anete Namike and Varvara Brailko fall to the Klinger sisters Dorina and Ronja, but brought their best game to beat Katharina Schützenhöfer and Lena Plesiutschnig in their encounter and in the golden set (15-12) to give Latvia the win.
"Winning the golden set is a big challenge because it's very hard to beat the same team twice in such a short period of time. It's nice to see how consistent we were to do it. It's hard to play Austria in their home court and I'm sorry we frustrated the fans, but I'm also very happy that we won bronze."
Tina Graudina
Latvian Beach Volleyball Player