Club Volleyball
American superstar Kelsey Robinson returns to Conegliano
USA's superstar Kelsey Robinson Cook returns to Italy and more specifically to Imoco Volley CONEGLIANO for a third spell with the 'Panthers' after wearing their shirt in 2015-2016 and for the second half of the subsequent season as well. Robinson has a special place in the heart of the Imoco fans – since she scored the rally that secured the very first national league title for the team back in 2016.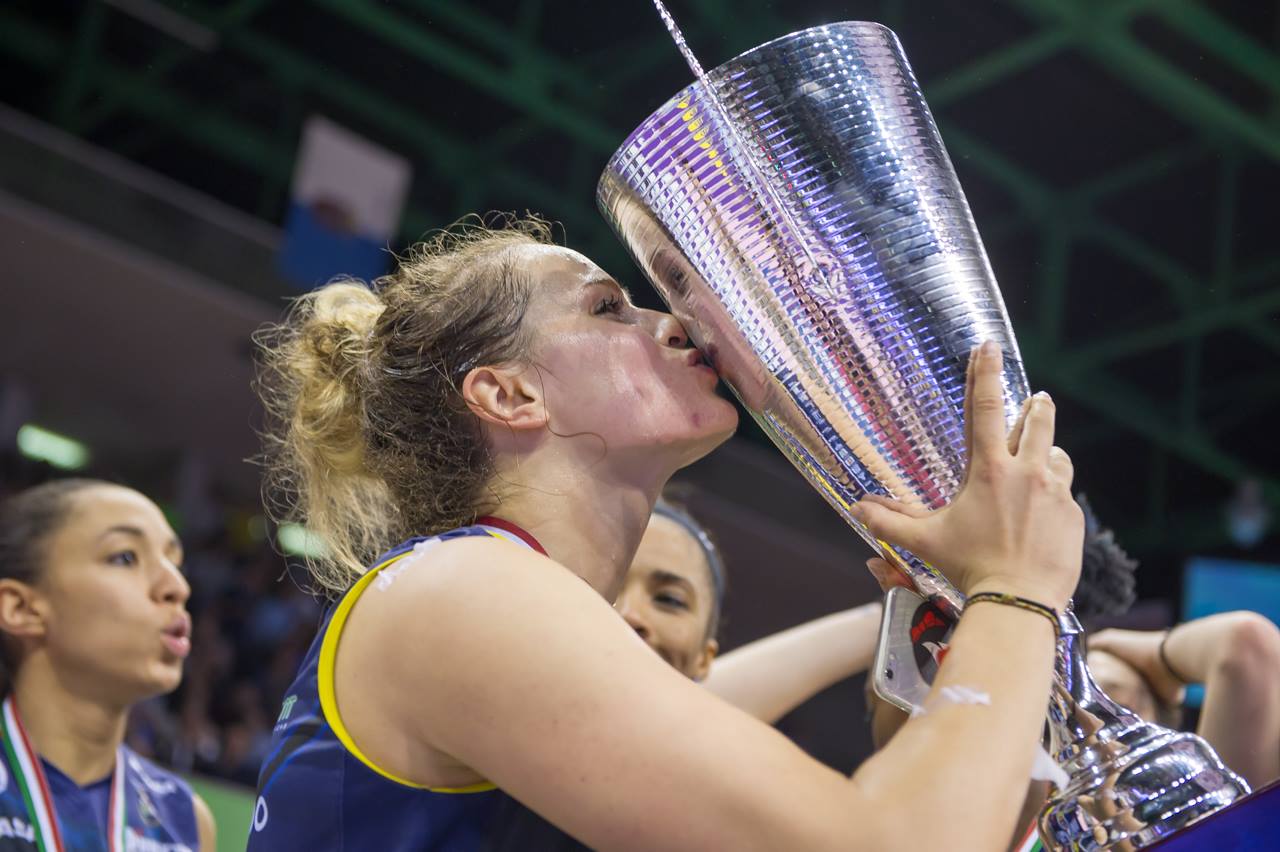 Kelsey Robinson raises the Italian national league trophy at the end of her first stint with Imoco in 2016
The now 30-year-old Robinson played NCAA Volleyball for the University of Tennessee and the University of Nebraska – before she joined the world of professional Volleyball with a first stint abroad in Puerto Rico back in 2015. She eventually made the big move to Conegliano for the 2015-2016 campaign, and the following year she played first in China before re-joining the 'Panthers' for the second half of the club season. Kelsey left Italy to join the ranks of Turkey's standout VakifBank ISTANBUL – securing, among other things, the 2018 CEV Champions League title and the Club World Championship crown that same year. She stayed in Turkey but moved to city rivals Fenerbahce in the summer of 2019 – before returning to China and finishing the 2020-2021 season again at Fenerbahce. This past year, the standout outside hitter played in the Japanese V.League Division 1 with the Toyota Auto Body Queenseis.
After making her debut with Team USA in 2014 at the Montreux Volley Masters, she was instrumental to her national team's gold-medal winning performance at the World Championship held that same year in Italy. A year later, she won the gold medal from the FIVB World Grand Prix, where she received the award for the Best Hitter, the bronze medal at the World Cup and another gold at the 2015 NORCECA Championship. In 2016, she claimed the silver medal from the FIVB World Grand Prix and bronze at the Rio de Janeiro Olympics. Robinson helped USA claim back-to-back VNL titles in 2018 and 2019 – followed by a third gold in 2021 and the triumph at the postponed Tokyo Olympics.
After the Olympics, she married fellow Volleyball player Brian Cook, in a ceremony held in Tuscany, Italy. Robinson is currently playing for Team USA in the VNL – with her side finishing the pool stage of the competition in first place.
"I have always wanted to return to Conegliano and when this opportunity presented itself, I understood right away that it was the place I wanted to be. I have wonderful feelings when I think of the years that I spent with the Panthers, the best memories are certainly the victory of the national league in 2016 and participation in the Final Four of the Champions League in 2017."
"In the following years I played elsewhere. I was extremely lucky to play in strong teams with many talented champions and high goals. Honestly, I never expected to be able to return to Imoco Volley, a special club and a team that has reached the top, but now this combination has come true and I want to give my best. I will continue to work to play at my best with such a talented and ambitious team. Certainly, since I first arrived in Italy I have changed a lot, I was very young and now I have matured both as a player and as a person."  
"I think that after playing so many important matches and events I have become a more experienced athlete. In my private life, I am now married and I enjoy sharing my life abroad with my husband Brian and all the best moments of life while comparing myself with other cultures. However, I missed Italy and the Italian league, which is increasingly competitive and I am happy to return. I hope to have an impact as a player and as a person in the new team. I am available to the coach and staff to help the team in any way I can. As a team, it seems to me that we will be extremely strong and complete. I believe there is all the potential to create a winning group and try to bring home as many trophies as possible! Now this summer I am concentrating with the USA national team to do well in the VNL and the World Championships, then I will be available and I cannot wait to return to play in front of the fantastic fans at Palaverde! I have been missing them in these years and I am thrilled because ... I feel like I am coming home!"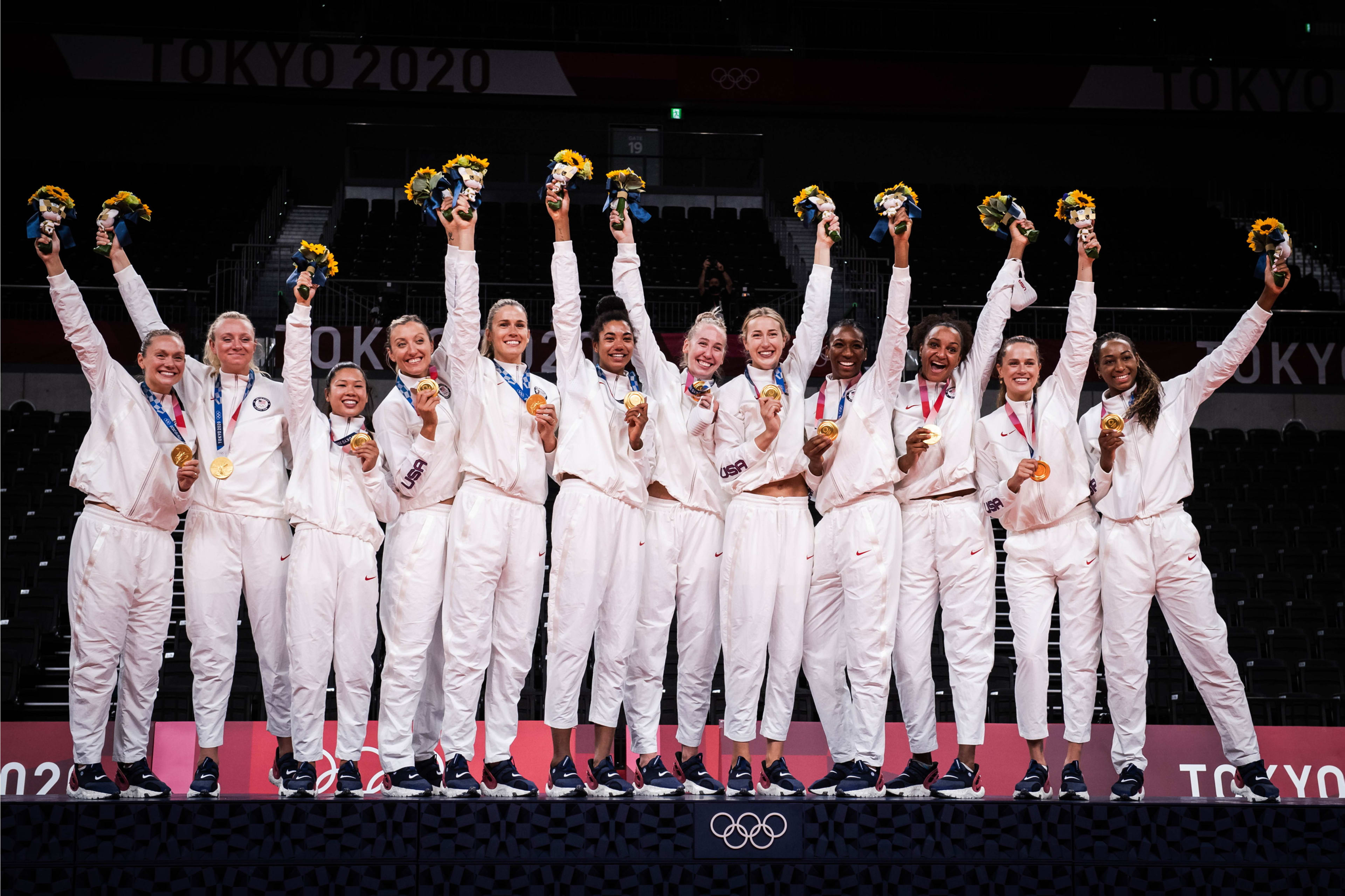 Kelsey Robinson Cook (second from right) triumphed with Team USA at last year's postponed Tokyo Olympics