Features
The Next Big Thing in Volleyball: Emma Cagnin
Author:
Victoria Georgieva
The Volleyball summer was more than successful for the national teams of Italy. And it all began in July. 
The fans of Volleyball will long remember that Sunday of July 17, when Italy dominated on the courts in different competitions - winning the women's VNL, and the EuroVolley in the U18M, U22M and U21W age-groups all in one day. One of the players on this day, 20-year-old Emma Cagnin will have another special motif to think back to this moment as besides winning the Gold at the CEV #EuroVolleyU21W, she was named MVP of the tournament. Emma scored 13 points in the Final against Serbia, and finished with 57% pos. reception. Overall in the competition, she was Italy's second top scorer (after Loveth Omoruyi) with 60 points in five matches (3 pts./average per set). Player of Volley Bergamo 1991, Cagnin might very well be The Next Big Thing in Volleyball, so make sure to watch out for her.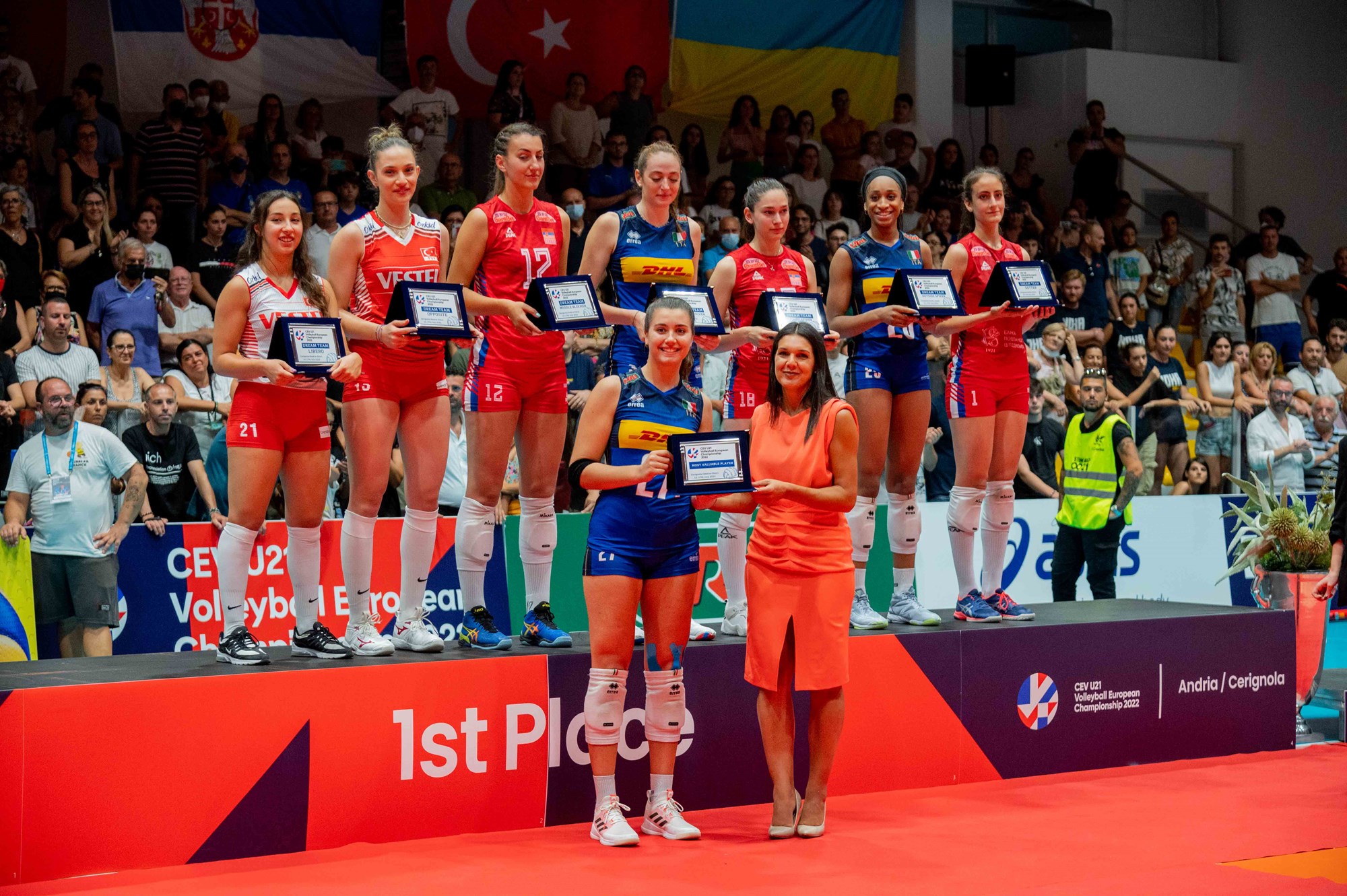 Emma Cagning receiving the #EuroVolleyU21W MVP award
The Beginning
In Emma's family, it was only her uncle whо played Volleyball on a more professional level. However, since her birth, it was clear that she will become a Volleyball player
"My mom had only played in her school years, while my father played football, but he never could explore his career at fullest. While my mom was pregnant, he tried mixed (male and female Volleyball), so partly because he liked it and partly because of his ambition due to his missed sports chances, it was already written that one day I would become a Volleyball player: as a child my mum put the ball in my hand, I even did exercises sometimes!" Emma says.
Going Pro
After trying roller skating and horse riding (which was my real passion, but not the best at an economic level), Emma's Volleyball journey officially began at the age of eight.
Step by step , she started liking the sport, and she was already playing to win. 
"I have never liked the motto "The important thing is to participate" or "Just have fun". As an outside hitter from the beginning, I was always with the older ones to train and to play games. "
Emma Cagnin
"The turning point was in January 2016, when my coach, saw a potential in me, and decided to take me on trial in a more titled team, in Bassano, where I played with U14 until the end of that championship (in the meantime, I continued the U16, U18 and second division championships with my team) . From there, the first good results came, the Serie B and the National team and last, the call of Imoco, with whom at the end of the underage, we managed to win the Italian U19 title," Emma adds.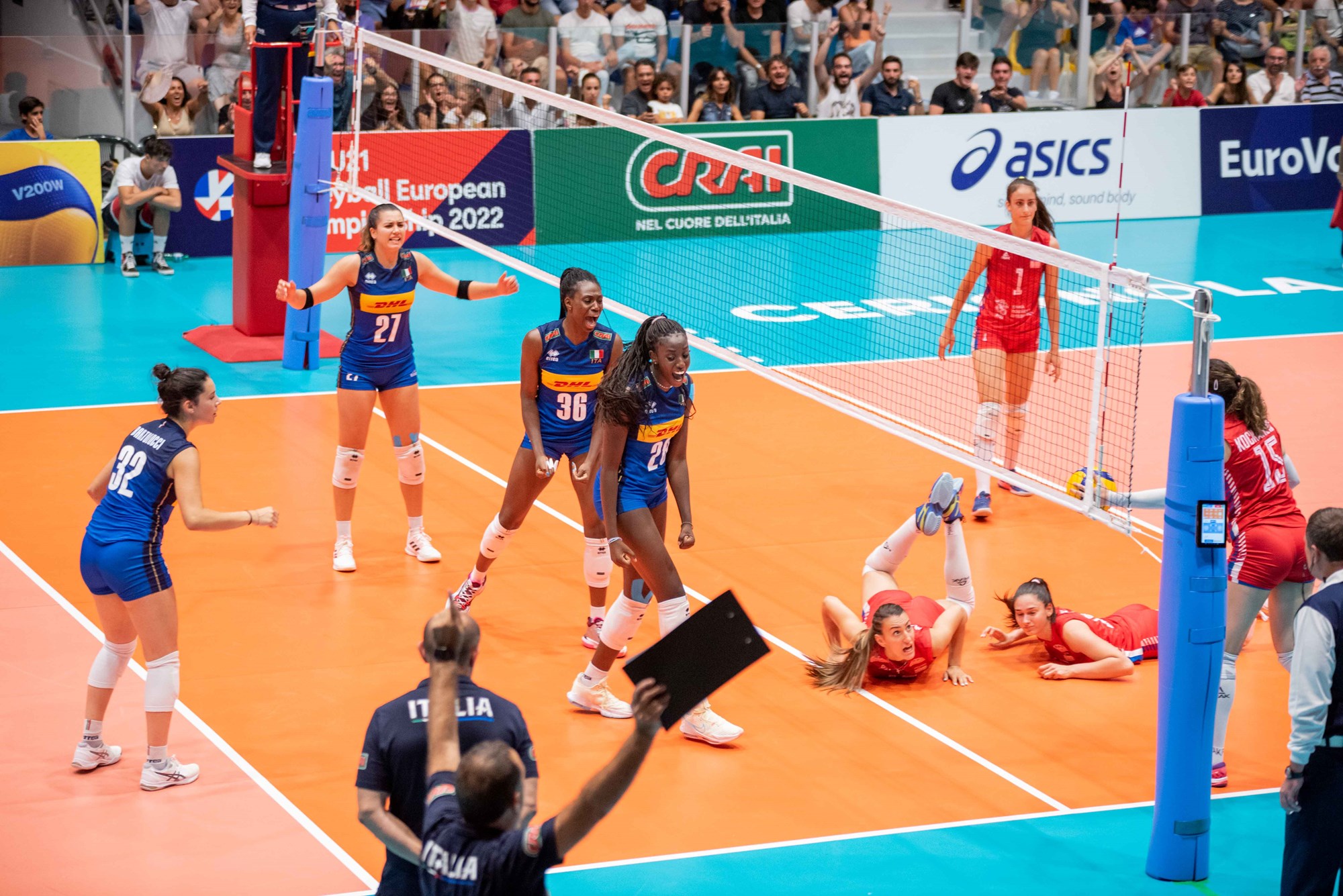 Italy U21W celebrating a point
The National Team
The summer was intense for Emma and her teammates - they had started preparations in April, searching for achieving their best shape for the Mediterranean games and EuroVolley. However, not all the players arrived on time. 
"The U21 competition was a big challenge for us, we practically found our balance in the matches themselves and, I must say, thanks to the harmony that existed, we could deliver our game."
Emma Cagnin
"As for the MVP award, it is certainly a source of great pride for me. I really appreciate that the sacrifices I had made and the total dedication I put into what I do, have been recognized. My parents and my experiences have taught me that hard work and humility pay off, and remembering where you come from is essential. But let's remember that I'm not alone on the court, I wouldn't do much without my teammates," Emma states.
Volley Bergamo 1991 
Emma is part of Volley Bergamo 1991, but before that, she played in the last years in the A2 Serie with Montecchio Maggiore. 
"After that, I joined the A1 with Bergamo, a historic club where I was able to enjoy many great moments on and off the court. I hope that this season, also given the very young roster, will bring us surprises and satisfactions."
The Inspiration
Cagnin confesses that she doesn't have anyone specific that she looks up to. 
"I try to make my own list of characteristics that I admire in some players, especially in terms of professionalism, character and game solutions."
Emma Cagnin