Officials
How To Attend

8-mi Septemvri b.b., SKOPJE, 1000 Capacity: 6000
Team
Team Profile
NORTH MACEDONIA

Address
K.K. "Rabotnicki" BB. - P.O. Box 118 SKOPJE
Team Schedule
Previous Games
Team
Staff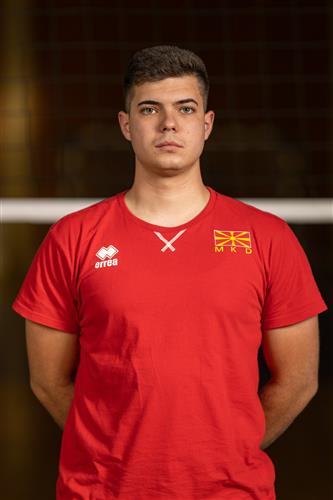 Gallery
Disclaimer
Photos featured on the CEV Photo Galleries are downloadable copyright free for media purposes only and only if CEV is credited as the source material. They are protected by copyright for all other commercial purposes. Those wishing to use CEV Photo Gallery photos for other commercial purposes should contact press@cev.eu
Match Report
NORTH MACEDONIA v ROMANIA

Article
From the first whistle at Boris Trajkovski Hall in Skopje, it was obvious that the game between North Macedonia and Romania would be a big battle. The teams fought extremely hard for every ball, and the result was changing back and forth. The hosts prevailed in the opener, but Romania bounced back in the second set. A charismatic captain of the home team, Nikola Gjorgiev was a true leader, not only delivering the highest number of points (however, he topped the scorers chart with 25 points - 7 more than the best scorer of Romania - Alexandru Rata), but also motivating the team in tough moments. Once Filip Savovski amazed with his performance on block - scoring only in this skill six points. Also, this element made the biggest difference in the match (13-8), next to own errors (Romania committed 31 mistakes, North Macedonia 25). With great team efforts, they managed to make up a three-point gap in the 4th set to prove better in the decisive part of the set and celebrate with the home crowd their second win in this campaign.
Read more
The match in numbers
Points
The combined total number of points scored by both teams throughout the entire match.
Duration
The total length of the match, from the first serve through until the last point has ended.
Spectators
Total number of people in attendance at the venue – taken at the end of the second set.
Match Spikes
The combined total number of successful spikes achieved by both teams throughout the entire match.
Reception Level
An average of the two team service reception percentages from the complete match.
Net Domination
The number of successful point winning blocks of NORTH MACEDONIA compared to ROMANIA.
Ace Count
NORTH MACEDONIA number of service aces compared to ROMANIA
Error Difference
Errors leading to points of NORTH MACEDONIA, next to those from ROMANIA