Information
Games of the Small States of Europe
The Games of the Small States of Europe was created following a proposal from Malta in 1985. Since the inaugural edition held that same year in San Marino, the European Olympic Committees have run a multi-sport event for the 9 countries in the European continent that have less than one million inhabitants.
The 2021 edition due to take place in Andorra was cancelled as a result of the coronavirus pandemic. Therefore, Malta is due to host the next edition of the GSSE in 2023.
Get more
---
The countries that compete are Andorra, Cyprus, Iceland, Liechtenstein, Luxembourg, Malta, Monaco, Montenegro and San Marino. It takes place every 2 years in cities that are appointed from within the participating countries. Volleyball first entered the Games in 1987 with a men's Volleyball tournament, while Beach Volleyball joined the Games in 2005. 
The current included sports are: Athletics, Basketball, Beach Volleyball, Cycling (road), Gymnastics (artistic), Judo, Shooting, Swimming, Table tennis, Tennis and Volleyball.
Beach Volleyball Honours List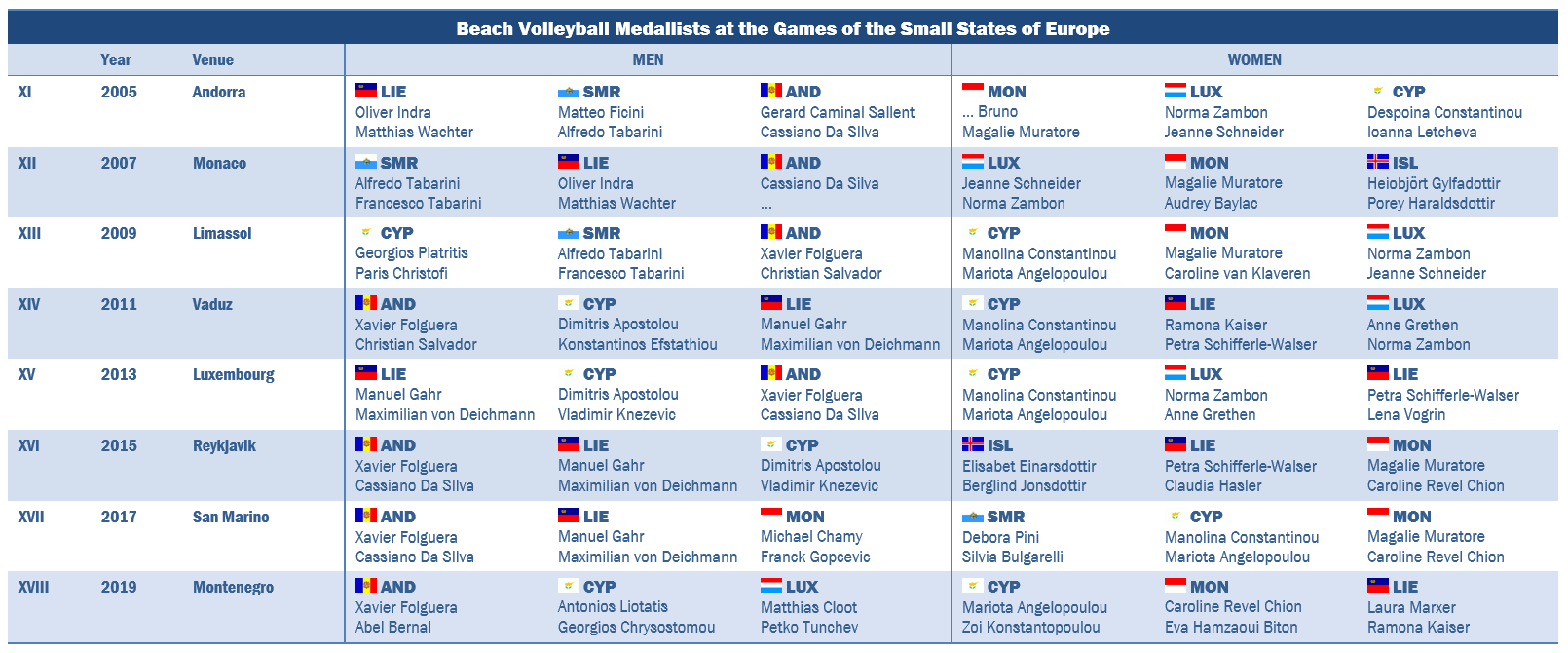 Monaco (1987)
Cyprus (1989)
Andorra (1991)
Malta (1993)
Luxembourg (1995)
Iceland (1997)
Liechtenstein (1999)
San Marino (2001)
Malta (2003)
Andorra (2005)
Monaco (2007)
Cyprus (2009)
Liechtenstein (2011)
Luxembourg (2013)
Iceland (2015)
San Marino (2017)
Montenegro (2019)