Features
Tillie and Sammelvuo living their Olympic dream
Laurent Tillie and Tuomas Sammelvuo are coaches who stand behind the Tokyo 2020 success story of France and ROC, respectively. And without a doubt - no matter what will be a result of the gold medal match on Saturday - for both of them reaching the Olympic final is a milestone in their coaching careers. Although their road to this accomplishment is completely different, they both are making their big - or maybe even the biggest - dream coming true right now at the Tokyo 2020 Olympic Games.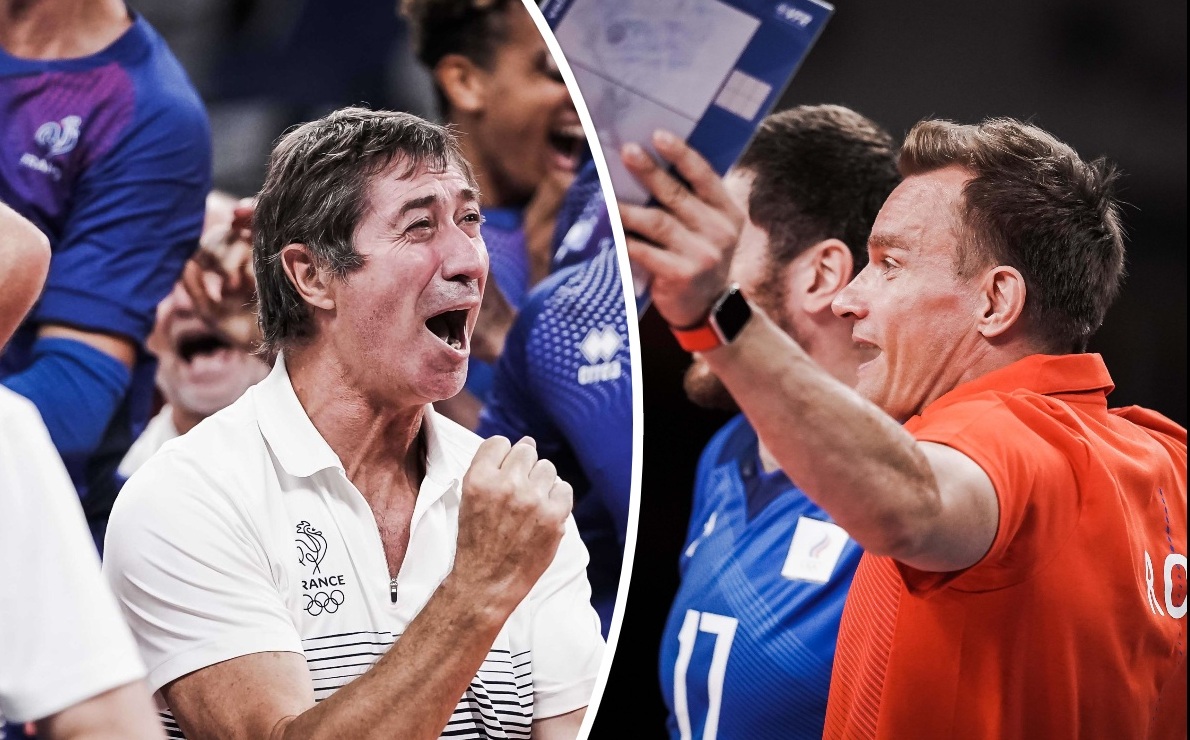 Coaches Laurent Tillie and Tuomas Sammelvuo reacting emotionally during the Tokyo 2020 Olympic Games (Photos by Volleyball World)
A Finish head coach of ROC, Tuomas Sammelvuo can boast of an impressive club career, as a player he competed for the clubs from all around the world. He represented the national team of Finland in as many as 296 games, but never performed at the World Championships or Olympic Games. After his retirement as a player, he became a head coach of his native team in 2013, leading them to their first performance at the World Championships after 32-year-absence. But after five years with team Suomi, he was given a much bigger mission. In 2019 he was appointed a head coach of the Volleyball power house Russia and that gave him an opportunity to reach his greatest dreams.
"It's a long journey to get to the Olympics. It's been a dream of mine since I was eight years old and watching the 1984 Los Angeles Opening Ceremony with my father. We were lying on a mattress in our cottage in Finland watching on TV. I was fascinated."
Tuomas Sammelvuo
head coach of ROC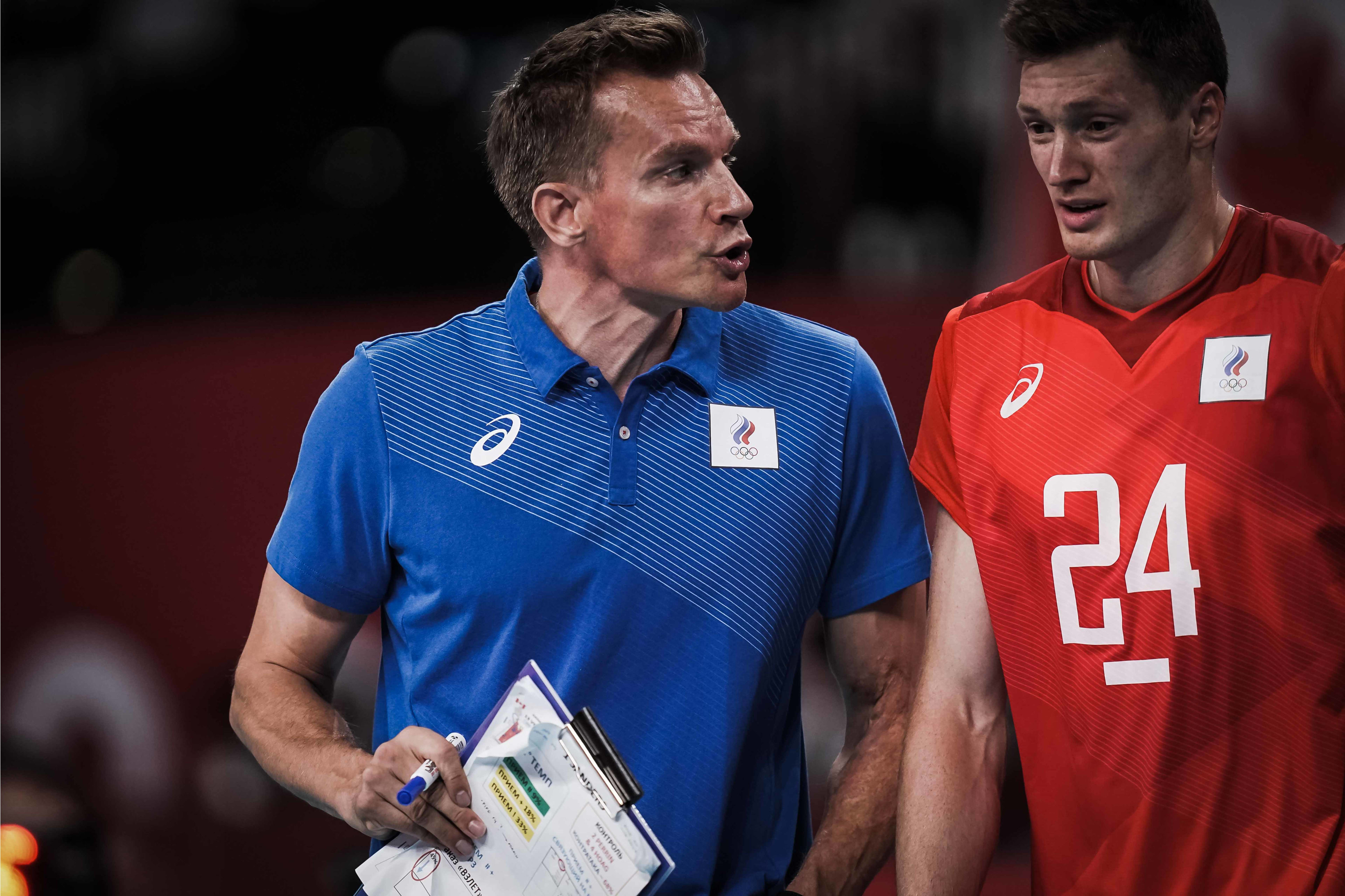 Coach Tuomas Sammelvuo giving advices to ROC's captain Igor Kobzar (Photo by Volleyball World)
"My Olympic dream, from my youth years, was one of the most significant reasons why I decided to become the head coach of Russia after receiving the invitation. Now that it's coming true, it's an insanely hard thing for me to realise. Even when I arrived in Tokyo, it took me a few days to get used to it and to realize how incredibly long this journey has been, but obviously chasing a dream has its heavy price," Sammelvuo said in an interview for Finish newspaper Ilta Sanomat. By reaching the final of the Olympic Games, the 45-year-old coach not only made his dream coming true, but also became the most successful Finish head coach in any team sport, as so far it was a title that belong to basketball coach Henrik Dettmann who led Germany to silver medal at 2002 World Cup.
"The Olympics is such a thing that you always put everything in it. We have great players, and that's probably the most important thing. It's just awesome and I'm proud to be able to coach players like them. The Olympic final is a once in a lifetime chance. It's awesome to be here, still. Now we get ready and enjoy it, and do all the other analysis then after the tournament."
Tuomas Sammelvuo
head coach of ROC
The story of Laurent Tillie is totally different. He competed at the Olympic Games as a player himself twice - in the French Olympic debut at Seoul 1988 and at Barcelona 1992. During his successful playing career with 406 caps in the national team, he won a silver and bronze medal won at the EuroVolley. 57-year-old Tillie has been at the helm of the French team since 2012, leading France to the most sizable and illustrious achievements, including two victories in the FIVB World League (2015 and 2017) and European crown in 2015, but it's Olympic glory to last forever. His team achieved the semifinal for the first time ever, winning it they have already secured their maiden Olympic medal, the last question is if they will come back home with silver or gold. "It is an immense happiness for the French Volleyball, for all my playing companions like Fabiani, Jurkowitz, Faure, Bouvier, Mazzon and others. This final, it is a result of the investment and efforts they did forty years ago," started his statement for the French Volleyball Federation (FFVB).  
"It took us longer than basketball and handball teams, but we finally advanced to the final and it's true, it's magic, it's a beautiful story for me, because it was somehow a little improbable to dream of playing at the Olympic final at the end of the cycle."
Laurent Tillie
head coach of France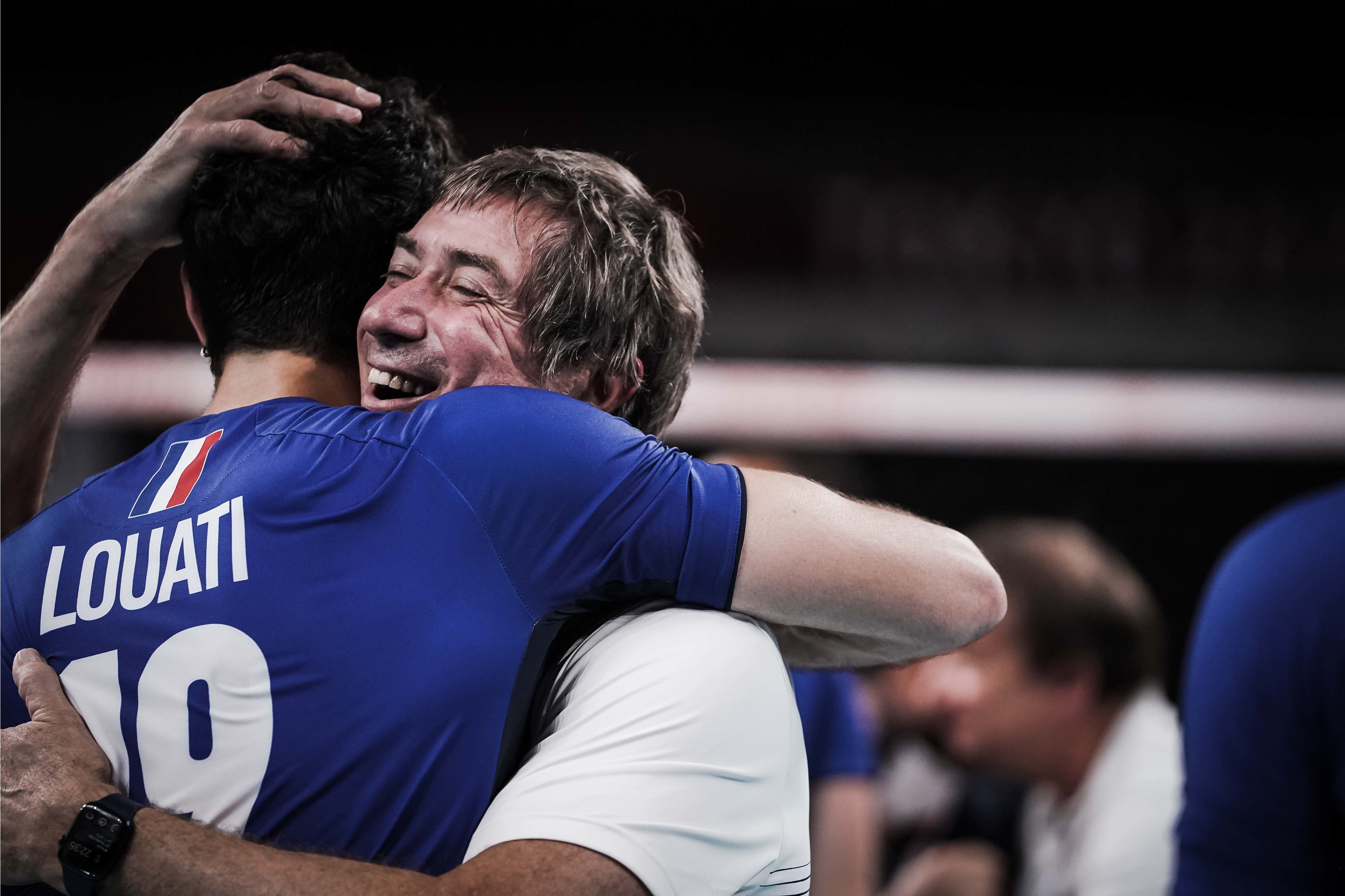 Coach Laurent Tillie embraces Yacine Louati after winning the semifinal (Photo by Volleyball World)
Already in April 2021 it was announced that the Tokyo 2020 Olympic Games will be his last tournament as a head coach of France, even at the EuroVolley 2021 later this summer, the team supposed to perform under guidance of Bernardo Rezende, but the legacy of Tillie will last and all what he achieved with his team creates a stunning story of success.
"We were in eight semifinals of the major tournaments in the last eight years, there have always been a lot of sacrifices and a dream to play in the Olympic final. It's the greatest Volleyball team which we have seen so far....
...Achieving such results playing against ROC, then Brazil, Poland is outstanding. When I took the helm of the French team, the goal was to be part of an Olympics, a four-year cycle, there were a lot of sacrifices to build a common history."
Laurent Tillie
head coach of France
The men's all-European gold medal match at the Tokyo 2020 Olympic Games is scheduled on Saturday at 14:15 (CEST).