Tokyo 2020
Volleyball Women 360°
#TakingtheStage
By Zuzanna Dulnik & Matt Rogers
Day 16 | Bronze it is, then!
Serbia finished the Olympic Games on a high note, after winning the bronze medal against Korea! The women's tournament was the last out of all volleyball competitions to still continue on Sunday as the Olympic Games are slowly coming to an end. USA became the Olympic champions after beating Brazil in the final. Serbia completed the podium as the only European team that survived the quarterfinal phase.
Serbia repeated their result against Koreans from their preliminary round clash and won the match in straight sets. Tijana Boskovic, who was named the Best Opposite in the Olympic Dream Team, led the team once more and led the scoring board with 33 points. Korea's captain Kim Yeon Koung scored 11 points for her team.
Both scores allowed Tijana and Kim to solidify their positions in Best Scorers statistics, with Boskovic keeping the leader position after scoring 192 points across the entire competition. Yeon Koung jumped to second position with 136 points overall. The third position is still held by Italian Paola Egonu, despite the fact that the team lost in the quarterfinal. Egonu brought her team 126 points across six matches.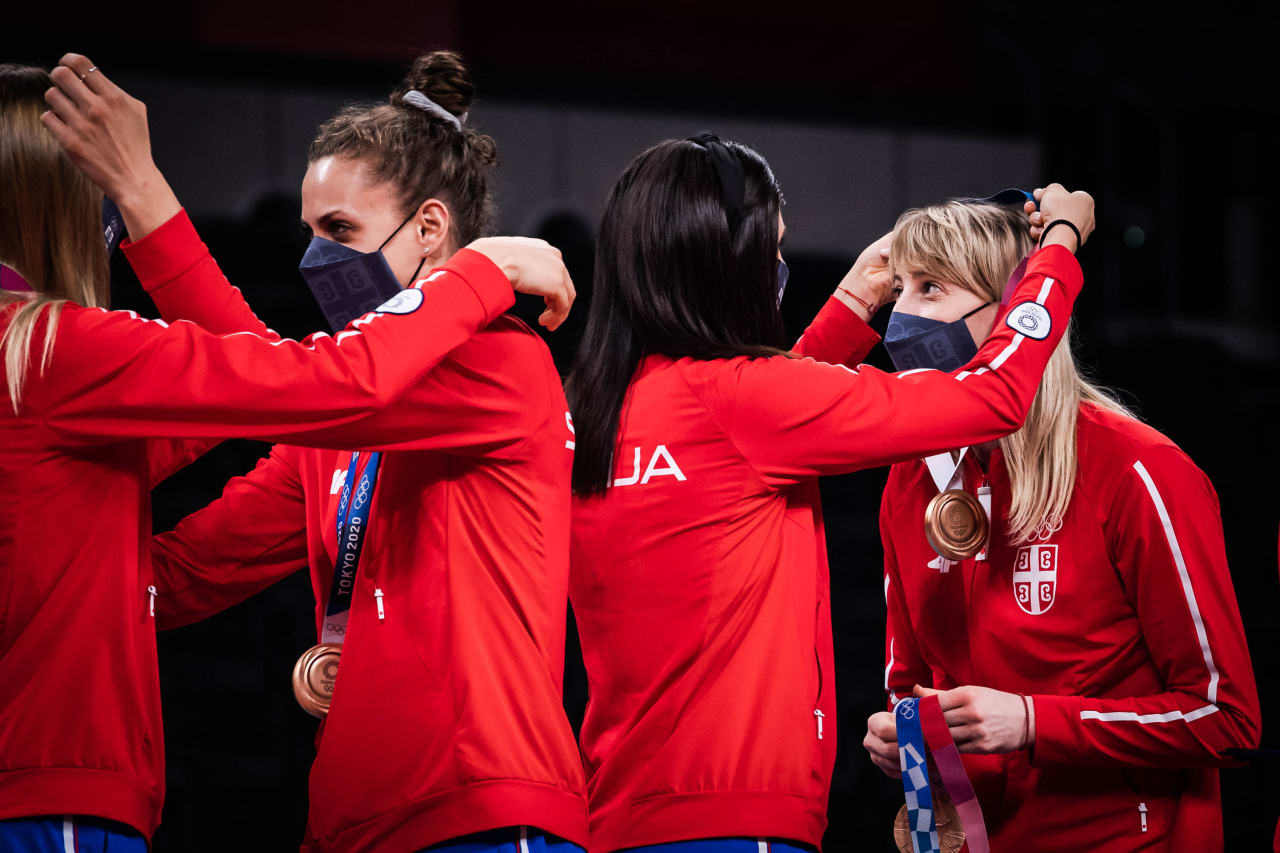 [Photo by Volleyball World]
Boskovic kept her top position among Best Attackers with 165 winning spikes, while Kim Yeon Koung is second with 122 winning spikes. Paola Egonu completed the top 3 with 110 winning spikes. Tijana's serving performance against Korea helped her to climb up the Best Servers ladder to second position after scoring 12 aces. ROC's Arina Fedorovtseva was the top player in this statistic with 13 aces, while Egonu was once again in the third position, having served 8 aces for Italy.
Tijana Boskovic and Kim Yeon Koung had a lot to say about each other after the match. Both players know each other well form their two-year spell in the Turkish League and they extended the praises after the bronze medal match. "We all know who Kim is, one of the best players in the world. I had the chance of playing two seasons with her at Eczacıbası and also against her in the national team. I really enjoy watching her because she is an incredible player. I wish her good luck.", said Boskovic when asked about Kim.
"Serbia did a great job overall in every part of the game. They pressed us on offence and we couldn't contain Tijana Boskovic. The result is disappointing. We wanted a medal so we are quite sad. But Serbia deserved it," Kim shared an honest opinion after the match.
"If you want to make good food, you need a lot of things but quality and tasty things, correct? If you want to make a good team, you need very quality players. And we have very quality players, it's our luck. Plus, those girls, they always play for the national team, they never say no, and this is one of the reasons why we keep getting so many medals."
Zoran Terzić
Coach of Serbia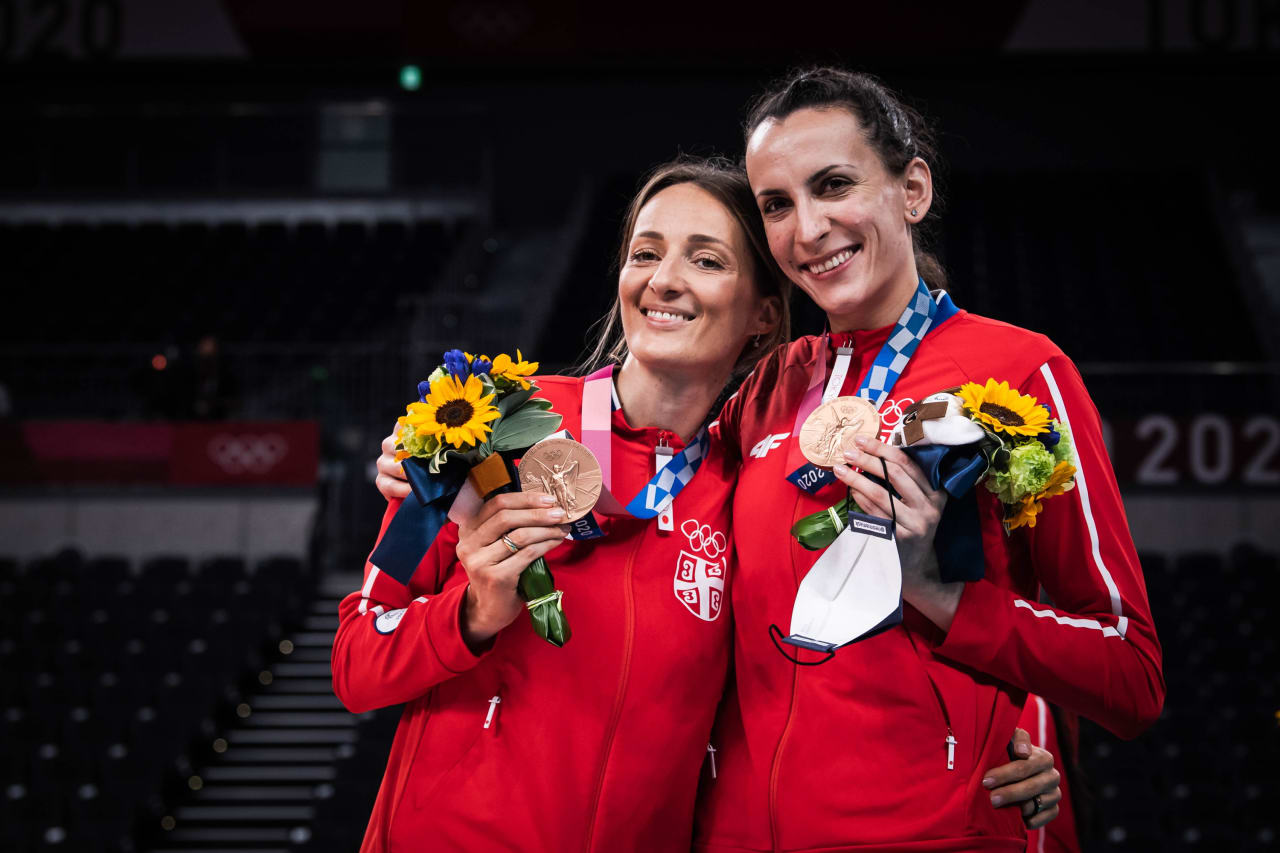 Maja Ognjenovic and Milena Rasic - two veterans of the Serbian team. [Photo by Volleyball World]
"We are here about 25 days. It's a big period and I can't wait to be back home and celebrate with family and friends. They are all waiting for us."
Maja Ognjenovic
Captain of Serbia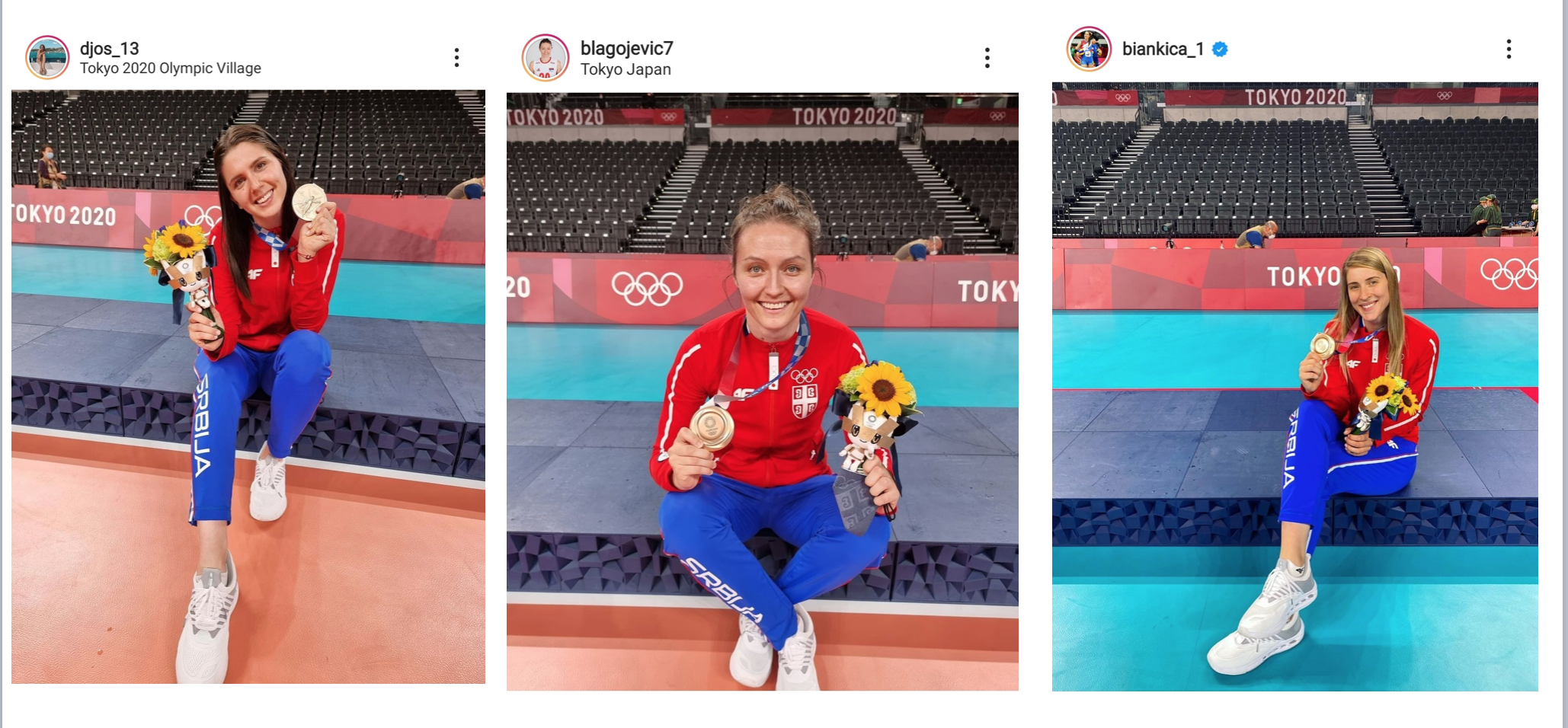 [By Instagram: @djos_13, @blagojevic7 & @biankica_1]
Day 15 | Calm before the storm
This is the last day of break for women's volleyball teams in Tokyo 2020. On Sunday fourth teams will compete to stand on the podium of the Olympic Games. USA will be facing Brazil in the gold medal match, while Serbia will be fighting for bronze against Korea!
Serbia experienced a tough loss on Friday, after a straight-set defeat to USA in the semifinal. Both teams have met in the semifinal in Rio 2016, when it was the Serbian team who finished victorious. This time around Americans gave Serbia no chance to repeat that result. While Serbia lost the possibility to beat their silver medal from last Olympic Games, they are hoping to bring home the bronze.
Serbian player Sanja Bursac shared a motivation Instagram story in support the team. "For us you are already winners! we keep going", she wrote in a snap that was shared by Jelena Blagojevic.
"We will do our best to gather energy, and play the match for the bronze medal the best we can.", said Tijana Boskovic ahead of the bronze medal game. She is currently the top scorer of the competition with 159 points so far.
Korea was the reason behind Turkey's departure after quarterfinals. The team beat Turkey in five sets and move onto facing Brazil in the semifinals. Korea also lost their semis in straight sets and are just as hopeful to succeed on Sunday. "Of course we did our best but Brazil is a very strong team and hard to defeat. But at the same time, it's not the end of the tournament. We still have a bronze medal match and we'll give our full effort to try to win that. I look at the next match as a whole new chance. It's not over so I'll prepare with a whole new attitude and we will try our best to win the bronze medal.", said Korean outside hitter Jeongah Park.
During preliminary round in Pool A Serbia managed to beat Korea in straight sets. 
Both teams met earlier this year at Volleyball Nations League, when Koreans beat Serbia in four sets.
The Bronze Medal match will take place in Ariake Arena on Sunday 8th August at 00:00AM GMT.
Day 14 | Many happy returns!
On Wednesday we have said goodbye to Italy, ROC and Turkey, who unfortunately lost their quarterfinal games. Serbia was the last women's European team standing in contention at the Olympic Games in Tokyo 2020, but they too have experienced a heartache today. Serbians faced USA in the semifinal, but unlike in Rio 2016, they lost against Americans. While Serbia will be preparing to fight for the bronze medal, other Europeans met a warm welcome back at home.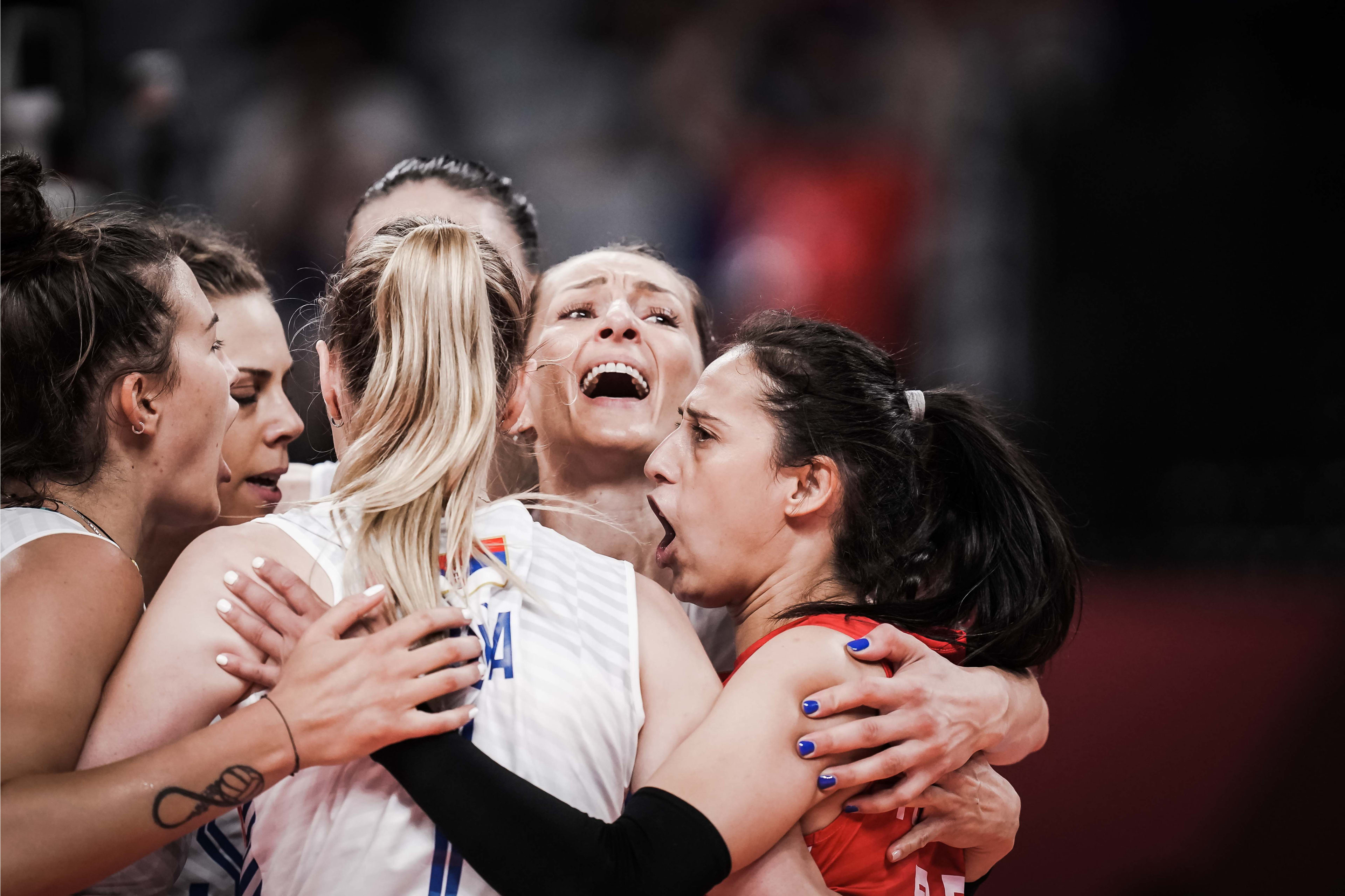 [Photo by Volleyball World]
It was a bitter pill to swallow for Serbia, who had a great Olympic campaign thus far. But their performance was not enough against USA, who dominated throughout the entire match. "We're disappointed. We were not playing at our normal level at all. The passion was there but our game was not functioning. We will move on. The bronze medal is also a win for us", said Tijana Boskovic after the match. Her teammate Jelena Blagojevic is also trying to remain hopeful, sharing some snaps of Serbia's fans wishing the team to bring home a bronze medal.
ROC's star Nataliya Goncharova have made it home, following her team's loss in the quarterfinal against Brazil. The player shared a photo of her dog guarding her suitcases after she came back home. The puppy either wants to make sure she won't be going anywhere anytime soon or is keen to join her for the next journey. We hope for the latter, we can look after him when Goncharova and her team compete at EuroVolley later this year!
Turkish Volleyball Federation prepared a surprise welcome for the Turkish team upon their arrival at the airport. Turkey recorded their best performance yet in the history of Turkish volleyball, after finishing 5th at the Olympic Games. Turkish Volleyball Federation president Mehmet Akif Üstündağ praised the team upon their return: "On behalf of my whole country I congratulate the coaching staff and players, as they are the pride of this country. We see how far Turkish volleyball have come. Now we have come to an environment where being 5th in the Olympics, 2nd in Europe and 3rd in the Nations League makes us sad. I can tell you how proud we are of this team. We will get back together and prepare for the European Volleyball Championship as soon as possible and I believe that we will achieve the best level there as well."
Day 13 | Time to say goodbye and to cheer for the countrymen and women!
While Serbia prepare for the semifinal against USA tomorrow, three women's European volleyball teams have finished their journey at the Olympic Games in yesterday's quarterfinals. Turkey, ROC and Italy began to share goodbyes to Tokyo, while some focused on cheering for other Olympians from their countries to carry on in their own competitions.
Turkey team and coaching staff posed for the last photos by the iconic Olympic rings in the Olympic Village. Turkey finished their historic journey in the competition after qualifying to the quarterfinals for the first time in history of both women's and men's Turkish volleyball. Following their loss to Korea on Wednesday, Turkey finish as 5th placed team in the tournament.
Some players from ROC team spent their last moments in Tokyo supporting their countrymen as ROC men's volleyball team competed in the semifinal against Brazil. ROC won the match accompanied by an applause from the likes of Irina Koroleva and Arina Fedorovtseva. After the match Koroleva posed for a photo with fellow-middle blocker Ilyas Kurkaev and scoutman Ivan Pukh.
Alessia Orro also took a snap by the Olympic rings ahead of their return to Italy. "Sad to finish competition without a medal, but still honoured to have been here! Thank you to people who have supported us on this beautiful journey!", she wrote in her Instagram post.
Brankica Mihajlovic shared a story to give thumbs up to fellow-Serbian teams at the Olympics. Serbian women's basketball teams won in their own quarterfinal on Wednesday, beating China 77-70. They will be competing against USA in the basketball semifinals on Friday, just like Brankica and her team! Serbian men's water polo team have also won in the quarterfinal, beating Italy 10-6. They will also play their semifinal on Friday, facing Spain.
Serbia is the only women's European team to remain in the volleyball competition. Their semifinal against USA will take place on Friday 6th of August at 4:00AM GMT.
Day 12 | Brutal quarterfinals for the European teams
The quarterfinal phase at the Olympic Games can be brutal. Following the five-match long preliminary round eight teams go into do-or-die sets of games. Following the quarterfinal draw announcement on Monday, we knew that at least one European women's team will make it to the semis - the winner of a clash between Serbia and Italy. The best case scenario would have had three Europeans teams among the top four, if Turkey and ROC won their own matches. But the sport can be brutal and reality came knocking on the door of three teams, leaving Serbia as the only team with a chance to grab Olympic medal in Tokyo 2020.
Turkey were the first European team to play their quarterfinal as they competed with Korea. The Turkish team made a history prior to the game, as they were the first volleyball team, men's or women's, to make it this far in the Olympic Games competition. The euphoria that would have followed if they made it into the medal zone… we can't even imagine it! But Koreans were living their own Olympic dream as they fought to extend their chance for the first Olympic medal in 45 years. Their only medal was a bronze won against Hungary at Montreal 1976. While Turkey's dream ended earlier than they would have hoped, coach Giovanni Guidetti shared a heartfelt message on Twitter, acknowledging his team's immense effort.
It's a tough pill to swallow for vice-world champion, Italy, who performed very well in the pool phase of this competition. To face their world championship gold medal match opponent was not an ideal situation, but players of both teams know each other perfectly well form international and club courts. Italians couldn't find a solution to Serbia's game and for the fourth time in history lost in the quarterfinal phase of the Olympic Games.
"There is little to say, we are all sorry to leave the Olympic tournament in this way. With the chapter closed there are many things that could have been better, but the group has always believed in it, even if we have not been able to show our volleyball. This is no excuse but we are a young team and I like to think that this is an experience from which we can gain strength for the future. I would just like to ask people to continue to trust us, because now it hurts us so much, but we will do our best to get up ", Ofelia Malinov told Federvolley.it after the match.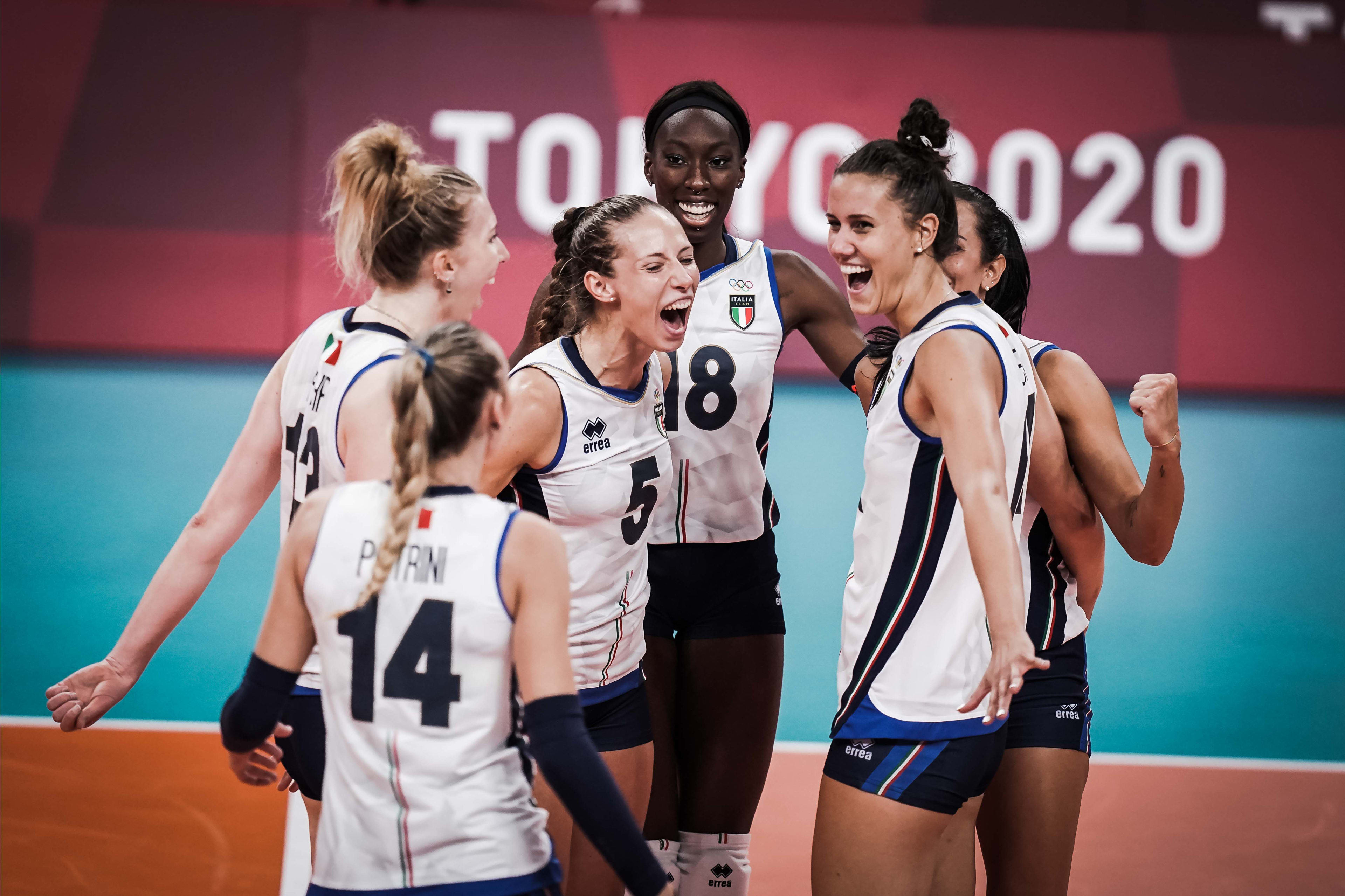 [Photo by Volleyball World]
Serbia are the only hope for Europe to win an Olympic medal now! Tijana Boskovic led the team once again as they claimed a straight-set win with Italy. Serbians have one Olympic medal so far, the silver from Rio 2016, when they lost to China in four sets. What's interesting about their journey in Rio is that Serbians got to the final after winning the semis against USA… who they will meet again on Friday in the exact same phase of the event! Can they not only repeat their semifinal result against the Americans, but top their own achievement from Rio 2016 and bring home the gold? Let's hope so!
Following the results of first two games, ROC were the last hope to expand Europe's representation in the semis. And at first it looked like they may have a good chance to get past Brazil and onto the medal zone. But Brazilians have put on the fourth gear, chasing a 10-15 gap to win the second set. It was a key point of the game as Brazilians did not let the lead down, making it to the quarterfinal in four sets. This is the fourth consecutive Olympic Games where ROC did not make it to the semis. Their last success was at Athens 2004 where they won silver medal. Back then they reached the final after a dramatic semi against Brazilians. In the most recent Olympics, Rio 2016, it was the Serbian team who stopped ROC in the quarterfinal.
Day 11 | Calm before the storm… European teams are gearing up for the quarterfinals!
Quarterfinals are almost here. There is no time for missteps now, because any mistake can cost you your Olympic dream. The victory puts you in the chance for a medal, the loss means an absolute game over. The true drama of Olympic Games for the women's competition starts tomorrow…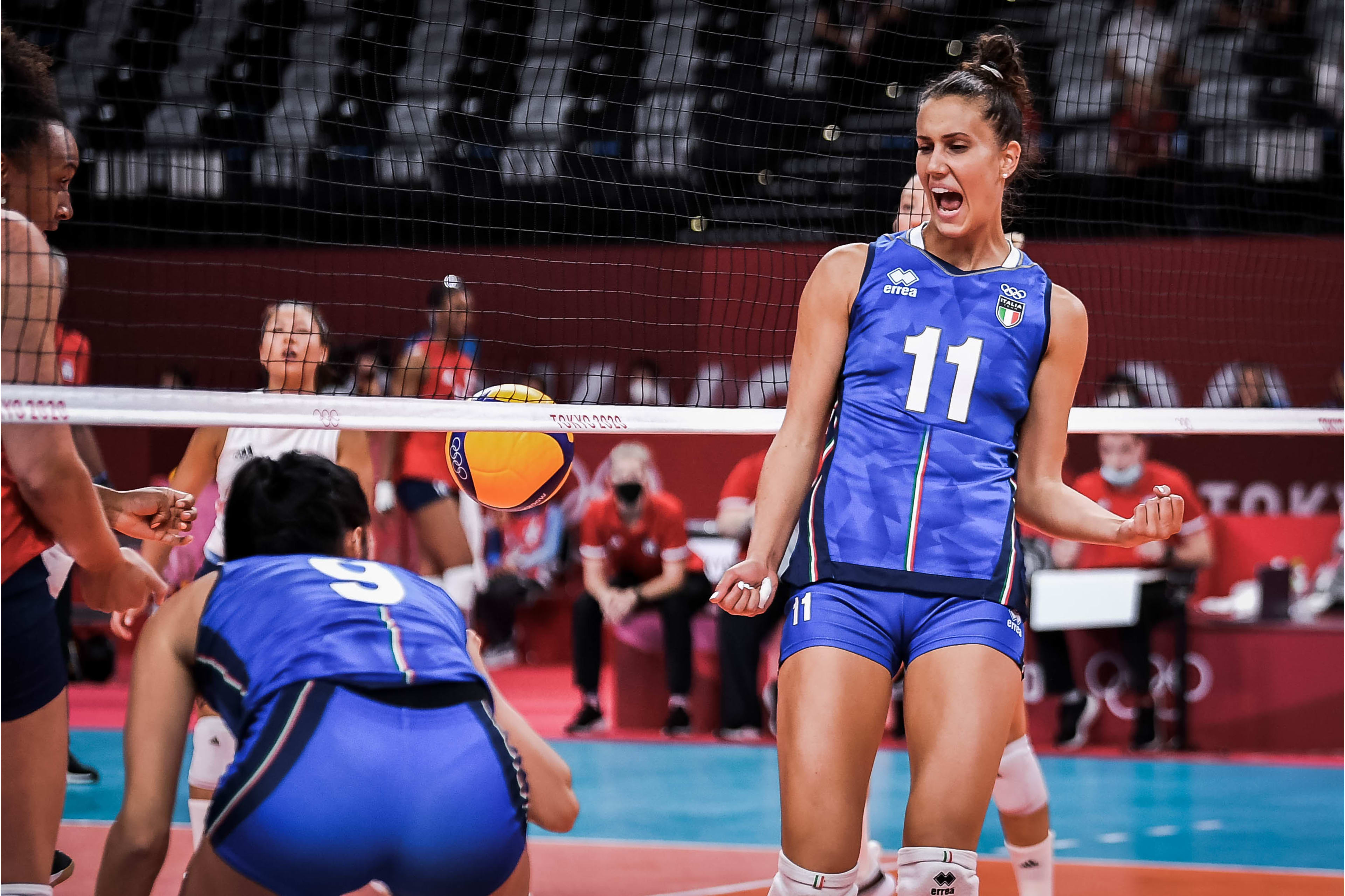 [Photo by Volleyball World]
Ebrar Karakurt shared a funny throwback with her teammate Zehra Gunes showing how it started and how it's going. Those gym visits paid off as both players are in prime shape in their club and international careers! Turkey finished third in Pool B and was drawn to meet Korea in the quarterfinal. Their match will take place on Wednesday 4th August at 12:00AM GMT.
The next phase of this competition brings some bad news. At least one of our European teams will end their Olympic dream tomorrow. Serbia and Italy are set to face each other and while we are sure they will deliver a great game, it will mean an end of the road for one of them. It feels unfair already as both were doing great so far, but such is the nature of the Olympic Games. There can be only one winner, no matter how many top teams compete in here!
Slajdana Mirkovic and Tijana Boskovic share a photo ahead of their game tomorrow, while Ofelia Malinov paid tribute to her team.
Serbia and Italy will compete at 08:00 GMT. 
Last quarterfinal of the day will belong to ROC who are facing Brazil. Sounds familiar? We've seen these two teams clashing in some spectacular games across the years, including quarterfinal in London 2012 and semifinal in Athens 2004. Will they deliver as intense game as they are known for? We hope so!
Arina Fedorovtseva will be the youngest player on court as 17-year old is competing in her first Olympic Games. Check out her story and why she wouldn't be the first person in her family to bring home the Olympic Games medal!
Day 10 | Final results are in and the quarterfinal duels are confirmed!
It was the final day of preliminary round in the women's competition, with Brazil and USA topping Pools A and B. Two European teams recorded victories, while the other two lost in tie-breakers. While none of the European teams finished on top of their pool, all four made it to the quarterfinals. And as the draw determined today, two of them will have to face each other in their fight for the semis…
Following their victory with Korea, Serbia finished second in Pool A. While they managed to close the round with a win, gaining 4 wins and 12 points overall, they trailed behind Brazilians who recorded 5 victories and 14 points. For Brazil the result meant that they will face fourth-placed team from Pool B in the quarterfinal. Serbians had to wait for the draw to learn who they will be facing in their all-European clash: Italy or Turkey?
Turns out, it is the Italian team! It was their only tie-breaker in the preliminary round, with Italy leading 2-1 against the Americans. USA managed to claim the final victory, taking the top position in Pool A, while Italians finished second. The result was not fully satisfying for the Europeans. "We are a little angry. We have to be more consistent and free when attacking. But it's difficult to find solutions when the athletes are getting tired.", said coach Davide Mazzanti after the match.
"If we can find a balance alternating Ofelia Malinov and Alessia Orro that could be a key in the quarterfinals. I'm not worried. I'm excited. We just can't underestimate any opponent."
Serbia and Italy will meet in the quarterfinal on Wednesday, 4th of August, at 08:00 GMT.
Turkey and ROC played directly for the third position in Pool B. The loser would have still made it to the quarterfinals, but was expected to be facing Brazil in the next round. Brazilians confirmed that later today with their straight-set victory against Kenya. The clash between Turkey and ROC went on for five sets and ended with some blood! Turkish players Cansu Ozbay and Meliha Ismailoglu collided during a defensive play, causing Meliha to break teeth! Both players decided to continue their game and Ismailoglu shared a story on Instagram, thanking everyone who reached out with support.
Turkey will be playing against Korea - both teams will be playing the first quarterfinal of the day, scheduled at midnight on Wednesday.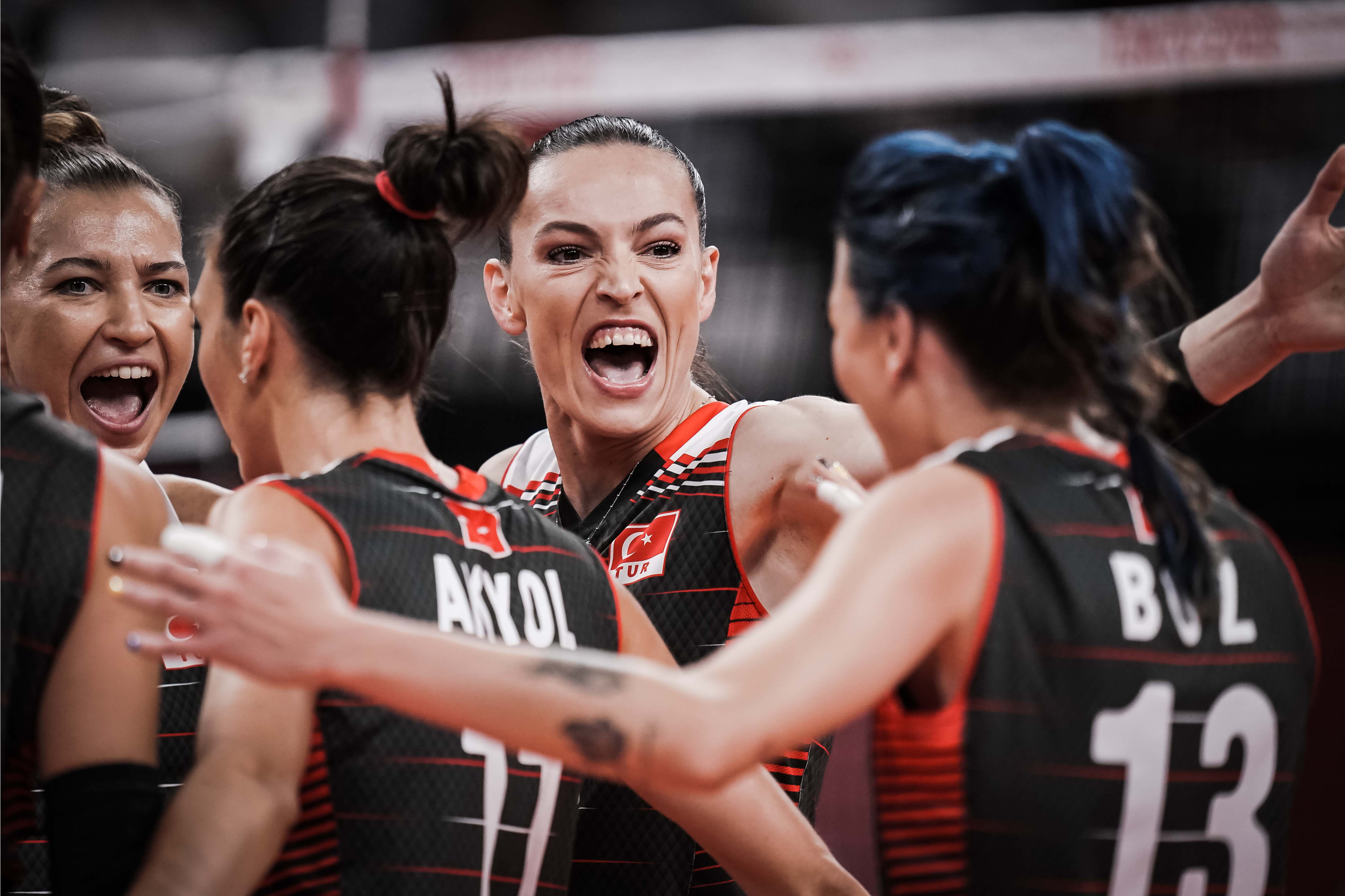 [Photo by Volleyball World]
ROC team has come through the rollercoaster during the preliminary round. They started with a loss against Italy, following by a crucial five-setter win against China. Their next win - against USA - allowed the team to climb to the second position in the pool, but with the good results from Italy and USA, ROC had to play for the third place in the table. They were close to reaching that point, having taken Turkey to a tie-break, but eventually ROC finished four. Their quarterfinal match is going to be the absolute clash of the titans, as ROC and Brazil have met each other many times before. In the past that match would have been the final, but on Wednesday one of them will be going home!
ROC are set to play Brazil at 12:30 GMT.
Day 9 | The first really relaxed day off for European teams!
This is probably the most relaxing day off any of our European teams have experienced so far at the Olympic Games in Tokyo 2020. With ROC and Turkey confirming their quarterfinal spots on Saturday, all European teams have now checked in in the next phase of the competition. The last match day of the preliminary round can decide about pools' final standings and future opponents in the quarterfinals.
Volleyball World teamed up with artist named Suncelia to create Sailor Moon themed art with the volleyball players competing at the Olympics! Check out Tijana Boskovic would look like if she was part of the show that is considered iconic in Japan!
Italian Cristina Chirichella shared a photo of her dog, admitting she's missing her pet who is waiting for the Olympian all the way back home. If Italy achieve their goals, the middle blocker will be reunited with her dog in just over a week!
Turkey's coach Giovanni Guidetti proved supportive not just of his own team, but other Turkish Olympians too. Mete Gazoz made history for his country, winning their first ever Olympic medal in archery. Gazoz claimed gold on Saturday, receiving a heartwarming support and congratulations from across the globe, including Guidetti. The coach of Turkish volleyball team has also acknowledged coach Goktug Ergin who has been working with Gazoz.
Irina Voronkova celebrated her team's third victory after ROC beat USA on Saturday. Voronkova was one of the players who made American's life difficult, according to coach Karch Kiraly. If your great performance causes some trouble for your opponent, we can only applaud your louder!
Day 8 | All women's European teams please check in at the quarterfinal desk!
The preliminary phase proved that when it comes to reaching the quarterfinal, every result and set across a five-game round counts! ROC and Turkey had their ups and downs across the past week, but with their results from Saturday both teams arrived at the desired destination, joining Serbia and Italy in the next part of the competition!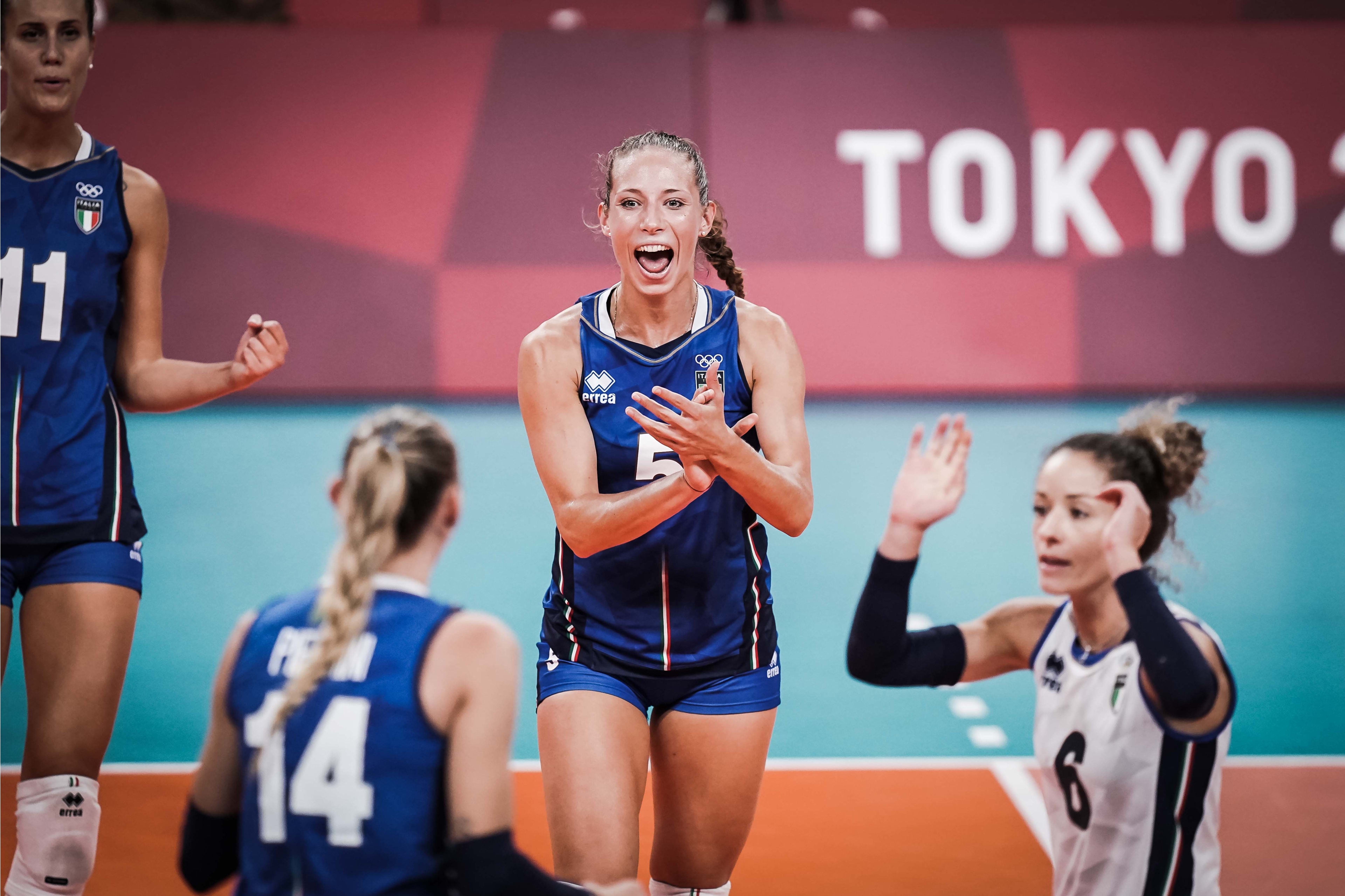 Italians keep the top position in Pool B, despite their loss to China. [Photo by Volleyball World]
Despite uncertain beginning of this round, ROC slowly built their confidence back to secure a quarterfinal spot with a victory over USA. A straight-set win meant not only a ticket to the next phase, but ROC climbed up the Pool B table to the second position, currently outscoring Americans with point ratio. Nataliya Goncharova proved again to be a leader for her team when necessary, scoring 26 points. Her performance was appreciated by the opponent, as USA's coach Karch Kiraly singled her and Irina Voronkova out when praising ROC's game. "Irina Voronkova has been carrying a heavy load for her team for a long time and she hit almost 50% efficiency today. Goncharova hit close to 70%. Their serves gave us trouble, their jump spinners hurt us.", he said after the match. On Monday ROC will be finishing the round with an all-European clash against Turkey.
Turkey also joined the celebrations, after beating Argentina, solidifying their own place in a quarterfinal. The team remains fourth in the group with 2 victories and 7 points. While those two elements could be matched by China, depending on the result of both teams' matches on Monday, Turkey's performance across the entire round were a key to secure their future in the competition. Regardless of China's potential successful last match, Turkey will outscore them in set ratio.
"This is a historic result. It is the first time in the history of Turkish volleyball, women's or men's, that Turkey goes to the Olympic quarterfinals. I am so proud of this team", Giovanni Guidetti acknowledged his team's achievement after the match.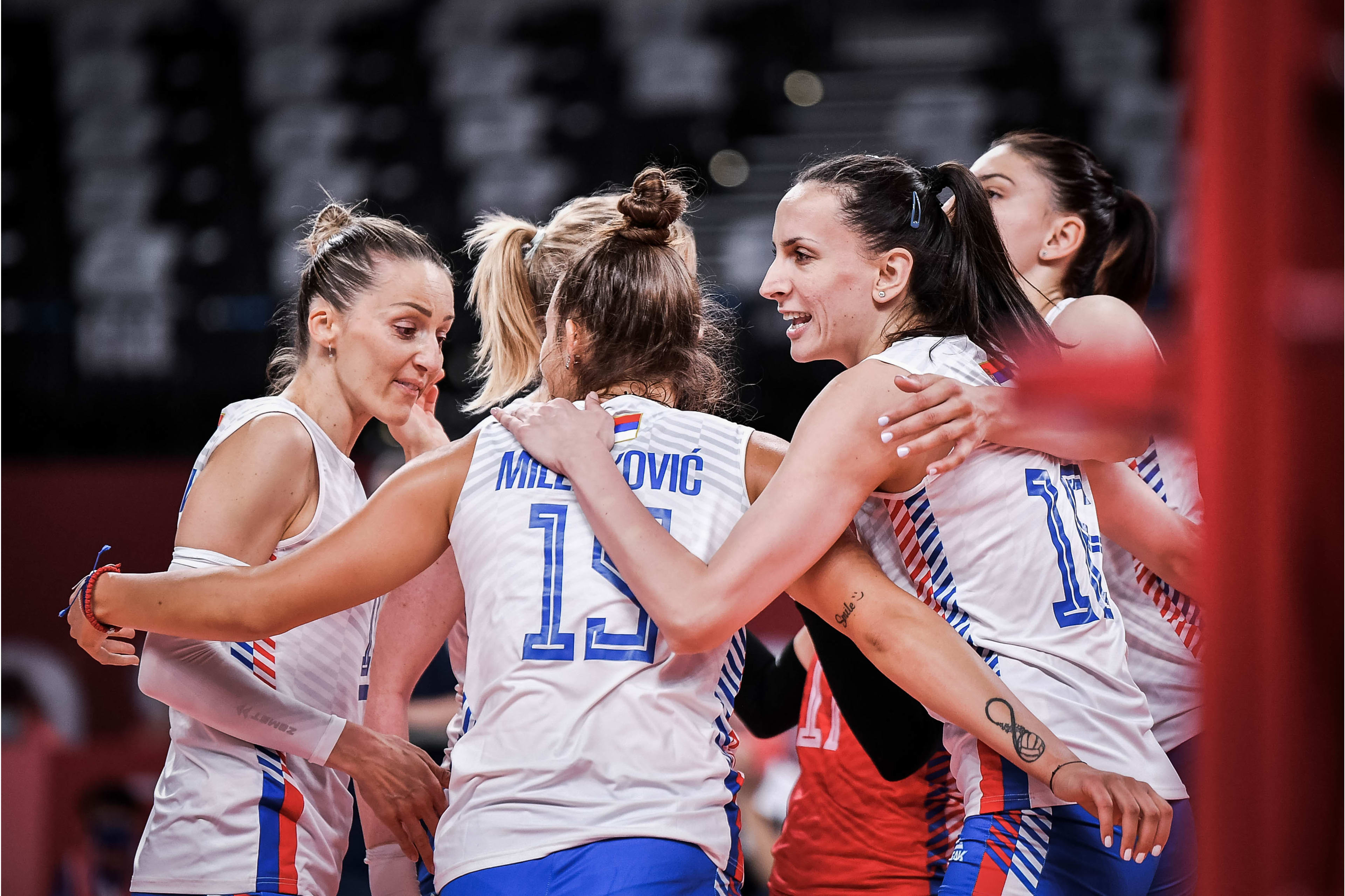 [Photo by Volleyball World]
Serbia and Italy secured their own quarterfinal positions earlier this week, but both teams experienced their first losses today. Serbia was beaten by Brazil in four sets, while Italians were challenged by China who decided to not go home without a victory. While Serbians dropped to the second position in Pool A, Italians hold on to the top place in Pool B for now. Opposites of both teams, Tijana Boskovic and Paola Egonu, were the top scorers of their matches, despite losses on both accounts. Boskovic scored another impressive 32-point tally, while Egonu gained 18 points for her team.
On the last day of competition Serbia will be facing Korea, while Italy will finish the round playing against USA.
Day 7 | We're past the halfway point in preliminary round!
The women's competition at the Olympic Games in Tokyo 2020 is past its halfway point with all teams completing three out of their five games. Serbia and Italy are among the four teams who are yet to lose the match in the competition as the battle for quarterfinals gets tight at the bottom of both pools. Four teams from each pool will reach the quarterfinal phase, but as it's been proven this week, becoming one of the top four may not be as easy as you'd think!
We enjoy seeing olympians celebrating their experience with their outfit, tattoos and many other lenses. American artistic gymnast Sunisa Lee, who won the gold medal in Women's artistic individual all-around category on Thursday, celebrated her Tokyo 2020 with a nice touch with Olympic rings painted on her nails. We would love to see volleyball players trying on that trend, but we are not convinced those Olympic rings would last a solid blocking session in the next match…
Italian middle blocker Anna Danesi posted a lovely photo with her teammates, celebrating securing a spot in the quarterfinal and emphasising the bond between the players. Italians recorded three victories so far, losing only one set to Turkey on Tuesday. The results allowed the team to ensure spot in the next phase, but Italians have still two games to win to keep their leader position in Pool A.
Serbians are another European team who are sure of their spot in the quarterfinal. They are also the only women's team to yet lose a set here in Tokyo. But they are able celebrate fellow Olympians too. Jelena Blagojevic shared a sweet snap with Polish hammer thrower and two-time Olympic champion from London 2012 and Rio 2016, Anita Włodarczyk. The meeting will have a special meaning for Jelena's fans in Poland, as the outside hitter plays for the Polish club Developres SkyRes Rzeszów. "Photo with Anita… that was also my dream", Blagojevic wrote in Polish in her post.
Irina Koroleva also expressed her emotions following the five-set win against China. ROC team is not yet sure of their quarterfinal spot, but Koroleva's team surely shows some character on Thursday. ROC keep their feet on the ground and focus on the next steps in the Olympic campaign, without going too far ahead of themselves. "I don't want to jump to any conclusions yet because there are still a lot of strong teams in our group", the middle blocker said after the match against China.
Turkey also showed a lot of character on Thursday, coming from 0-2 behind to take Americans into a tie-break. The Turkish team were unable to claim the final win, making their quarterfinal bid more complicated ahead of last two games of the preliminary round. But we doubt Turkey would shy away from a challenge and expect a lot of fight on their side of the court in the coming days!
Day 6 | Drama intensifies following the events in women's competition!
The drama intensifies in the women's competition at the Olympic Games in Tokyo 2020. The women's team have played their third matches of the preliminary round, causing some upsets along the way. Serbia and Italy remain the two European teams who are yet to lose a game in the competition, with Serbians going so far without losing a single set! ROC and Turkey on the other hand experienced a few ups and downs, but both teams delivered dramatic five-setters against China and USA respectively.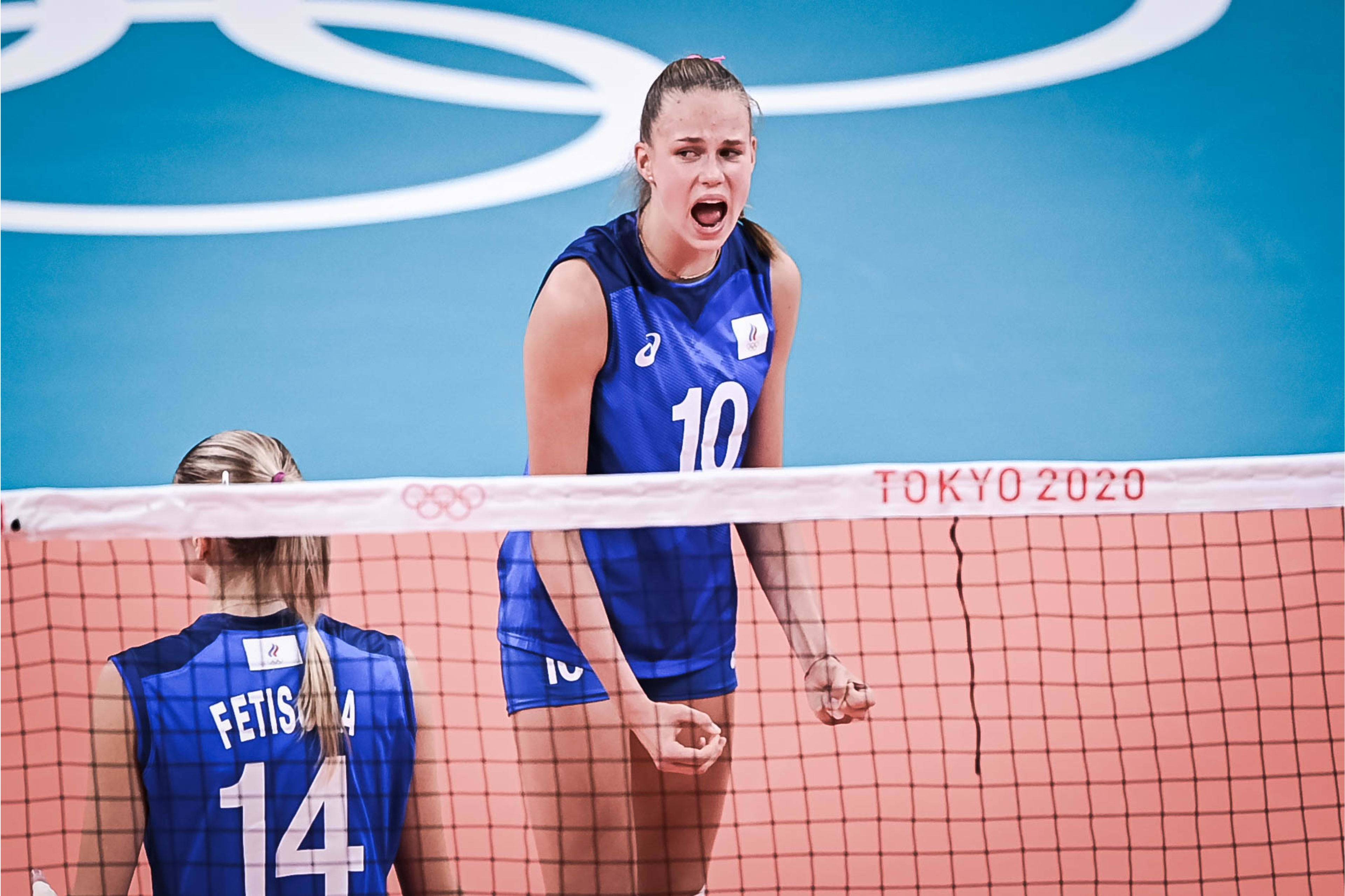 17-year old Arina Fedorovtseva delivered outstanding against China. [Photo by Volleyball World]
It was an emotional rollercoaster for ROC, who came from 2-1 behind to beat China in five sets. This was a second victory for team ROC who opened their Olympic campaign with a loss against Italy. All three spikers delivered outstanding performances, with the 17-year old Arina Fedorovtseva becoming the top scorer with 28 points! Nataliya Goncharova and Irina Voronkova were right behind their young teammate, supporting ROC with 27 and 26 points respectively. Li Yingying from China also fought hard against their opponents, scoring 27 points for her team. The victory, while a vital result for ROC and their position in Pool B, may have dire consequences for the reigning Olympic champion. ROC is the third team to deliver a winning performance against the Chinese team! "When you play with a good team, you have to have a strong character, which is very important. This victory is very significant for position in the tournament and the group.", said Irina Koroleva after the match.
After two record-breaking scores for team Serbia, Tijana Boskovic shared the duties with fellow teammates as all Serbians got their chance to compete against Kenya. Brankica Mihajlovic took over the scoring reigns, getting 17 points and leaving the Kenyan opposite Sharon Chumba trailing behind with 12 points for her team. The blocking specialist Milena Rasic also had a bit of rest in that aspect, but Mihajlovic and Maja Aleksic made sure team Serbia delivers in that element.
"We are trying to go into every game with maximum focus and motivation. We are here to make a good result, our goal is high.", said the top scorer of the match. 
Italians also remain on the winning side, keeping their tally at 3 victories. Paola Egonu did not disappoint yet again, leading her team comfortably against the side from South America by scoring 17 points. Having lost only one set so far, Italians hold the top position in Pool B.
Only an inch kept Turkey away from succeeding in their own thrilling five-setter. The European side faced USA, currently 2nd team in Pool B, and fell 2-0 short in the first half of their game. But Turkish team is not one to give up easily as they tied the score to 2-2. Tie tie-break was no different, with Turkey falling 7-4 behind to go ahead yet again - at 10-11. Here the Turkish team received a final blow from USA, recording their second loss so far. That's where thing become interesting in Pool B as the next two matches will be crucial for Turkey's chance to reach the next phase!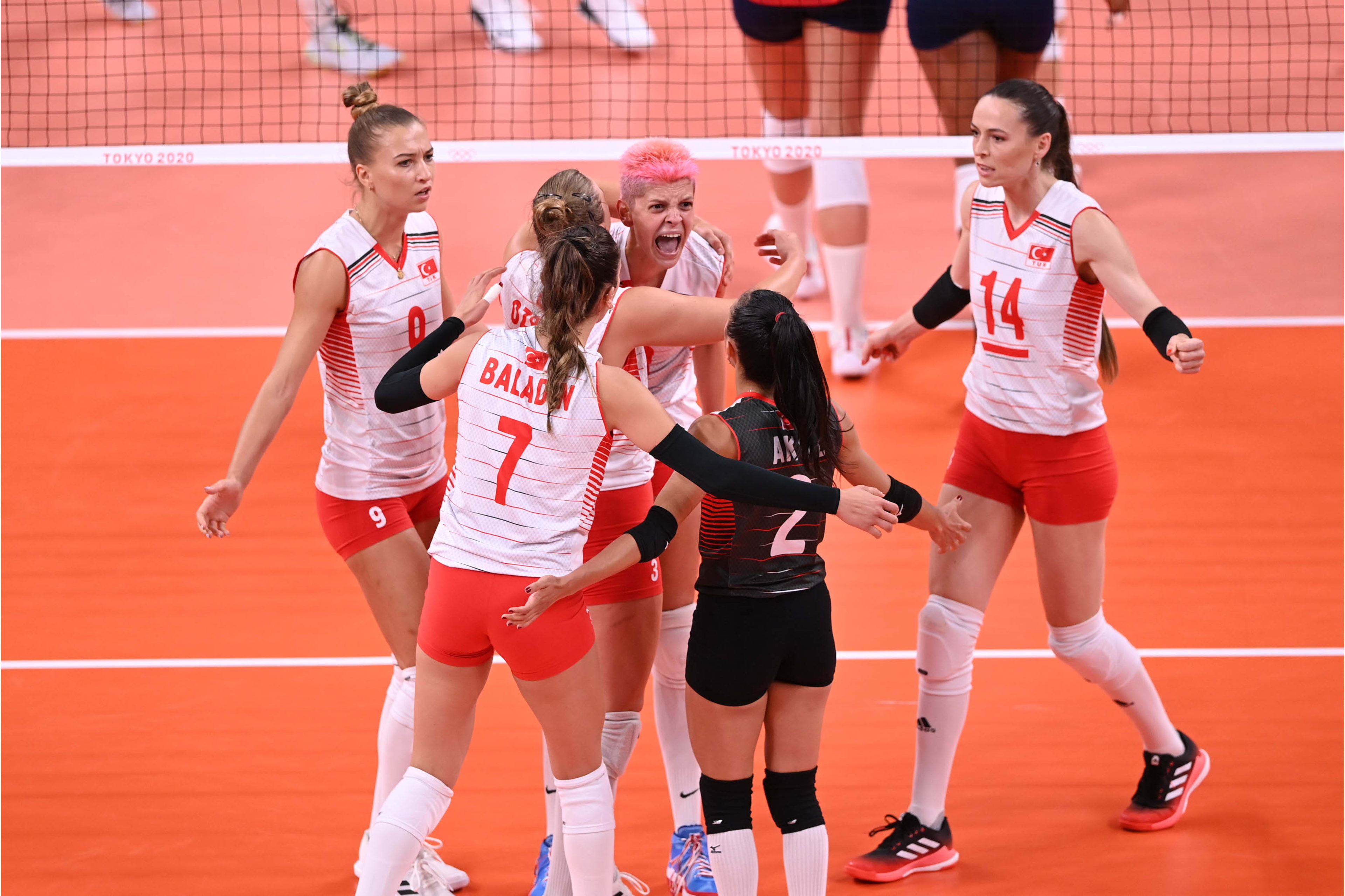 Turkey hold 4th position in Pool B as the remaining two matches will be vital for their Olympic campaign. [Photo by Volleyball World]
Day 5 | Enjoyable downtime for the women's teams in the Olympic Village!
The fifth day at Tokyo 2020 means another break for the women's teams in volleyball competition. Before Italy, Serbia, Turkey and ROC will gear up to compete again tomorrow, all teams had an eventful day in the Olympic Village!
Caterina Bosetti gave us a peak into her session with physiotherapists, who are making sure that Italians players will be ready to play the first match of the day on Thursday! Paola Egonu also focused on her fitness to regain her strength for another top-notch performance.
Nataliya Goncharova found a bit more time to get her Tokyo 2020 souvenirs, before they're sold out! The star of ROC team shared a snap in the Olympic Village and she sure looked to be in great mood so far.
That's a lot of Tijanas' in one photo! Tijana Boskovic has a chance to catch up with Serbia taekwondo athlete, Tijana Bogdanovic, who won bronze medal at Tokyo 2020 already!
Jelena Blagojevic and Milena Rasic shared a sweet snap of the two players at the Olympic Games in London 2012 and now, nine years later, in Tokyo. Both players are one of the most experienced teammates of the Serbian squad.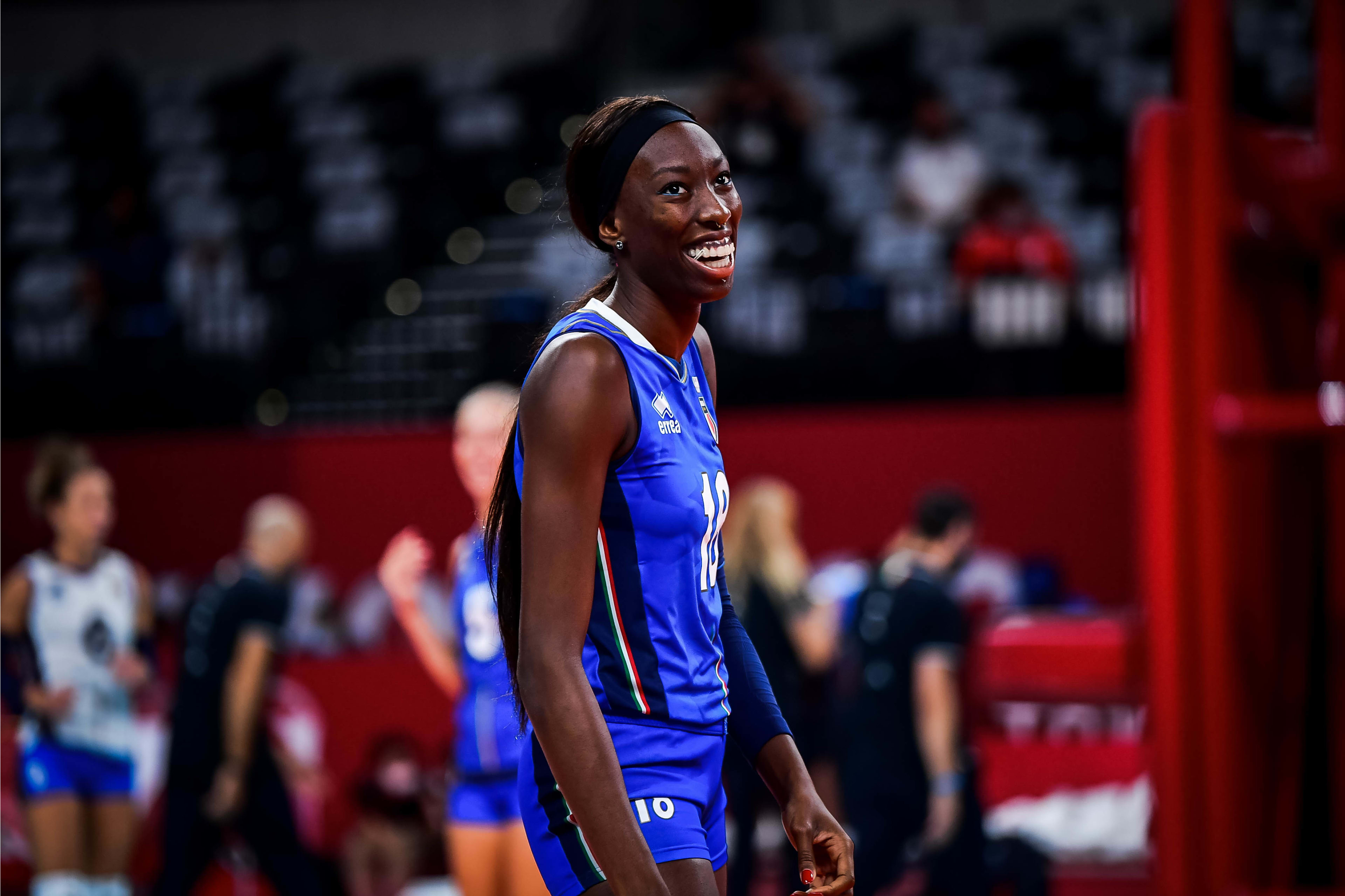 Paola Egonu is one of the leading players in the Individual Statistics char. [Photo by Volleyball World]
As we mentioned yesterday, European players recorded great results in the Individual Statistics, leading in several categories. Check out story about how they stand out among fellow-Olympians here! 
Day 4 | European teams rule the individual statistics!
Italy, ROC, Serbia and Turkey put behind their second day of the Olympic rivalry and again, only three teams ended satisfied. It's still a long way to go in this round, but one thing is certain - all four teams will keep this round very entertaining!
After two games in the women's competition, the European players emerged as leaders of individual statistics! With yet another score-breaking result on Tuesday (34 points against Japan), Tijana Boskovic leads the Best Scorer ranking with 62 points. American Jordan Thompson follows with 54 points, after her own 34-point performance against China. Italian Paola Egonu closes the top 3 scoring players with 47 points, after scoring 29 points herself against Turkey earlier today.
All three top scorers also shine in the Best Attacker category, with Boskovic leading the trend, while Egonu trails behind Thompson. The Italian player rules at the service line alongside Korean Heejin Kim, with 4 aces each. Irina Voronkova from ROC team keeps the third position with 3 aces. Serbian Milena Rasic is so far the Best Blocker with 8 points, followed by ROC's Irina Koroleva and Italian Sarah Fahr with 7 points each.
Serbia remain the only European team to yet lose a set at Tokyo 2020, after recording their second three-set win. With the current form presented by Tijana Boskovic, it seems that Serbians are likely to finish quite high in Pool B.
Aside from personal results, ROC were able to join the celebratory mood after beating Argentina in straight sets. As promised by Nataliya Goncharova on Sunday, the team did not let their opening loss put them down, while Goncharova herself was the leading scorer for her team with 17 points. The next match might be quite challenging though, because ROC will be facing China. The reigning Olympic champions suffered two losses - against Turkey and USA - and any further losses complicate their chances in the competition. ROC have the means to defy their next opponent, and we hope we can see that on Thursday!
Turkey were the only unsatisfied European team today, having lost to Italy and the things won't get easier on Thursday, when they will be facing USA! Italy on the other hand enjoy the double-win result thus far and will be playing against Argentina in their next match.
"When we express ourselves at 100% I think we see it on the pitch, now we have to focus on always maintaining this level. Being here at the Olympics is a dream, I want to enjoy them, always giving my best in every match."
Ofelia Malinov
Setter of Italy [Quote by federvolley.it]
Day 3 | Eventful downtime for the women's teams at Tokyo 2020!
The magic of drones!
The Opening Ceremony of the Olympic Games in Tokyo 2020 took place on Friday, but the preparations for one of the crucial parts of the event were months if not years in progress. Tokyo 2020 gave us a small peek behind the scenes of their drone show, one of the most spectacular parts of the entire Ceremony!
Busy day off and Birthday celebrations!
Even though women's volleyball teams take a day off, that doesn't mean one's schedule won't be packed! Aside from the regular training session, Serbian stars Mina Popovic and Bianka Busa made sure their room in the Olympic village is neat and clean. Or at least Mina Popovic did the cleaning, while Bianka Busa assisted with filming…
This could have been a birthday gift from Popovic for her teammate, as the outside hitter turned 27 on Sunday. Aside from being relieved of cleaning duties, the team delivered the best possible present for Bianka: a win in the opening match of their Olympic campaign.
Catching up with fellow Olympians.
While the contact with other athletes is limited during Tokyo 2020, volleyball players still have a chance to run into fellow Olympians. Italian road racing cyclist Soraya Paladin caught up with Miryam Sylla on outside players' quarters.
Italians also enjoyed their downtime, as Raphaela Folie, Ofelia Malinov, Monica De Gennaro, Paola Egonu, Miryam Sylla and Sarah Fahr sent greetings to their fans on Instagram!
The women's competition is back in action tomorrow, with ROC opening the day with a match against Argentina. Italians are down for another European clash, this time with Turkey. Serbia will be facing the hosting team, Japan.
Day 2 | Women's teams join the olympic business!
Women's teams enjoyed their break while the men's competition was underway on Saturday, but they joined the much anticipated business on Sunday. We knew that only three European teams might come out happy after their first day, as Italy and ROC were down to clash in the opening match at Tokyo 2020! Sunday brought a bitter loss for some as well as some impressive scores from others - let's find out what happened!
Paola Egonu was among the Olympic flag bearers as she carried Italian flag during the Tokyo 2020 Opening Ceremony. The great honour only added more pride and happiness to the Italian star's olympic experience.
And her great attitude carried right onto Italy's first match at the Olympic Games, when they clashed horns with ROC. Egonu was the top scorer with 18 points for Italy and her team dominated over their opponents in every possible element.
ROC is our one unsatisfied team from Europe after their unconvincing performance against Italians. The team found it tough to challenge Italy, as their best scorer in the match - Arina Fedorovtseva - scored only 10 points for her squad.
Serbia channelled Italy's "quick business" spirit and opened their own olympic campaign with a three-set win with Dominican Republic. Tijana Boskovic was the ultimate leader with a whooping 28 points for Serbia, while Milena Rasic as usual made sure that not many spikes went past her block! The middle blocker takes an early top position among the best blockers at Tokyo 2020.
The Sultans of the Net, Turkey, did not stay far behind their fellow-European teams as they clocked in their own win against China. There was no surprise when Ebrar Karakurt flew over the net and scored 18 points for her team, including 16 winning spikes!
Women's competition will be back on Tuesday with yet another all-European match up, this time between Italy and Turkey. ROC will open the day playing Argentina, while Serbia will take on the hosts - Japan!
Day 1 | Women's teams making final Preparations
Well the time has finally come - the World needs the Olympics for all sorts of reasons, and never more so than now!  Here is our blog covering the good, the bad and the ugly (not sure that is the right word, but you get the idea) of the women's Volleyball competition.  We'll be back each day talking through some of the non competition stories from the Games and throwing some extra spotlight onto what the players get up to around their matches.
As many of you would have been as well, we sat watching a very different Opening Ceremony and it was a thrill to see so many Volleyball stars involved in carrying flags and more.  A special mention goes out to Paola Egonu who at the age of 22 continues to set new heights on the international sporting scene.
There has been loads of activity on social media over the past few weeks covering the those final preparations, journeys to Tokyo and initial training sessions. 
As the reigning double European Champions (2017/2019) and the reigning World Champions (2018), Serbia are one of many peoples favourites for a medal and they looked in good spirits in this photo shared by Brankica MIHAJLOVIC on Instagram (@brankicam12).
"As a team we have really nice dreams, but we want to keep these for ourselves. To reach these dreams we have to focus on every game and we will fight like crazy to come back to Turkey happy."
Naz Aydemir
Turkey Setter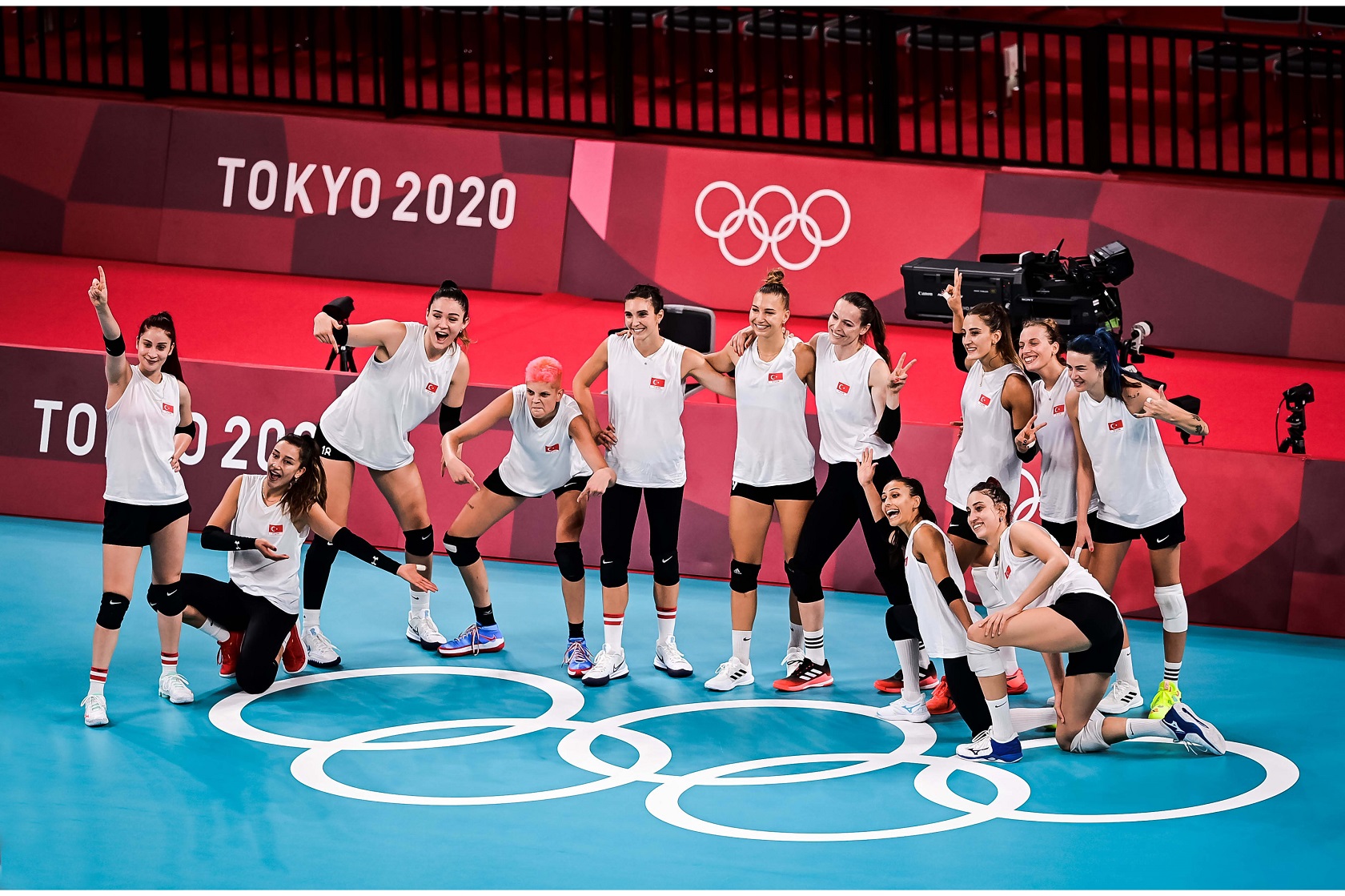 For this Olympics Russia will be known as the Russian Olympic Committee, although it will be the familiar faces and power game that they bring to the Games.  Giving us four genuine medal contenders from Europe, each proudly "Taking the Stage" for their respective countries and all Europeans.
While we are clearly imparial over the European teams, we want to know which European Team you think will finish highest in Tokyo, so submit your vote below and then come the Closing Ceremony on August 8 we will look back and see if you proved to be correct!
The women's competition begins on day 2 of the Games, with the Russian Olympic Committee taking on Italy to open the competition at 02:00 CEST, followed later by Serbia against Dominican Republic and then Turkey coming up against China in two matches during the waking hours!  The men's competition starting on Day 1 means that it will be the women's final that closes the Games this time around.