Features
Fedorovtseva continue family legacy at the Olympics through "advanced" final
ROC team reached the quarterfinal of the Olympic Games, following their bumpy road through the preliminary round. From the loss in an opening match with Italy, through effectively eliminating China's chances in the competition to winning a straight-set match against USA, ROC have gone through all kinds of obstacles in their first five games. Competing in her first ever Olympic Games is Arina Fedorovtseva, who at the age of 17 have already made an impact on international courts. The Olympic success is something Fedorovtseva was born into, having grown up as the daughter of gold medallist in rowing from Athens 2004, Sergey Fedorovtsev. To repeat her father's result at such young age would have been an iconic achievement, but to do that Arina and ROC will have to win what can be perceived as an advanced final - their game against Brazil.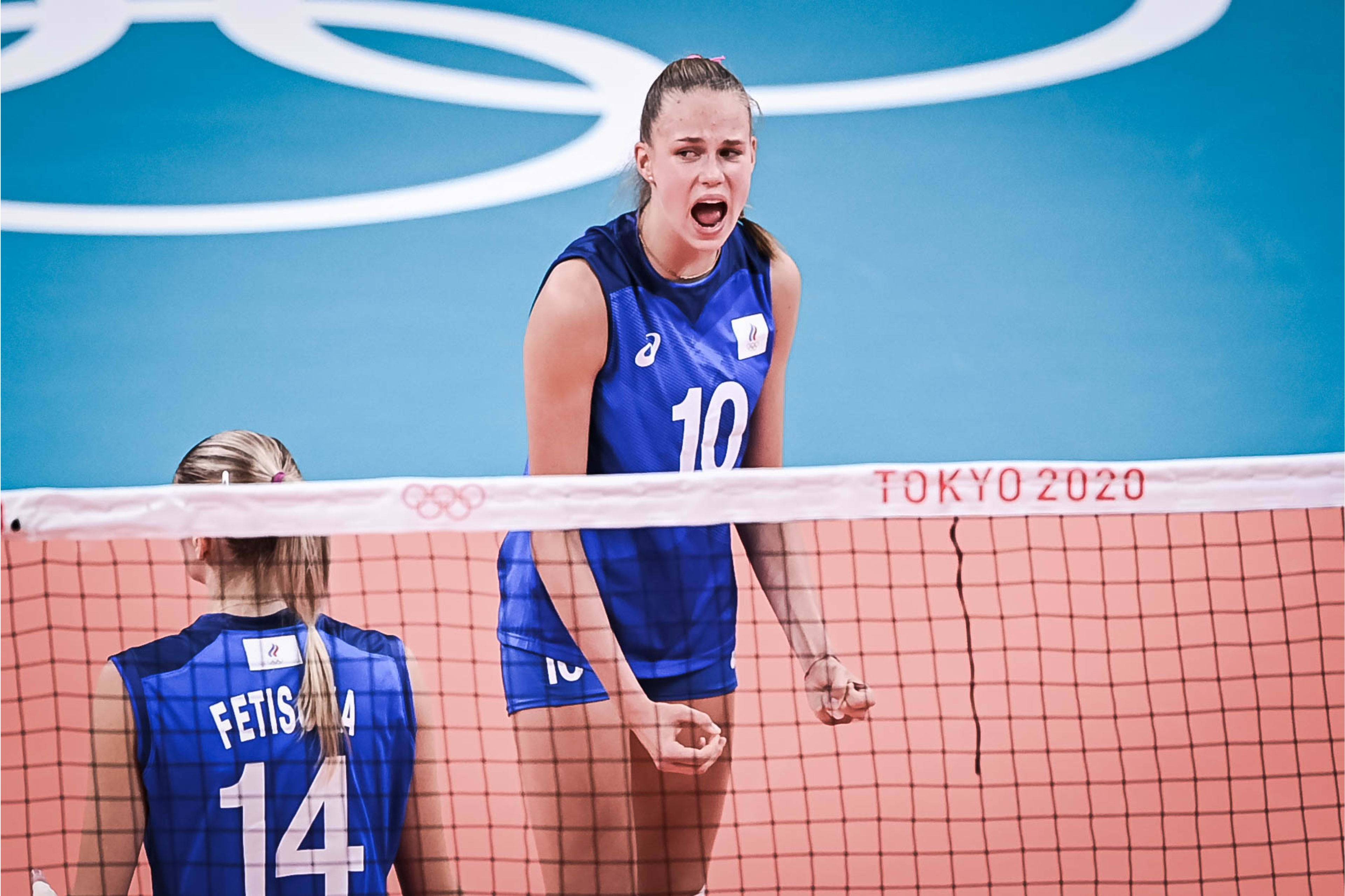 [Photo by Volleyball World]
Arina Fedorovtseva is the first volleyball player in her family, having grown up as the daughter of two rowers. Her father Sergei Fedorovtsev has represented the Russian Federation in rowing and won gold in quadruple sculls at the 2004 Olympic Games in Athens. He also competed in the 2008 and 2012 Games. Despite her parents' big passion for rowing, Arina never thought of following their footsteps. "I first tried my hand at swimming, but then I started to play volleyball, because when I saw it I really liked it, I was enchanted by the character of this game, so I began volleyball training and I enjoy it until now.", she told Volleyball World. 
The player achieved early individual successes, after being named Outside Hitter in the Dream Team at the 2019 European U16 Championship in Italy and Croatia. Last year she was named Most Valuable Player and Best Outside Hitter at the 2020 European U17 Championship in Podgorica, Montenegro. There was no surprise when Arina became part of the senior team, joining Russians at this year's Volleyball Nations League. But the real goal came a couple months later, when as part of ROC team Fedorovtseva went to the Olympic Games, following her father's footsteps.
"My father's Olympic medal is the greatest and best stimulus and motivation for me to aim for the Olympic medal, too. My father has always been my role model, he helps me a lot. I do my best to be as good as him."
Arina Fedorovtseva
[Quote By Volleyball World]
In the preliminary round Fedorovtseva showed a very consistent performance. She was her team's top scorer in an opening loss to Italy, with 10 points and her form grew from there as she became a second best scorer for ROC against Argentina, USA and Turkey, scoring 12, 13 and 19 points respectively. Her best came against China, when she scored 28 points in a five-setter with the reigning Olympic champion, including 23 winning spikes, 3 blocks and 2 aces. It was a vital victory for ROC and Arina felt the emotions too. Her game did not go unnoticed by international coaches.
"She only turned 17 in January, so she would be a high school junior in the fall. But luckily she is not playing against other high schoolers or she might kill somebody or inflict a few concussions.", USA coach Karch Kiraly joked about Fedorovtseva's skills after the match against his team.
Fedorovtseva proved her skills and scoring abilities that helped ROC reach the quarterfinal, but the toughest game is yet ahead of them on Wednesday, when they will be facing Brazil. That clash could undoubtedly be called an advanced final for more than one reason. Both teams met each other a number of times in the international competitions and their clashes are legendary. They have played in back-to-back finals of FIVB World Championships in 2006 and 2010, with ROC winning both battles in five sets. Their Olympic encounters have also ended in tie-breaks. In the semifinal in Athens 2004 ROC saved 7 match points to beat Brazil and advance to the gold medal match. In return Brazilians saved 6 match points in the quarterfinal in London 2012, causing ROC's early departure from the competition.
Both teams proved that they can give as good as they get. ROC went through some tough moments in the preliminary round, while Brazil finished top of her pool without losing any games. And yet back in Rio 2016 Brazilians have also won their pool, only to then fall against China, who later won the gold medal.
"Arina Fedorovtseva is giving a huge quality to the Russian team, whether in attack or in passing."
Ze Roberto
Coach of Brazil [Quote by O Estado de S. Paulo]
That is one heck of a legacy to walk into! But the player seems to be keeping her feet on the ground when it comes to her entire career and the future. "I'm only at the beginning of my volleyball career, so I cannot highlight any of my achievements. My goal is not to win trophies, but to improve my game, to help my team and to fight hard in every match.", she told Volleyball World during her spell at Volleyball Nations League. And it seems like a good attitude to have ahead of one of the most important games at the Olympic Games. The victory means you're in the medal zone, the loss will take you home. Arina has years to add another Olympic medal to her family legacy, but to achieve it at the age of 17 would put her in the history of our sport and the Games forever.
ROC will be competing with Brazil in the Tokyo 2020 quarterfinal on Wednesday at 13:30 GMT.