Beach Volleyball
Dutch and Austrians win last Futures event of the season
Teams from hosts the Netherlands and Austria secured the last Volleyball World Beach Pro Tour gold medals of 2022 as Brecht Piersma/Emi van Driel and Timo Hammarberg/Laurenc Grössic won the tournament held in The Hague on Friday.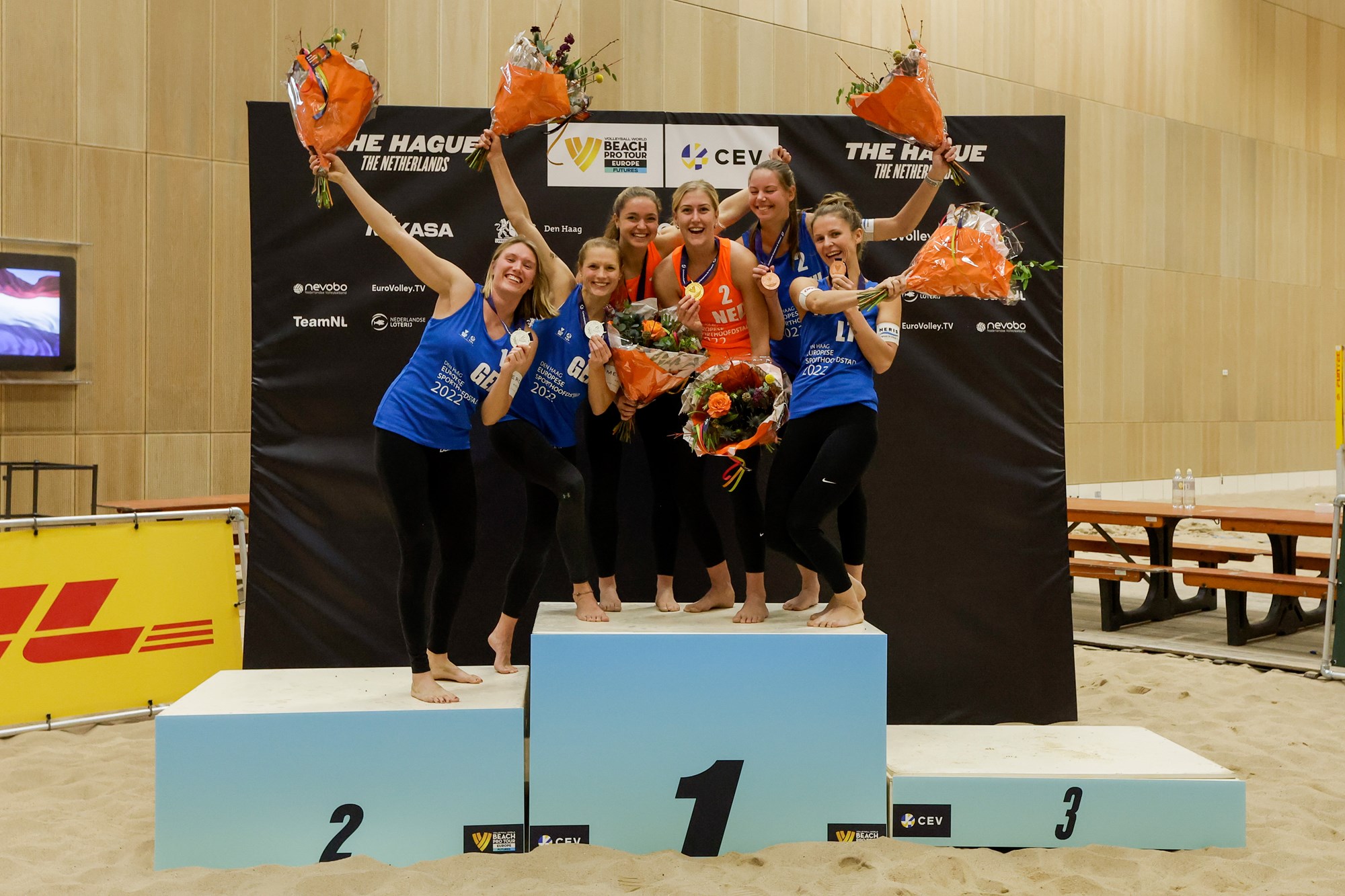 Teams from Germany, the Netherlands and Lithuania at the podium in The Hague
The four-day event held at the Sportscampus Zuiderpark reunited 55 teams (27 men's and 28 women's) and marked the end of the international beach volleyball season.
Piersma, 19, and van Driel, 22, had an incredibly successful first tournament as partners as the two started the Futures event in The Hague as the top-seeded team and won all their five matches without dropping a single set.
In the gold medal match, the young Dutch overcame Germans Kim van de Velde, who was returning to the sand after giving birth to her first son, and Chenoa Christ in two sets (21-13, 21-11).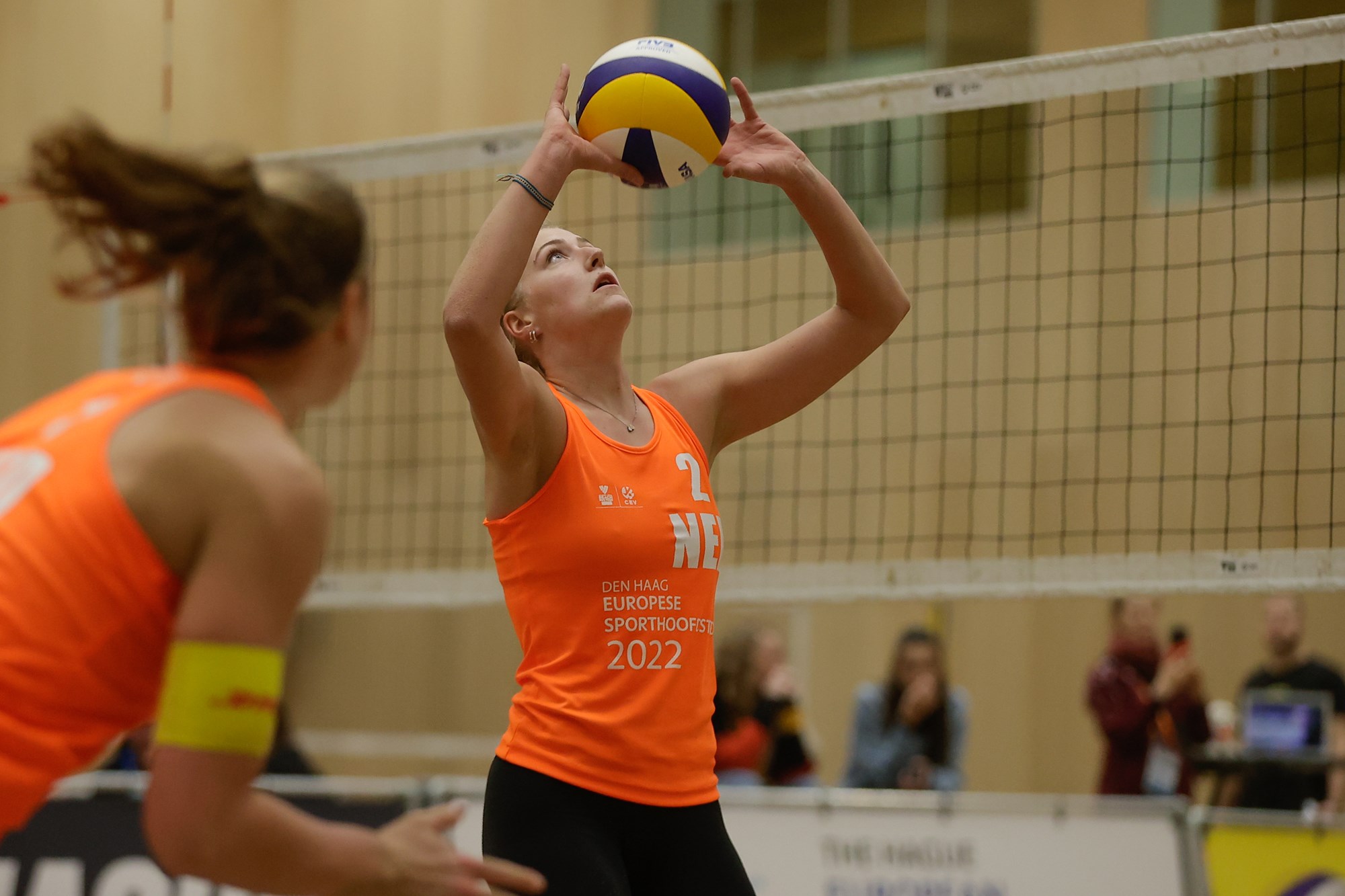 Piersma sets during the gold medal match
It was the third victory by a team formed by a Piersma and a van Driel at the Beach Pro Tour this season as Brecht's sister Emma and Emi's sister Mexime had joined forces to triumph at the Cervia Futures and the Agadir Challenge earlier this year.
Lithuanians Monika Paulikiene and Aine Raupelyte completed the podium after they defeated Dutch Pleun Ypma and Wies Bekhuis in the three-set (21-13, 20-22, 15-13) bronze medal match.
On the men's side, the 18-year-old Hammarberg and the 21-year-old Grössic won their second medal together after they took bronze in this year's CEV U22 EuroBeachVolley, which was also held in the Netherlands.
In The Hague, the Austrians entered the tournament seeded fifth and ended it at the top of the podium after their 2-1 (19-21, 21-16, 22-20) victory over French qualifiers Samuel Cattet and Olivier Barthelemy in the gold medal match.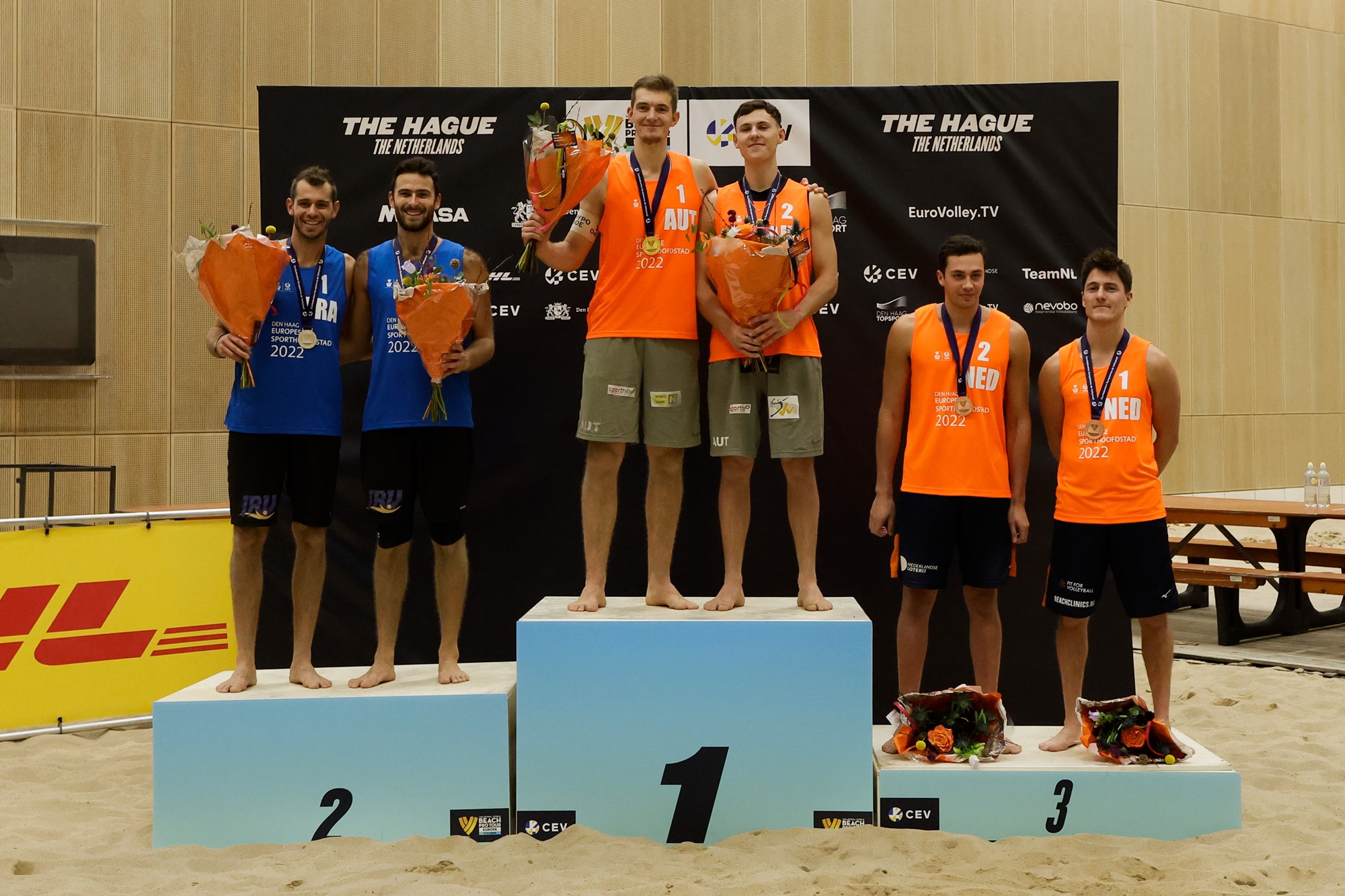 The all-European men's podium in The Hague
Hosts the Netherlands also sent a men's team to the podium as top-seeded Erik Nijland and Matthew Immers captured the third place with their three-set (15-21, 23-21, 16-14) win over Denmark's Nicolai Hovmann and Mads Mollgaard.