Beach Volleyball
Dutch and Belgians lead all-European podiums at U21 World Champs
European beach volleyball teams have been among the very best in the world for quite some time and the performance of the duos from the continent at this week's FIVB U21 World Championships indicates that will continue to be the case going forward.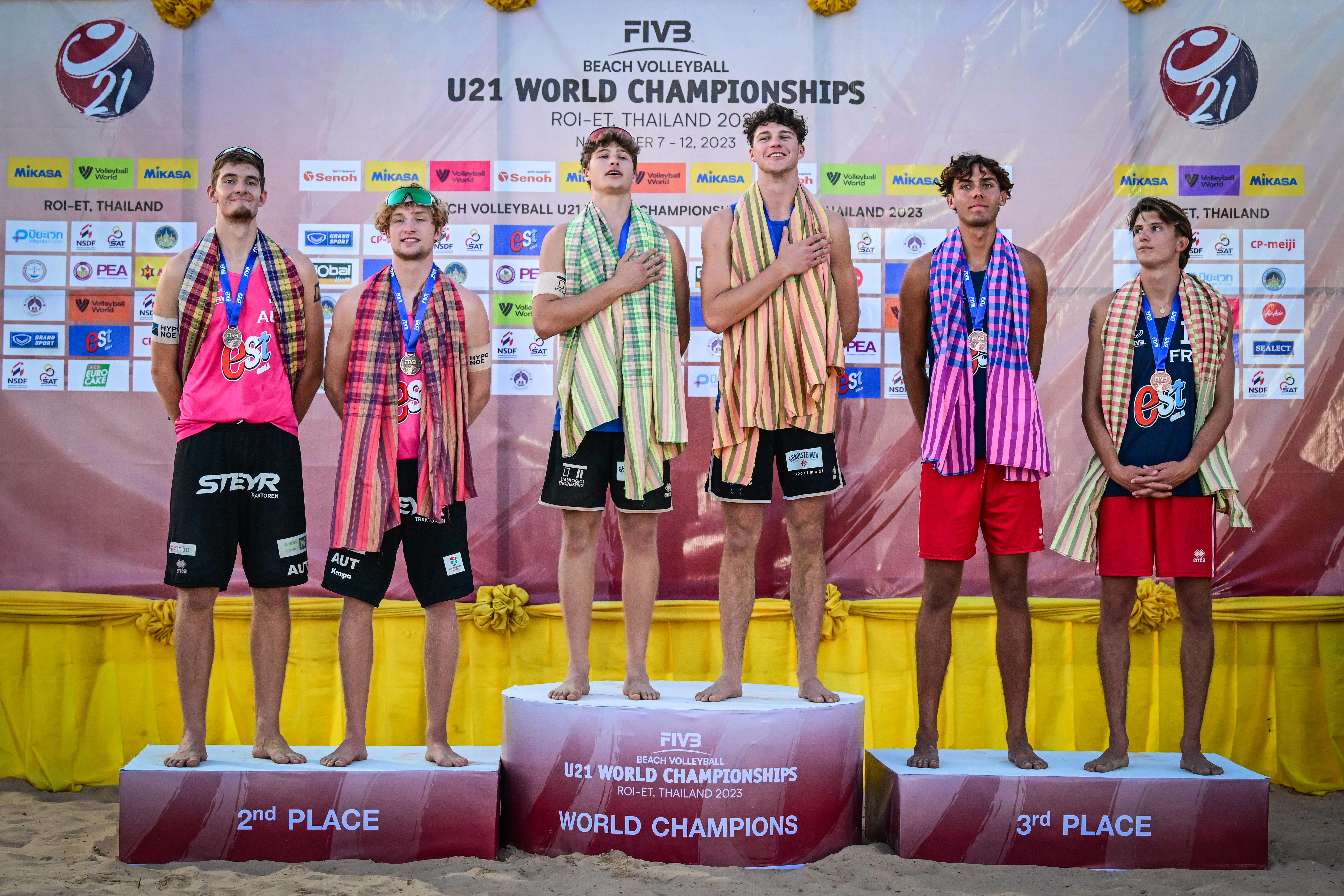 Teams from Belgium, Austria and France made it to the men's podium in Thailand (Photo: Volleyball World)
With podium sweeps on both genders, the continent ruled the event held in the Thai city of Roi-Et, with duos from the Netherlands, Switzerland and Poland taking the medals among the women and tandems from Belgium, Austria and France finishing first, second and third in the men's event.
In the women's tournament, 20-year-olds Desy Poiesz and Brecht Piersma took the title with a campaign of six wins and one loss. In the gold medal match, they faced the only team that defeated them over the week in Thailand, Swiss Leona Kernen and Annique Niederhauser, and secured the title with a two-set (21-14, 21-16) victory.
"I have no words. We started the week really sick, and we were on IV. So, we didn't have good preparation, but still we kept fighting. We kept going until we got into the finals. At that point we said, this is all really good and we're going to give everything for the last moment. And we did it."
Desy Poiesz
U21 World Champion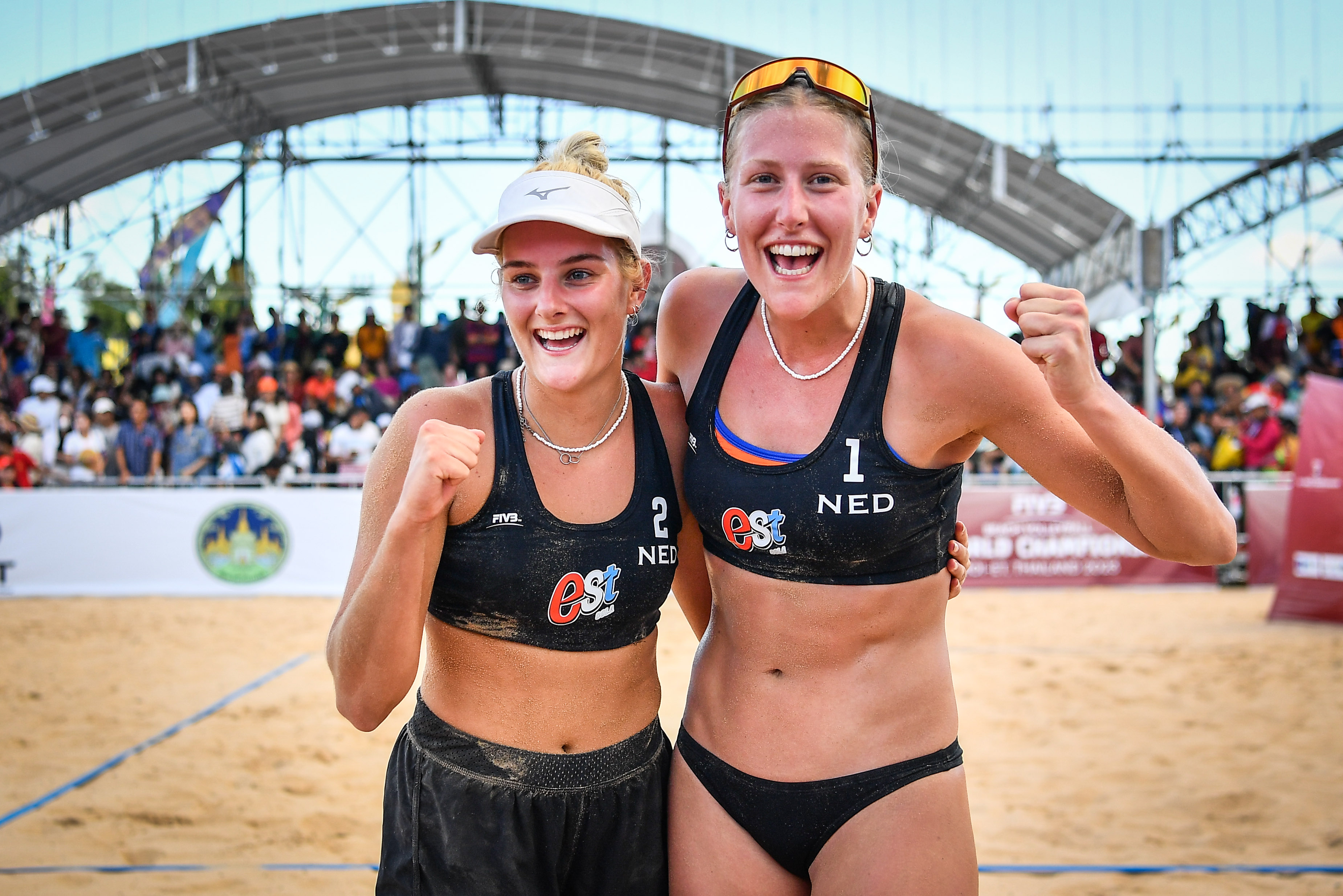 Dutch Poiesz and Piersma celebrate their gold medal match victory (Photo: Volleyball World)
Poles Malgorzata Ciezkowska and Urszula Lunio completed the all-European podium in Roi-Et. The two were winning the bronze medal match against Xu Yan and Mingli Zhou in the tie-breaker when one of the Chinese had to forfeit due to an injury, confirming their third-place finish.
The men's event had a surprising outcome, with Belgians Joppe Van Langendonck and Kyan Vercauteren upsetting Austrian favorites and last year's U20 European champions Timo Hammarberg and Tim Berger to finish on top.
The 20-year-old Van Langendonck and the 19-year-old Vercauteren were undefeatead all week in Thailand, winning all their seven matches and dropping just two sets. One of them was in the gold medal match, where they defeated Hammarberg and Berger in the tie-breaker (18-21, 21-19, 15-13).
"We are not super used to the sand, as we're both indoor players. It's super strange now to be world champions because we only had two months to prepare. It's crazy that we won. We never achieved anything like this, so it's super nice. This win will help for people to look into investing in us because maybe we could be the next ones in our country for this sport."
Joppe Van Langendonck
U21 World Champion
French Artur Canet and Téo Rotar, the reigning U20 European champions and the 2021 U19 world champions, made it to the podium in Thailand, downing Brazilians Henrique Camboim and Pedro Sousa in three sets (21-16, 19-21, 15-12) to take bronze.