Beach Volleyball
Hosts Austria on to #BeachNationsCup semis
The Austrian women's team of Katharina Schützenhöfer, Lena Plesiutschnig, Dorina Klinger and Ronja Klinger sent a packed Red Bull Beach Arena into raptures by qualifying their country for the semifinals of the inaugural A1 CEV BeachVolley Nations Cup in their home sand of Vienna on Thursday.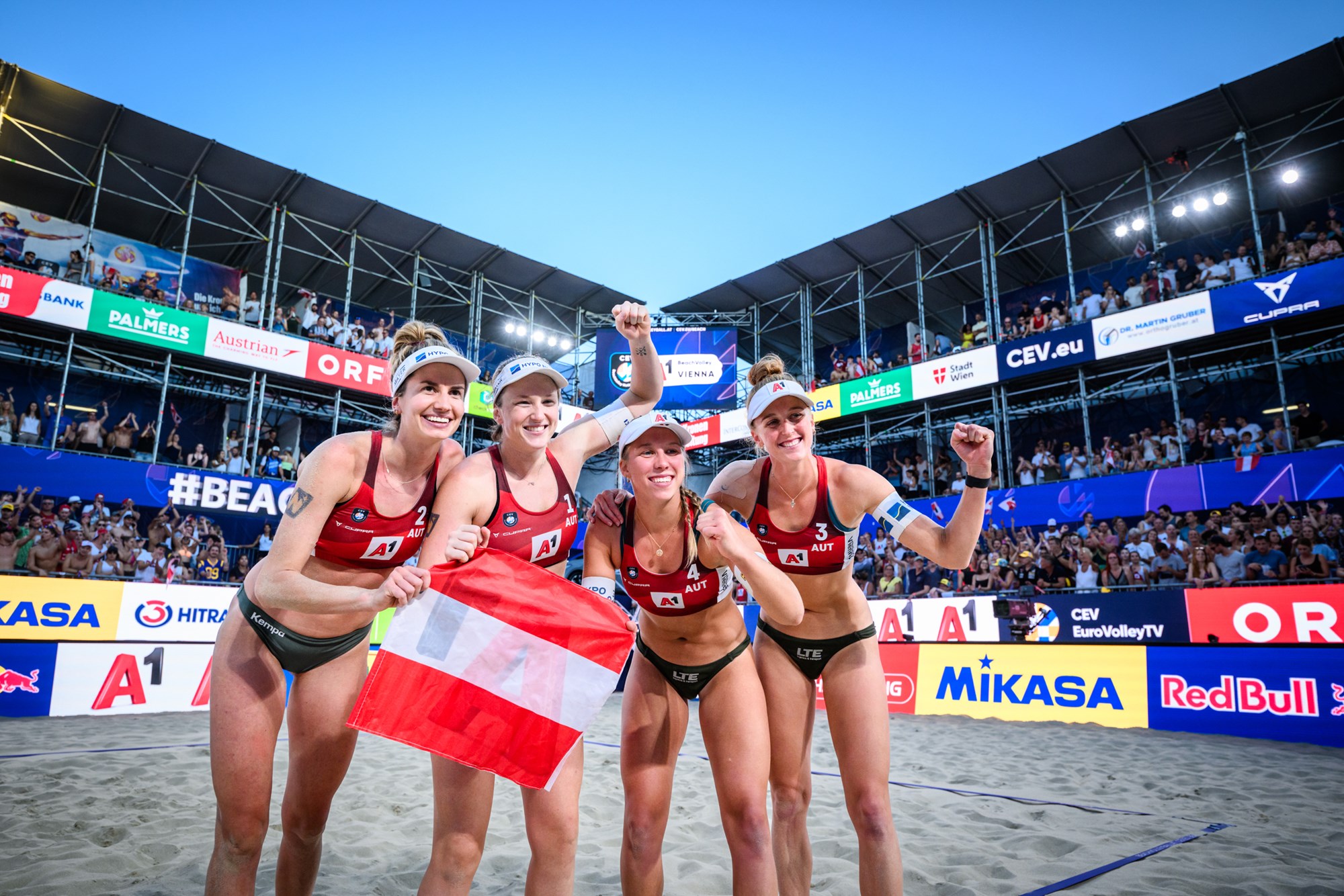 The Austrian duos pose with the country's flag in front of their home fans
After the first three days of the women's tournament, four of the eight nations remain in contention for the first-ever #BeachNations Cup title and the competition continues on Friday, when Austria and Germany will meet in one of the semifinals and Switzerland and Latvia will clash in the other.
The Austrians, who had won one match and lost another in pool play, made their fans happy with a huge win against the Netherlands in the quarterfinals, but there was no shortage of nerve-wracking moments during the duel between the nations.
Pushed by a loud and energetic crowd, which included the country's president Alexander van der Bellen, the home squad had a strong start in the series against the Dutch, with the Klinger sisters topping Pleun Ypma and Emi van Driel in the tie-breaker.
The second meeting between the countries also went to three sets, but this time with the victory of Dutch Emma Piersma and Mexime van Driel over Schützenhöfer and Plesiutschnig. The same teams were selected by their coaches for the golden set and, after numerous turnarounds, the Austrians were narrowly better, winning 15-13 to make it to the semifinals.
"It was unbelievable. I felt we played really well in the first match, but unfortunately we couldn't get the win. We knew we had to do it and in the golden set we did it. We're really happy and proud of our performances."
Katharina Schützenhöfer
Austrian Beach Volleyball Player
In the other quarterfinal, Latvia used the star power of 2019 #EuroBeachVolley champions Tina Graudina and Anastasija Kravcenoka to defeat Italy and move forward. For a second-straight day, the Tokyo Olympic semifinalists were tasked with leading the team to a comeback victory and once again they did it.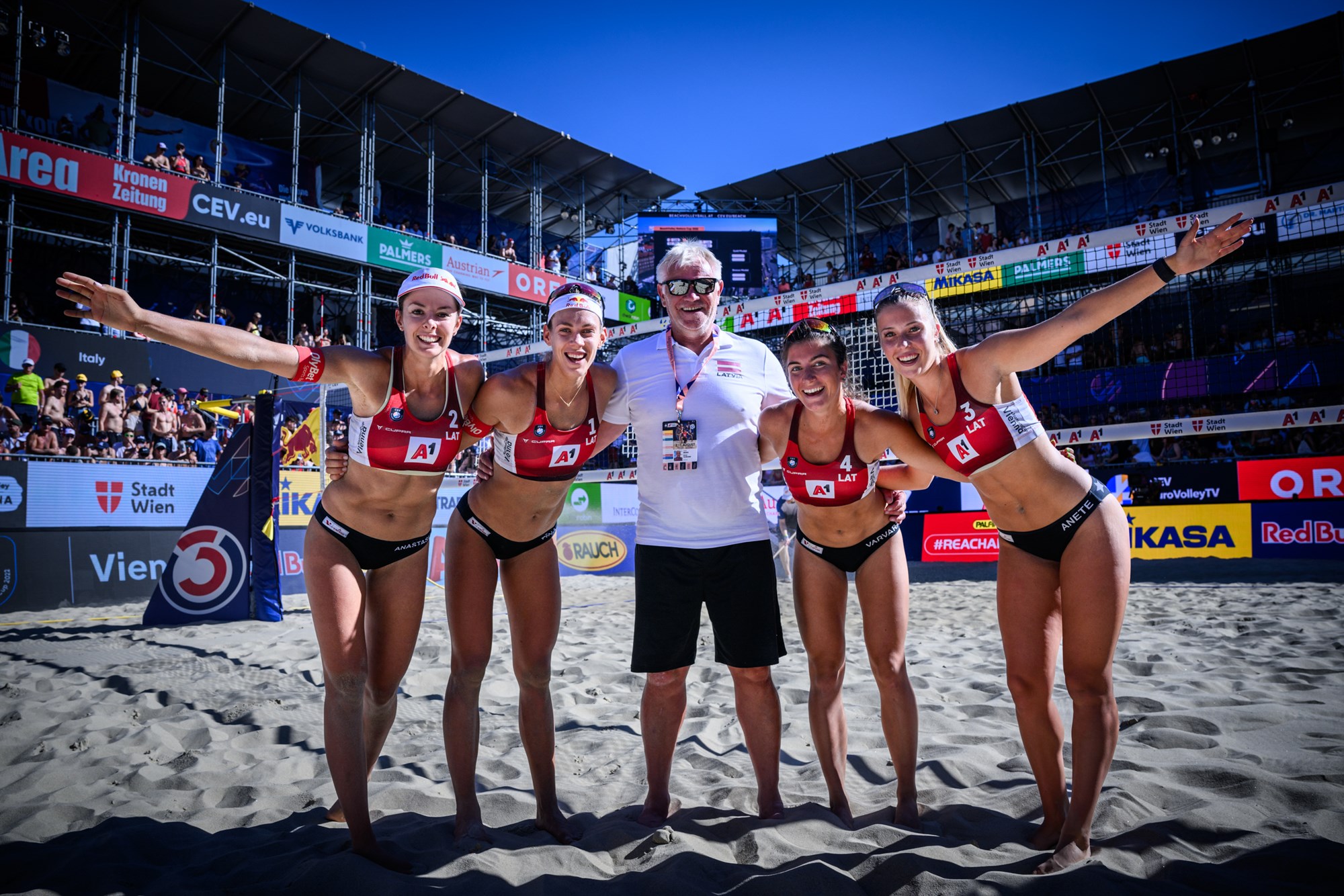 The Latvian quartet poses with their coach after their victory
Graudina and Kravcenoka entered the court for the second match of the series between Latvians and Italians under pressure after Anete Namike and Varvara Brailko had lost to Reka Orsi Toth and Sara Breidenbach, but evened things against Claudia Scampoli and Margherita Bianchin. In the golden set, the Olympians faced an unlikely formation of Breidenbach and Scampoli and won 21-19, giving their country the triumph.
"The energy at the Red Bull Beach Arena is very good. Italy had four great players and it was another crazy series for us, only ending on a golden set. We feel that in the golden set everyone is fighting for each and every ball and it plays out totally different than a normal match. That makes of it very interesting and amazing to watch."
Anastasija Kravcenoka
Latvian Beach Volleyball Player