Beach Volleyball
Italian teams trying to maintain winning tradition in Cervia
Italy is set to host a Volleyball World Beach Pro Tour Futures event for the fourth time in the season and the home fans certainly hope that the outcome of this week's tournament in Cervia is the same as the first three, which each had a local team at the top of the podium.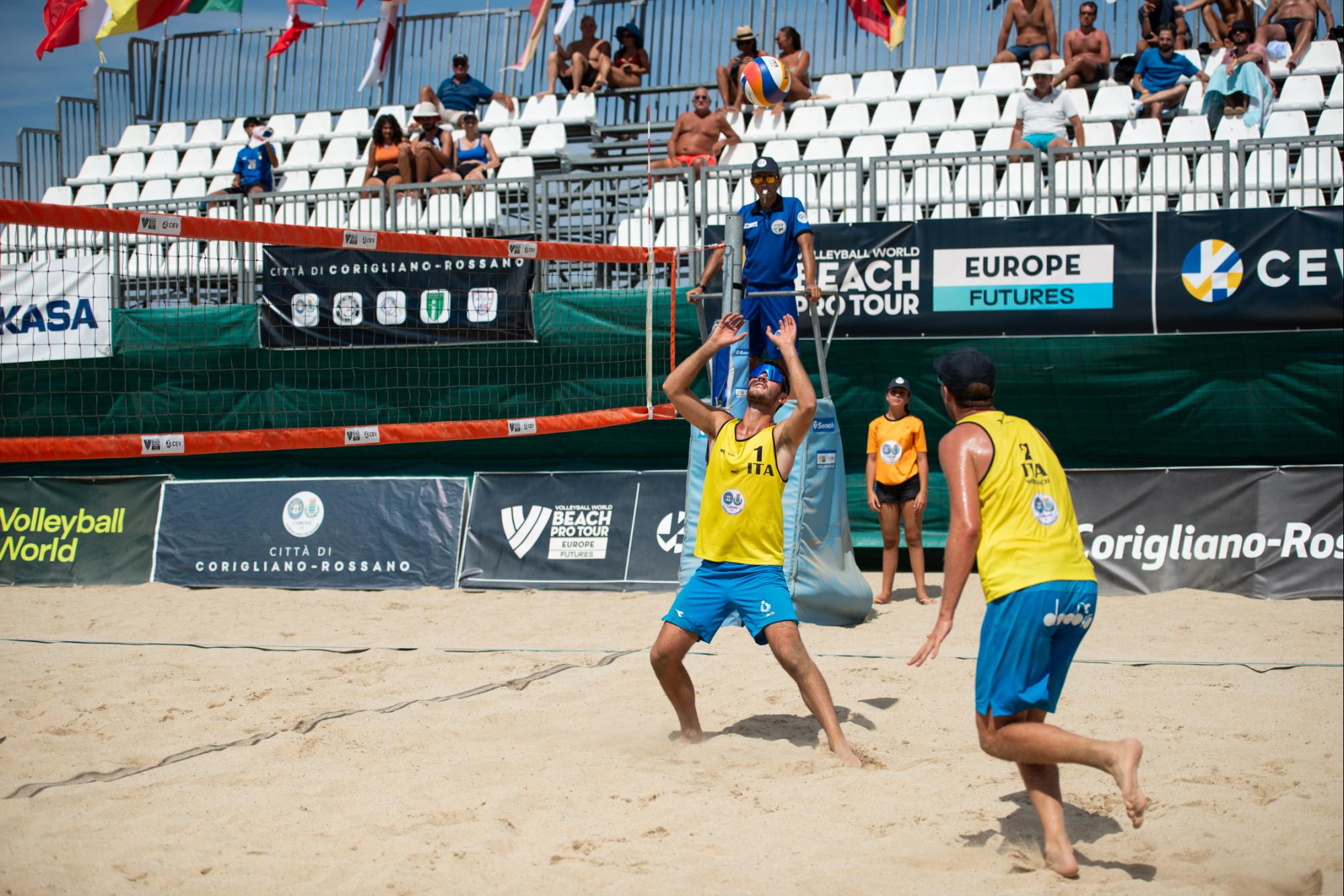 Marchetto and Windisch will try to keep their form after taking gold in Corigliano Rossano
International beach volleyball is coming to the Fantini Club at the start of autumn after the event had to be postponed from its original date in May thanks to challenging circumstances across the region of Emilia Romagna, which has experienced unprecedented flooding.
The double-gender Cervia Futures will count on 45 teams (26 men's, 19 women's) from 17 countries, which will play for four straight days on the Italian northeastern coast.
Hosts Italy will have as many as 18 duos in action this week in Cervia and among them are the men's top-seeded Tobia Marchetto and Jakob Windisch, who prevailed at home at the Corigliano Rossano Futures earlier in September.
Also guaranteed in the main draw are fourth-seeded Gianluca Dal Corso/Marco Viscovich, fifth-seeded Tiziano Andreatta/Andrea Abbiati and tenth-seeded Matteo Cecchini/Mauro Sacripanti.
Completing the list of 12 men's duos with spots in the main draw are Germany's Momme Lorenz/Simon Kulzer and Niklas Held/Hennes Nissen, Latvia's Ardis Bedritis/Arturs Rinkevics, China's Li Zhuozin/Liu Chuanyong and Li Jie/Wang Yanwei, Hungary's Artúr Hajós/Bence Stréli, Lithuania's Arnas Rumsevicius/Tomas Stasevicius and Brazil's Johann Dohmann/Lucas Aguinelo.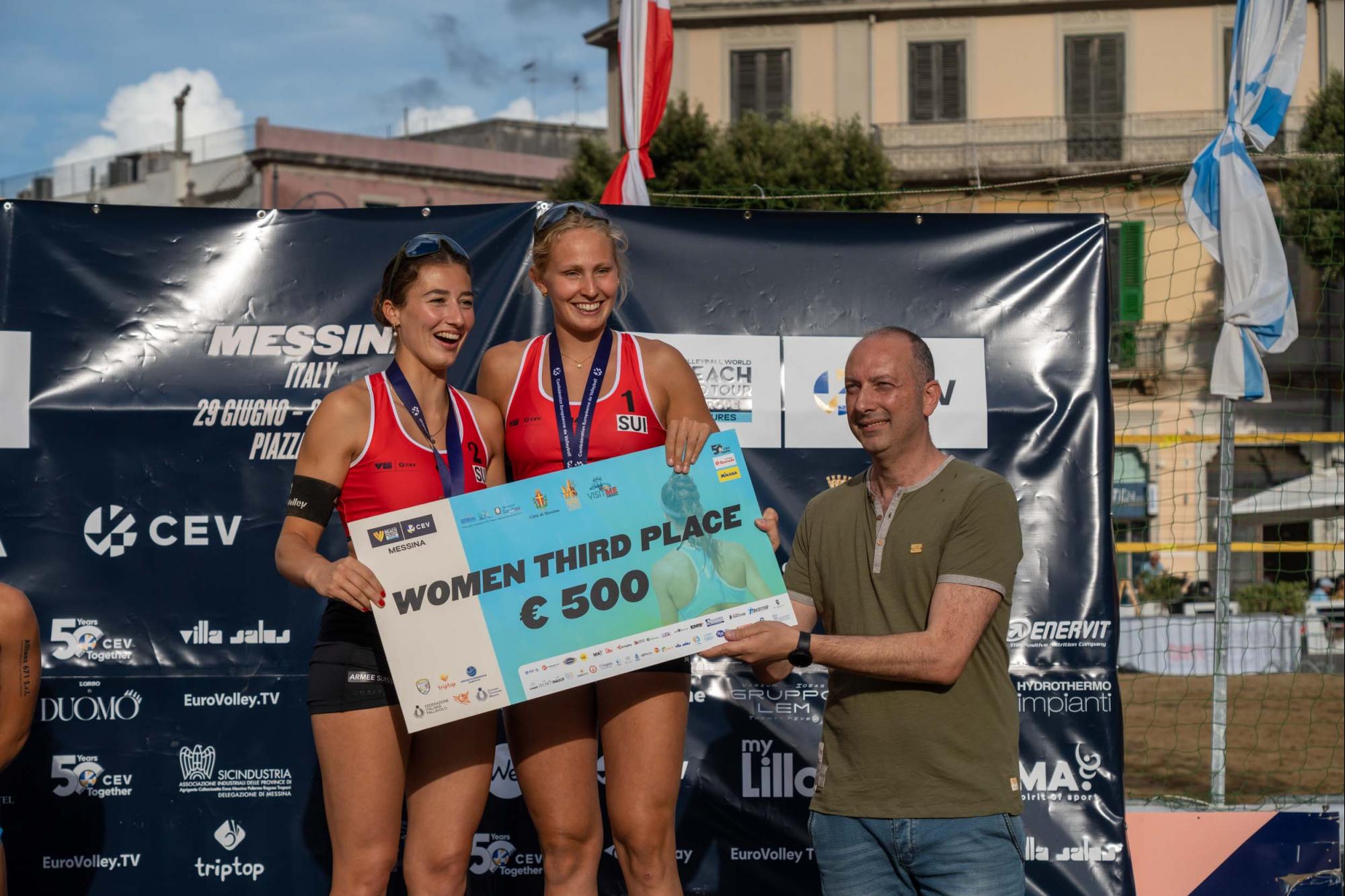 Bentele and Lutz made a podium apperance in third place in Messina
The women's entry list is spearheaded by Swiss Menia Bentele and Anna Lutz, who recently finished 17th at the 2023 CEV EuroBeachVolley in Vienna, Austria. The two made it to the podium in Italy earlier this year, taking bronze at the Messina Futures, in July.
Seeded second, the Orsi Toth sisters Reka and Viktoria represent the main Italian hopes of a home win this week in Cervia. Other local duos starting directly in the main draw are fifth-seeded Erika Ditta/Eleonora Sestini, sixth-seeded Valeria Tallevi/Giada Godenzoni and tenth-seeded Aurora Mattavelli/Maria Mancinelli.
The remaining seven main draw spots went to Latvia's Līva Ēbere/Deniela Konstantinova, Czechia's Valerie Dvorníková/Anna Pospisilova, Sweden's Louise Månesköld/Malin Bergholm, Switzerland's Anouk Kressler/Janick Schaltegger, Slovakia's Kristina Harmanova/Zuzana Reginova, the Netherland's Esther Cramer/Laura Overwater and Germany's Giulia Deibenberger/Tabea Schwarz.
The Beach Pro Tour Futures events in Europe are run by the CEV in close cooperation with Volleyball World and provide teams from the continent with several opportunities to compete and gain valuable ranking points during the Olympic qualification period for the Paris 2024 Games.