Beach Volleyball
The Road to Paris: European men dominate the top of the Olympic Rankings
Few things will be more important in international beach volleyball in the next 15 months than qualifying for the Paris 2024 Olympics. The race to be a part of sports' greatest event is always fascinating and generates endless interesting storylines involving the top teams in the world. We will be following the Olympic qualification process throughout the entire period and will also present some articles that will help you understand how it works and introduce you to some of the stars of the sport that will be chasing something special in their Road to Paris.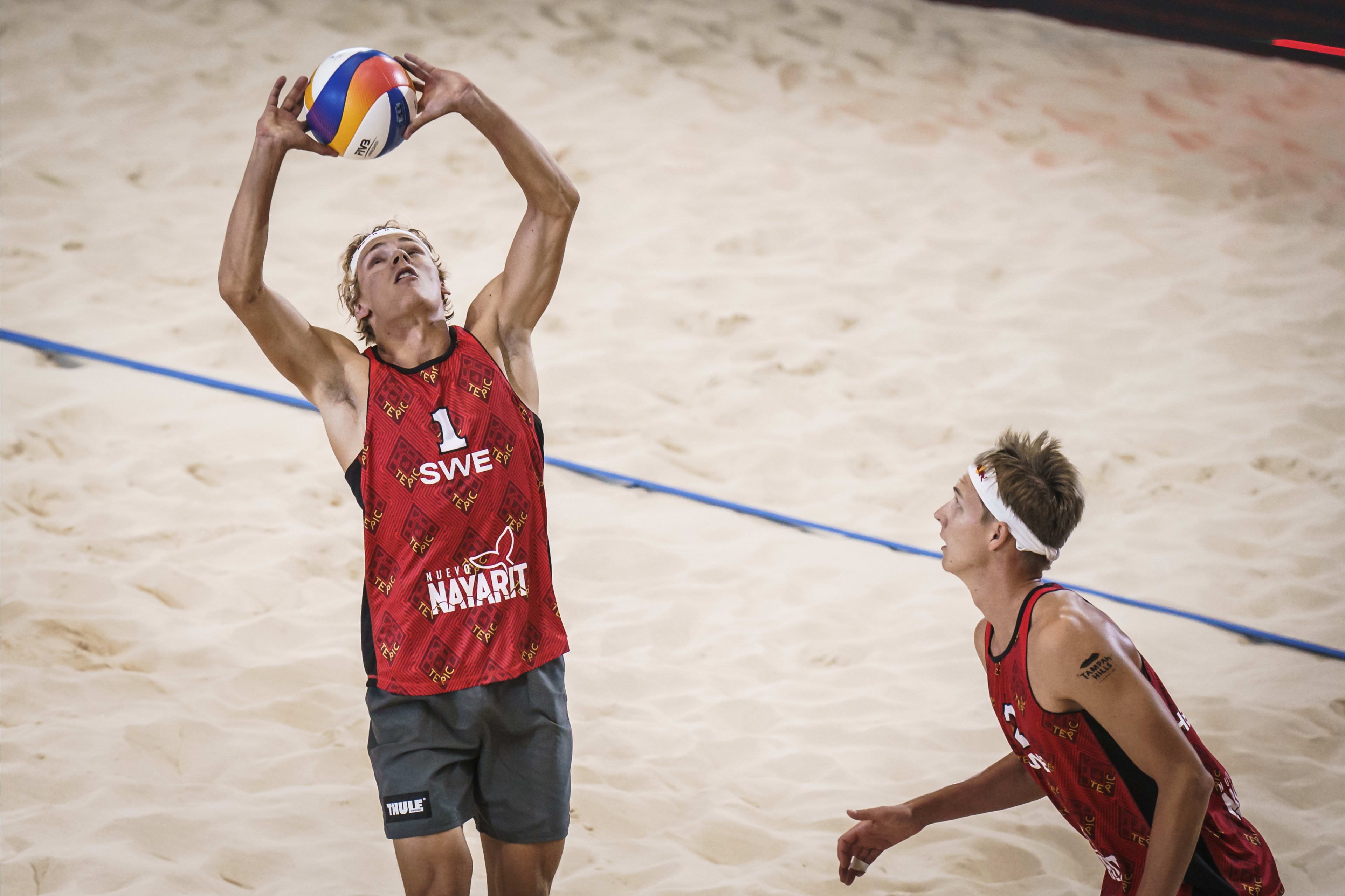 European champions Åhman and Hellvig continue with their good start to their first Olympic run (Photo: Volleyball World)
The strong start of European teams in the 2023 Beach Pro Tour season, which culminated in three podium sweeps in events held in Doha, La Paz and Tepic, is reflected in the FIVB Olympic Rankings, as the list that will determine 17 of the 24 teams that will compete in next year's Paris Olympics displays nine duos from the continent among the top ten in its latest update.
The rankings are formed by the total points earned by teams considering their best 12 results in international and continental tournaments played until June 10, 2024, when the 17 best-ranked men's and women's teams will secure a spot in the Games.
Reigning European champions David Åhman and Jonatan Hellvig of Sweden, who before the most recent update shared the top spot in the rankings with Spanish veterans Pablo Herrera and Adrián Gavira, are now the sole leaders with 2,760 points.
The Swedish not only benefited from the absence of the Spanish at the Tepic Elite16, but also went all the way to win the tournament held in Mexico, adding 1,200 points to their total.
Reigning Olympic champions Anders Mol and Christian Sørum moved one position up with their second-place finish in Tepic, adding 1,100 points and now stand at 2,300 – the Norwegians, however, have only two results counting to their total, against three of the Swedish.
Italy's Adrian Carambula/Ranghieri and Germany's Clemens Wickler/Nils Ehlers are tied for third with 1,760 points. The Italians were fifth in Mexico, collecting 760 points, while the Germans made it to the podium in third place, adding 1,000 to their total.
The nearly all-European list continues with the Netherlands' Stefan Boermans/Yorick De Groot (fifth, with 1,660 points), Herrera/Gavira (sixth, with 1,560), the Netherlands' Alexander Brouwer/Robert Meeuwsen (seventh, with 1,520) and Poland's Michal Bryl/Bartosz Łosiak (eighth, with 1,500).
Italy's Paolo Nicolai/Samuele Cottafava and Chile's Marco Grimalt/Esteban Grimalt are tied for ninth with 1,360 points each.
The women's FIVB Olympic Rankings show three European duos among the ten top-ranked teams in the list. Dutch Raisa Schoon and Katja Stam went from third to fourth place after they were fifth in Tepic, collecting 760 points – they now have 1,960 and are only 40 behind Australians Taliqua Clancy and Mariafe Artacho.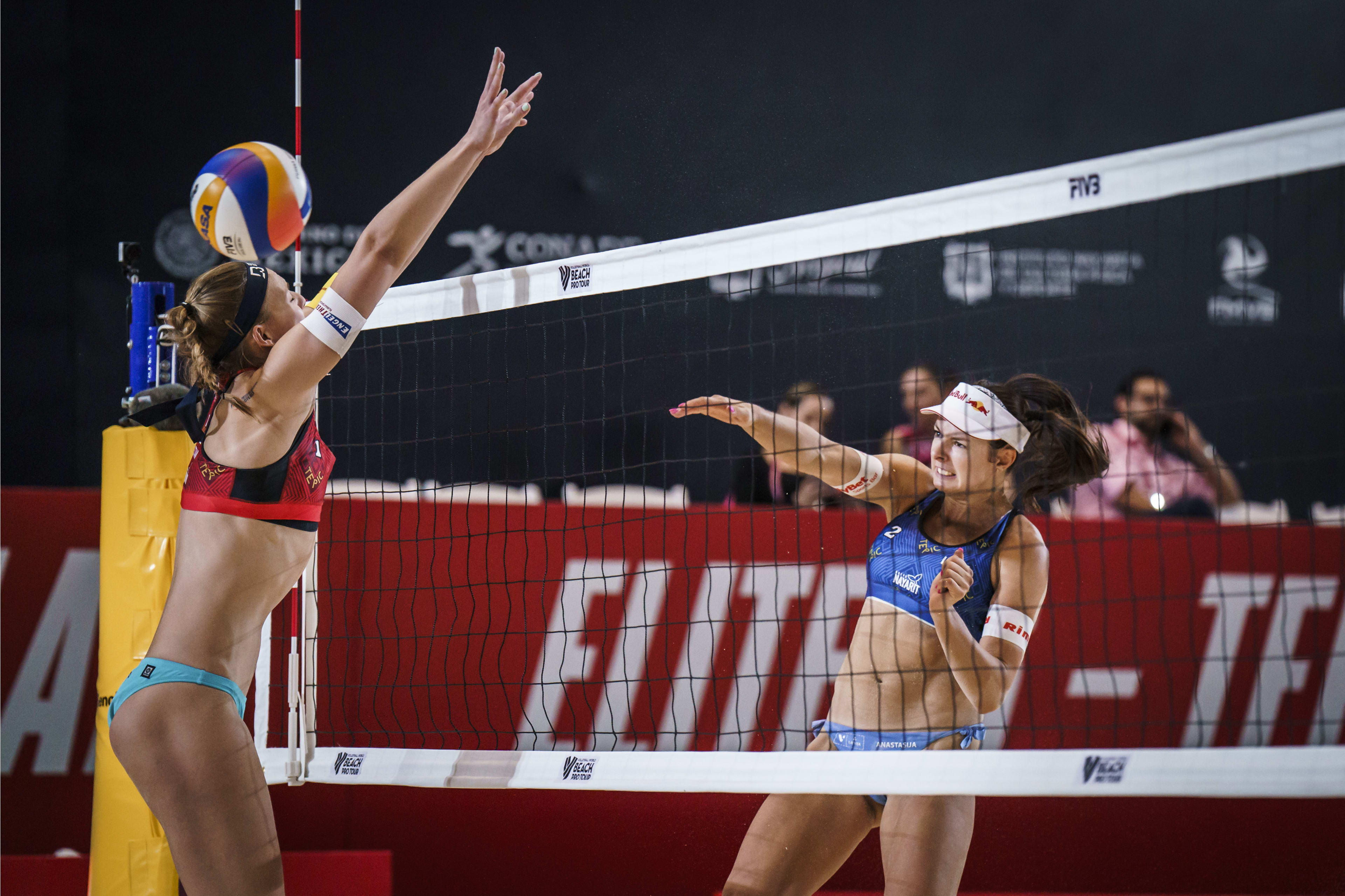 Schoon/Stam and Tina/Anastasija are both inside the women's top ten (Photo: Volleyball World)
Czechs Barbora Hermannová and Marie-Sara Štochlová didn't have a good result in Tepic, losing in the qualifiers, but continue well-positioned, now ranking sixth with 1,540 points – 340 of which earned in the Mexican event.
Italians Marta Menegatti and Valentina Gottardi made one of the hugest leaps in the latest update, going from 28th to ninth with the 900 points they earned with their fourth-place finish in Tepic - which raised their total to 1,360.
Despite settling for 13th in Tepic, two-time European champions Tina Graudina and Anastasija Samoilova also moved up in the rankings, going from 11th to ninth – the Latvians also have 1,360 points.
Two other European teams appear in the top 15 in Germany's Svenja Müller/Cinja Tillmann (13th, with 1,220) and France's Alexia Richard/Lézana Placette (15h, with 1,200) and could soon break into the top ten.
The Olympics Rankings will get a new update after the conclusion of next week's Beach Pro Tour Challenge event in Itapema, Brazil, and we'll dissect the biggest moves once they are out.