Beach Volleyball
Vikings victorious on inaugural #BeachNationsCup
The Beach Volley Vikings added another trophy to their ever-growing collection with Norway's victory at the inaugural edition of the A1 CEV BeachVolley Nations Cup in Vienna on Sunday, the same day on which the country also celebrated the one-year anniversary of the Olympic title won by Anders Mol and Christian Sørum at the Tokyo Games.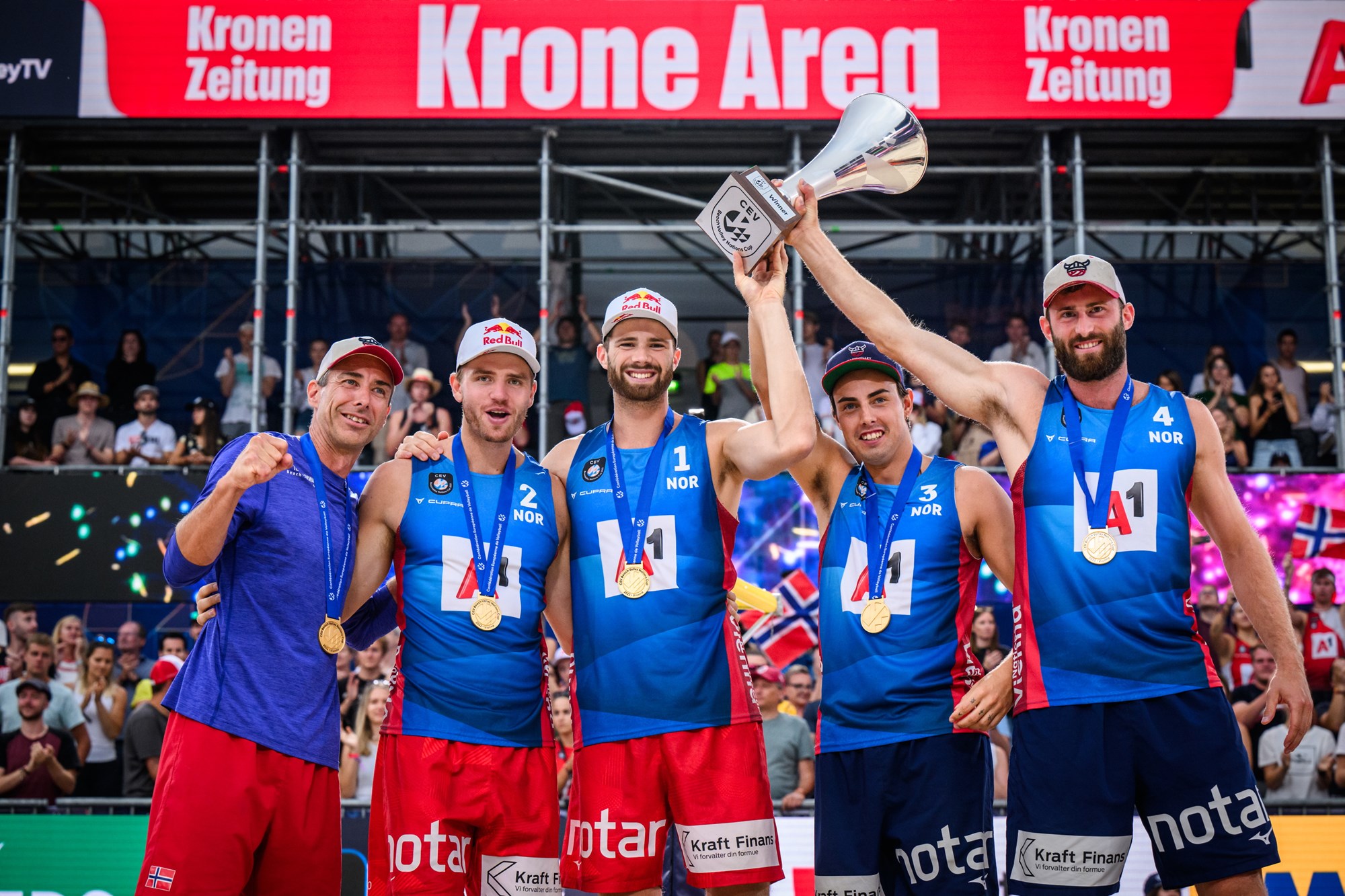 The four Norwegian players pose at the Red Bull Beach Arena
The quarter formed by them, Hendrik Mol and Mathias Berntsen showed strength, coming from behind to defeat Italy in the golden set at the Red Bull Beach Arena and make of Norway the first men's champions of the recently-created tournament. The Netherlands finished third and took bronze.
"This is amazing. We need to thank the fans, they gave us the energy to push through in every single match and give our best. And also the Italians for a great battle. We were hungry for revenge after losing to them in pool play. I'm happy to get that win and also to stand here with the #BeachNationsCup trophy. The team did a great job."
Anders Mol
Norwegian Beach Volleyball Player
The Norwegian victory in Vienna marks the fifth-straight triumph of the country in a CEV event, following four titles of Mol and Sørum at the EuroBeachVolley between 2018 and 2021. The two could keep the run going later this month, when they'll play at the 2022 edition of the tournament, which will be part of the European Championships Munich from August 15-21.
The reigning Olympic and world champions were instrumental in the Norwegian triumph as they were flawless in their two-set match and the golden set against Paolo Nicolai and Samuele Cottafava to give their country the title after Hendrik and Berntsen put up a good fight, but ended up falling to Adrian Carambula and Enrico Rossi is the first duel of the gold medal series.
"We were nervous during the golden set, but Anders and Christian were fantastic today. I don't think they missed a single side out. It's incredible to watch them and it's so inspiring to be a part of this team. I'm just really happy right now."
Mathias Berntsen
Norwegian Beach Volleyball Player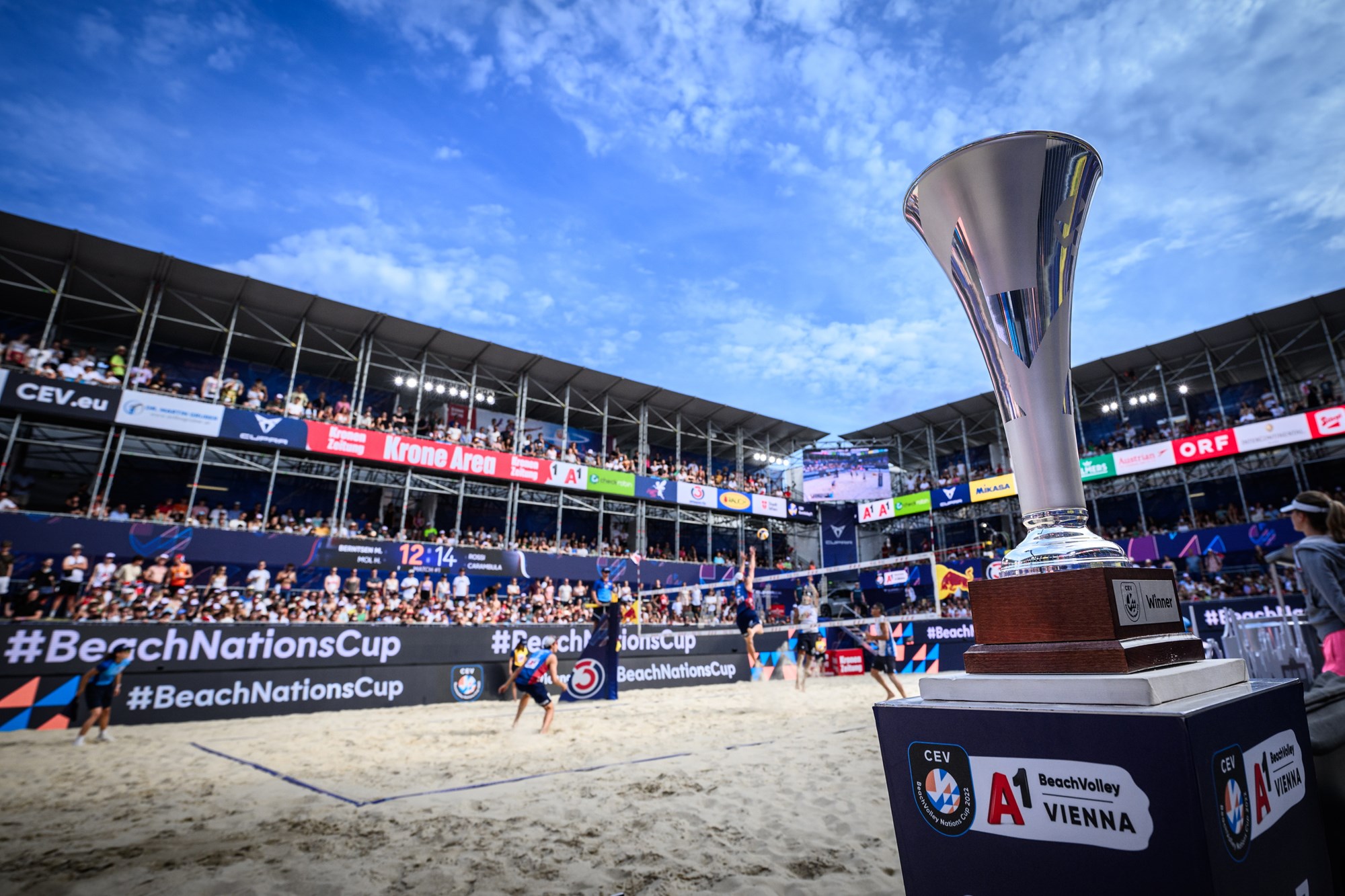 Norwegians and Italians play with the #BeachNationsCup trophy on the sidelines
The Netherlands took the third and final spot on the podium thanks to the great effort of Alexander Brouwer and Robert Meeuwsen. The Dutch turned the series against Austria around and frustrated the thousands of home fans that packed the Red Bull Beach Arena.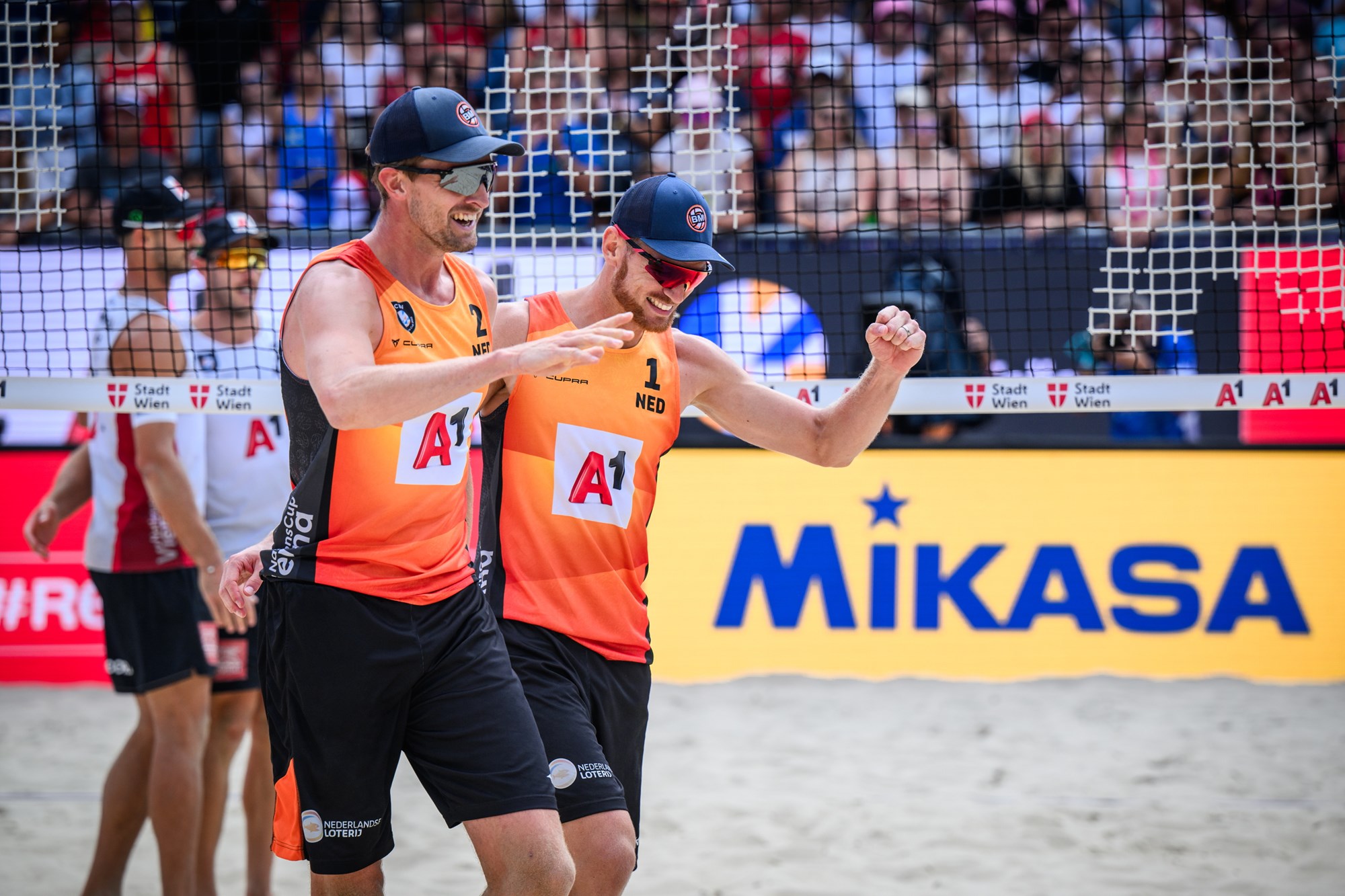 Brouwer and Meeuwsen celebrate a point during the golden set
The day started well for the hosts, with Martin Ermacora and Moritz Pristauz beating Christiaan Varenhorst and Steve van de Velde, but Brouwer and Meeuwsen changed the course of it with a two-set win against Robin Seidl and Philipp Waller and a golden set triumph over Ermacora and Pristauz to lead the Dutch victory.
"We're really happy. It's always incredible to win a medal and it feels definitely better than fourth place, which was our finish here in Vienna at the #EuroBeachVolley last year. I think we played really well today. It's a shame we ruined the plans of Austria in front of this incredible Red Bull Beach Arena, but I'm happy with our performance."
Alexander Brouwer
Dutch Beach Volleyball Player