Club Volleyball
KAPOSVAR safely through to #CEVChallengeCupW 8th Finals
The journey of last year's semi-finalists 1.MCM-Diamant KAPOSVAR continues after they recorded a 3-1 home victory (25-19, 20-25, 25-15, 2511) to go with their 3-0 away win last week in Israel at Maccabi HADERA. The hosts were the clear-cut favourites of this re-match but the Israelis managed to stay in contention after winning the second set. Playing in front of their supporters, the home side improved their performance to a higher level and finished the match with two easy set wins. Team captain Tatjana Matic top scored with 16 points followed by Nikalina Bashnakova and Nathalie Lemmens with 15 apiece.
Tatjana Matic in action during the re-match with Maccabi HADERA
"With the exception of the second set, we had full control of the game. We can be proud that we help with the promotion of Hungarian Volleyball in Europe. I hope we can have a couple of good matches in the next round."
Vincent Lacombe
Head coach of 1.MCM-Diamant KAPOSVAR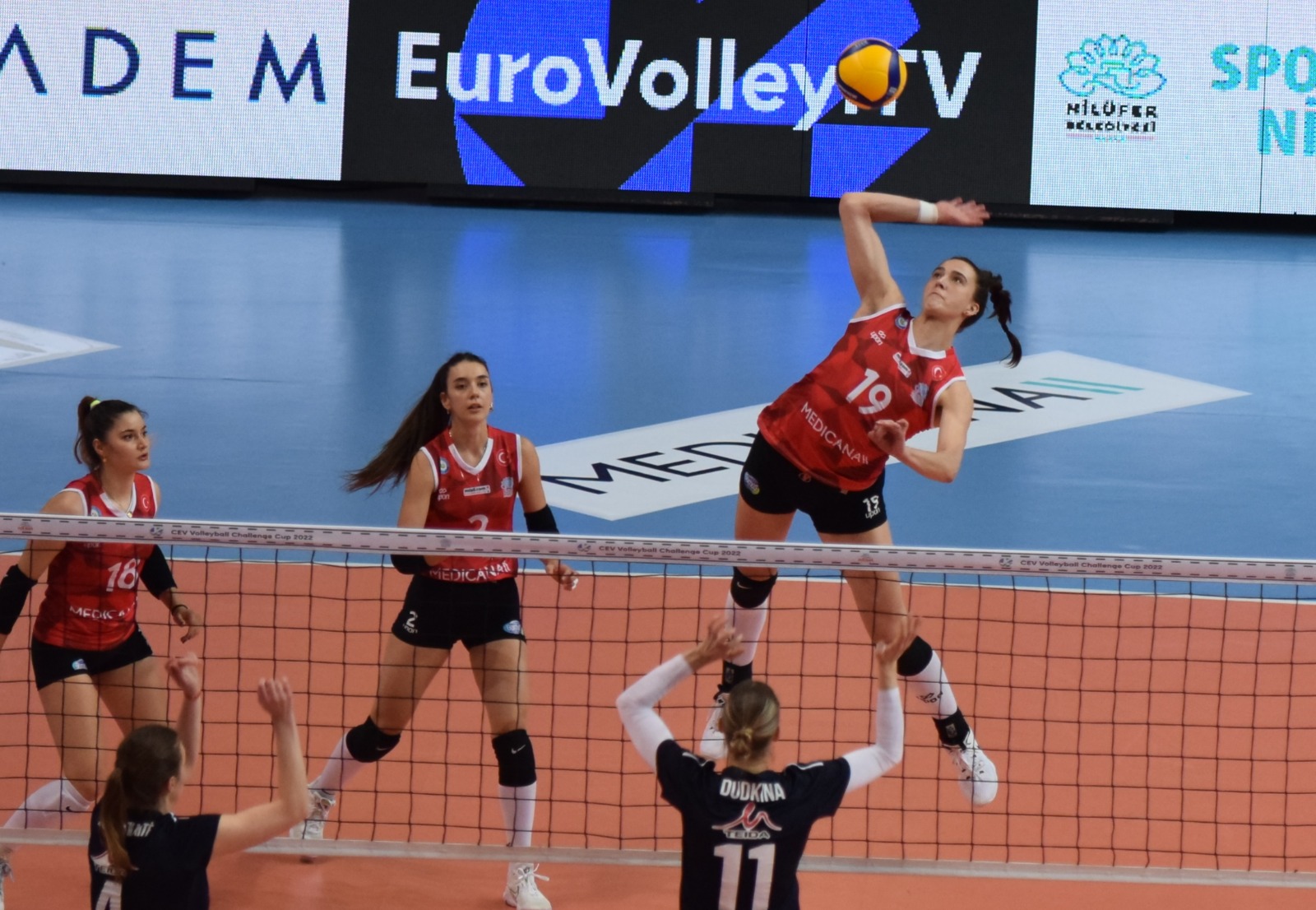 Emily Maglio top scored on Tuesday for Nilüfer Belediye BURSA
In the first of back-to-back matches on Turkish soil, Nilüfer Belediye BURSA beat TK KAUNAS VDU of Lithuania 3-1 (25-12, 25-19, 22-25, 25-18). The Turkish team imposed their rule in the first set – before their opponents tried to put up more of a fight in the second. However, the hosts had the upper hand again at 25-19. The team from Lithuania claimed an early 9-4 advantage in the third set – and a break by the Turkish coach helped the hosts claw back to 12-all. Despite this, the visitors won the third set 25-22 and set the pace in the early stages of the fourth set too (9-6). However, BURSA fought their way back and eventually secured a 3-1 victory propelled by their Canadian player Emily Maglio – who scored 19 points. Hümay Topaloglu registered 17 points and Sude Naz Uzun added 14 for the home side. On Wednesday, BURSA will need to win two sets in the re-match to secure their spot in the 8th Finals.