Volleyball
Sweden prevents Finnish clean sweep at NEVZA Youth Championships
Finland was going for a quadruple when the NEVZA U17/U19 Championships for the first time ever counted as the first round of qualifications for the U18/U20 European Championships, respectively. The U17/U18 qualifier was played in Ikast, Denmark, one week before seven teams of each gender came together in Rovaniemi, Finland, to lock horns in the NEVZA U19/U20 qualifier. The boys and girls from Finland were truly dominant in Ikast. Since Finland had already won the men's competition in Rovaniemi, the U19 women's final against Sweden was the last match to win to ensure a quadruple. However, the Swedes eventually prevented Finland from achieving this feat. Next year the U19 NEVZA Championships will be taking place in the Faroe Islands.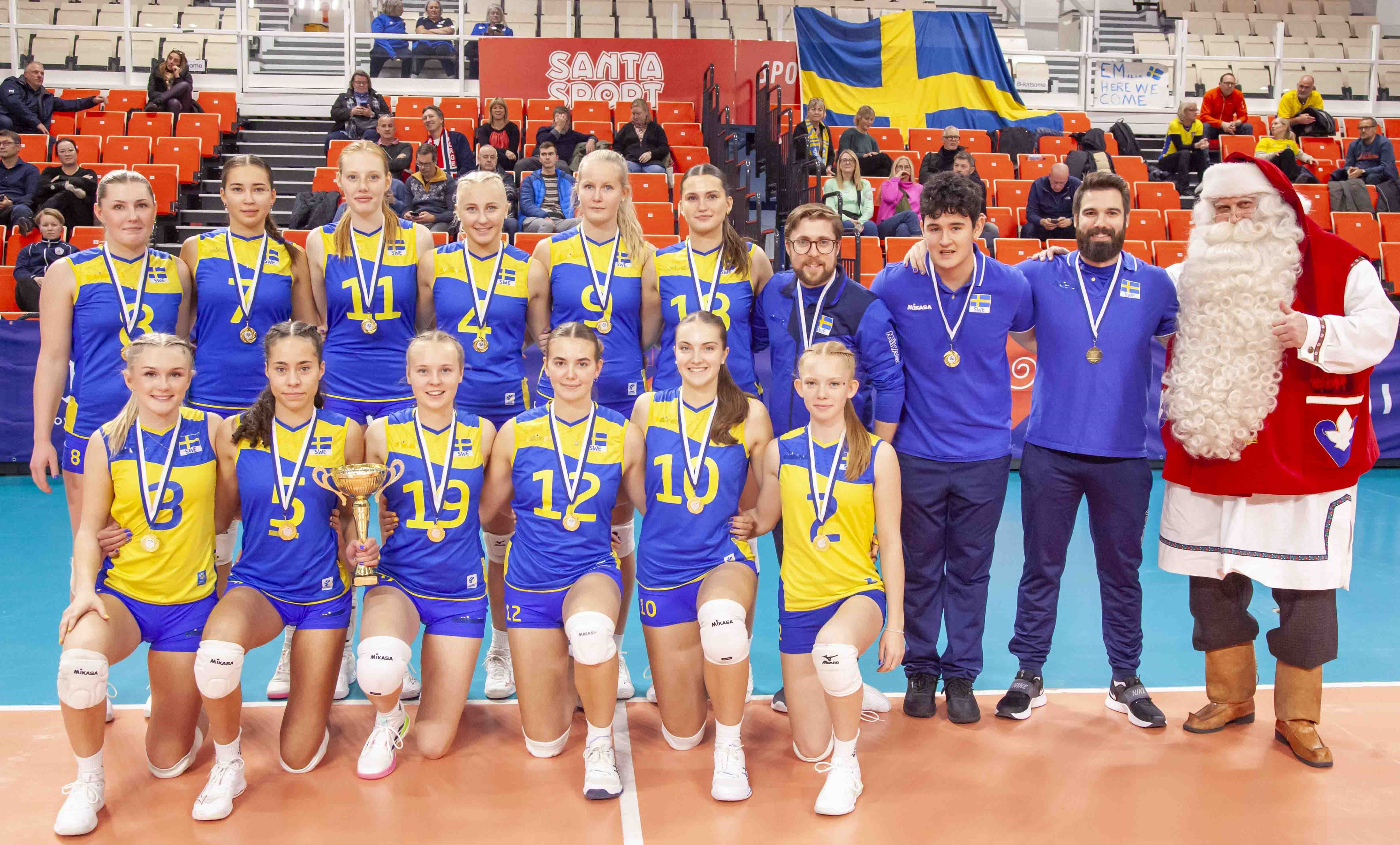 With their triumph in Rovaniemi, Sweden have qualified for the U20 Women European Championship for the first time since 1984
In the women's pool play, Finland had topped the charts in Pool A. Norway managed to take the second place, but Iceland fought hard and took one set and lost a tight fourth one. In Pool B, Sweden and Denmark won their first matches and met in the pool 'final' in a match dominated by the Swedish team for a clear 3-0 victory. The semi-finals showed two different faces. Finland had a rather easy win against Denmark while Sweden was in big trouble after losing the two first sets against Norway. After performing a remarkable comeback, Sweden finally claimed the tiebreaker. Maybe this battle was the turning moment in the competition. In the final, it also went to a decisive set. At this point, Sweden looked very strong, cruising to a comprehensive 15-6 win. With the victory, Sweden qualified for U20 European Championship in 2024, doing so for the first time since 1984.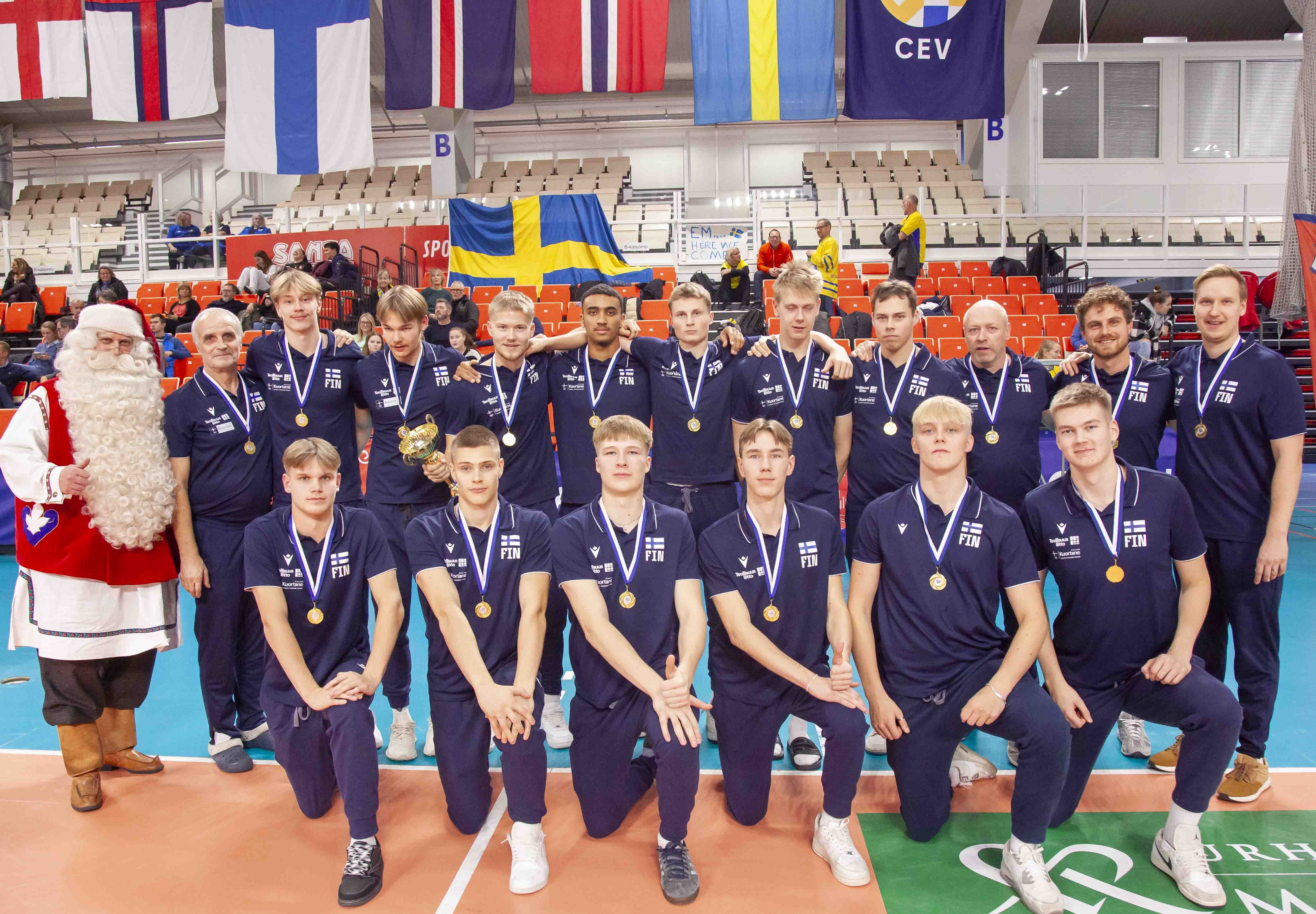 Home heroes Finland did not concede a single set in the men's competition
On the other hand, the Finnish young men dominated their tournament, going through the competition with straight 3-0 wins from start to end. Their opponent in the final, Norway, came from a tough battle in the semifinal against Sweden. Unlike Sweden's women, Norway could not take advantage of that experience. Finland never gave them a chance, winning rather easily in straight sets. Therefore, Finland's men have qualified directly for the 2024 U20 European Championship. In the bronze medal match, Denmark took an early command and even if Sweden won the second set, there was no discussion about the outcome of the match. Denmark will join Norway in the 2nd Round of European qualifiers scheduled for the spring of 2024. 
All matches were streamed on Finnish Solidsport, and they were made available for fans and friends to follow also in Denmark, Faroe Islands, Norway, and Sweden. 
The members of the U19 women's All Star Team
Final standing – U19 Women 
1.    Sweden
2.    Finland
3.    Norway
4.    Denmark
5.    Iceland
6.    England
7.    Faroe Islands
All Star Team – U19 Women
Setter: Liina Räty (FIN) 
Opposite: Martha Edlund (SWE) 
Outside hitter: Emilia Saxne (SWE) 
Outside hitter: Iina-Reeta Kaikkonen (FIN) 
Middle blocker: Ella Peltomaa (FIN) 
Middle blocker: Hanna Kastarinen (FIN) 
Most Valuable Player: Veera Help (FIN) 
Teams' MVPs 
Faroe Islands: #6 Nicola Toftegaard
England: #13 Daisy Boardman
Iceland: #6 Helena Einarsdóttir
Denmark: #13 Veronica Kjær Sørensen
Norway: #3 Lilli Tuften Aksnes-Øystese
Finland: #2 Iina-Reeta Kaikkonen
Sweden: #11 Martha Edlund
Players from Finland composed a good share of the men's U19 All Star Team
Final standing – U19 Men 
1.    Finland
2.    Norway
3.    Denmark
4.    Sweden
5.    Faroe Islands
6.    England
7.    Iceland
All Star Team – U19 Men
Setter: Ville Kuukasjärvi (FIN) 
Opposite: William Groffier (FIN) 
Outside hitter: Even Stray Aas (NOR) 
Outside hitter: Nooa Marttila (FIN) 
Middle blocker: Aaro Paananen (FIN) 
Middle blocker: Måns Eriksson (SWE) 
Libero: Emil Severin Olsen (NOR) 
Teams' MVPs 
Iceland: #5 Tómas Davidsson
England: #20 Jacob Lloyd-Williams
Faroe Islands: #7 Vuc Ilić
Sweden: #8 Måns Eriksson
Denmark: #17 Kristoffer Nørager Bisgaard
Norway: #11 Even Stray Aas
Finland: #1 Oskari Sarajärvi
Photos courtesy of Tapani Kuoksa