Club Volleyball
Eczacibasi Dynavit ISTANBUL and Allianz MTV STUTTGART one step closer to the #CEVCupW final
Author:
Victoria Georgieva
On Wednesday, Eczacibasi Dynavit ISTANBUL and Allianz MTV STUTTGART  proved better in their respective first semi-final fixtures of CEV Volleyball Cup 2022- Women. 
Eczacibasi Dynavit ISTANBUL outclassed CSM Volei Alba BLAJ in three sets, while Allianz MTV STUTTGART disappointed the inspired team of Mladost ZAGREB who this season are delivering their greatest achievement in international competitions since the club's golden era back in the 90s.
Eczacibasi Dynavit ISTANBUL seized their 3-0 victory in a match that lasted 82 minutes, with the "usual suspects" stealing the show - Tijana Boskovic finished as top scorer with 23 points, while legendary setter Maja Ognjenovic was named MVP.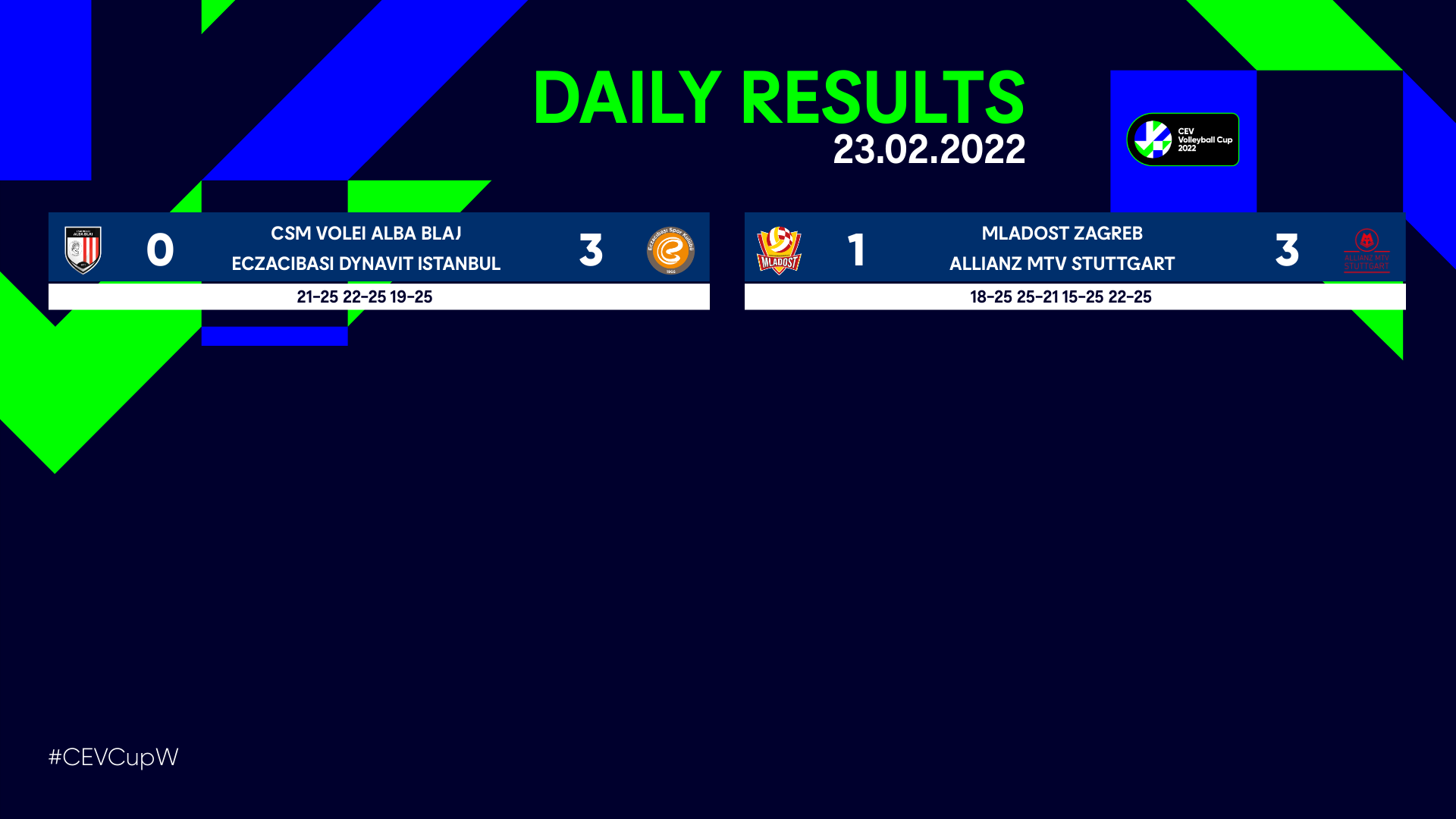 On the other hand, Allianz MTV STUTTGART counted on the unstoppable Krystal Rivers and Simone A. Lee (each one of them finishing with the amazing 23 points to their names). 
However, the away semi-final matches are due to take place next week, so nothing is over yet for CSM Volei Alba BLAJ and the Mladost ZAGREB.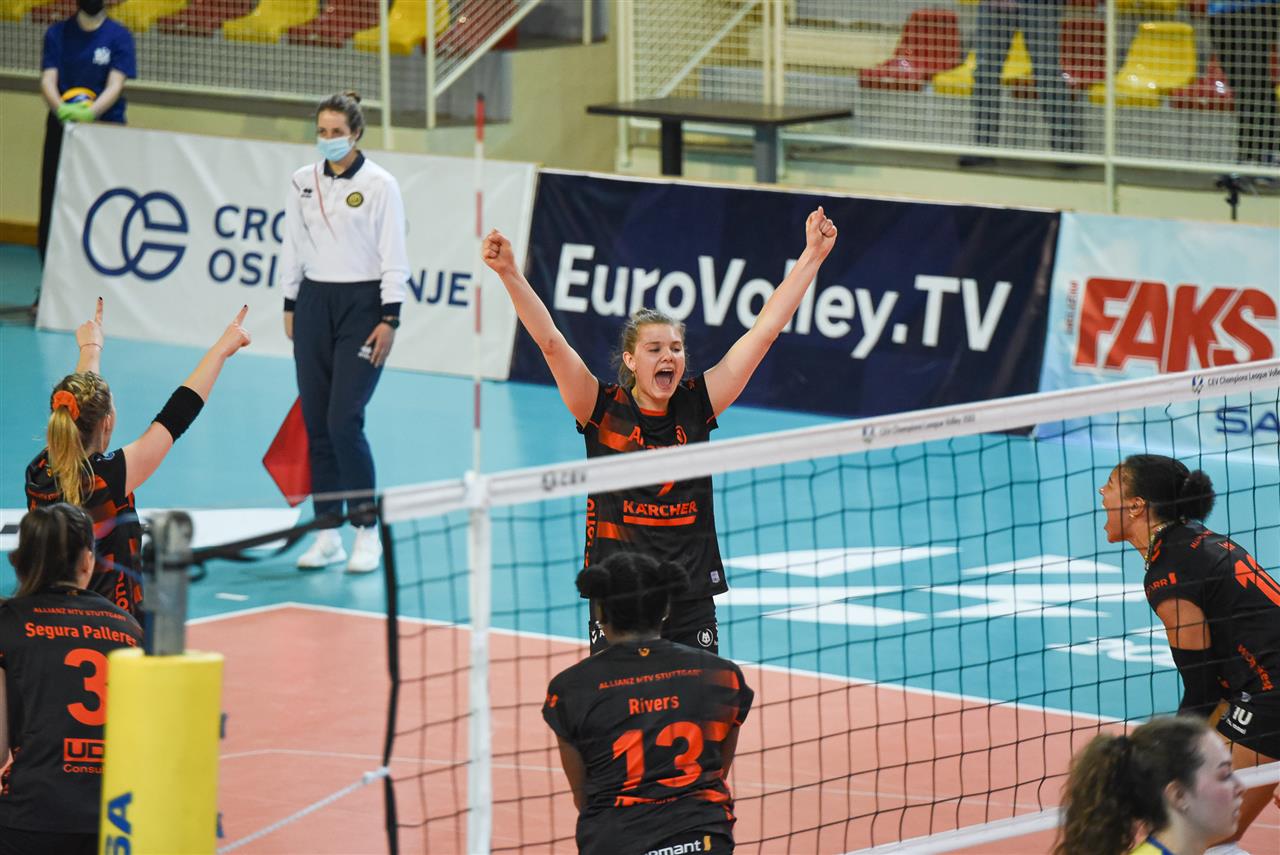 Allianz MTV STUTTGART celebrating the win
CSM Volei Alba BLAJ 0-3 Eczacibasi Dynavit ISTANBUL
- Although Eczacibasi Dynavit ISTANBUL entered the court as heavy favourites, the hosts from CSM Volei Alba BLAJ showed great motivation right after the first referee whistle. The Turkish team tried several times to take the leadership position, but the Romanians would always chase them, getting closer, and delivering a rather equal performance (7 to 8 attacks at 13-10). However, the more experienced players of Eczacibasi took things in their hands in the deciding moments. Mc Kenzie Adams and Tijana Boskovic were the team leaders in these moments (with six and five points respectively), while for the hosts Olga Strantzali was doing good, with five points to her name. 
- The guests started slightly better in the second set, but Victoriia Russu and Olga Strantzali turned things around as Alba Blaj took the lead at 13-11. However, with Hande Baladin on the serve, and with some powerful attacks by Tijana Boskovic, the Turkish team came back, eventually emerging victorious. As many as four kill blocks and three aces turned out to be crucial for Eczacibasi in this set. 
- Confident in their power, Ecacibasi did not face any problems in the third set and closed the match in three sets. Legendary Serbian setter Maja Ognjenovic was named MVP of the game.
- Boskovic topped the charts with as many as 23 points to her name. Hande Baladin added 12 (five kill blocks). For Alba Blaj, Russu scored 12 times as well. 
- Overall, Eczacibasi finished better on all counts - 51 to 43 winning spikes (52% efficiency), recorded as many as 13 kill blocks (to six) and aced three times (to one).
Mladost ZAGREB 1-3 Allianz MTV STUTTGART
- The first set set the tone for an exciting match ahead. Both teams went head-to-head, but with the result being 13-13 Krystal Rivers delivered powerful spikes, and Allianz MTV STUTTGART took the leadership. It was the most efficient play on attack (18 winning spikes) that sealed the deal for the guests in the opener.
- Mladost Zagreb weren't ready to give up, and tied the set score at 1-1. In the second part of the match, they improved their performance on attack (13) and seized all their opportunities on their opponents' errors (8). 
- After losing concentration in the second set, the German players came back stronger in the third one. They finished with two kill blocks, one ace, and were slightly better on attack (13 to 11). 
- Krystal Rivers and Simone A. Lee continued their outstanding performance in the fourth set, delivering great show on the court.
- The happy winners celebrated with their fans, who had travelled from Stuttgart to Zagreb.
- Both Rivers and Lee finished with 23 points each. For the hosts, Martina Samadan scored 17.
- Statistically, Allianz MTV Stuttgard outclassed their opponents in the different elements - 61 to 46 winning spikes, 11 to seven blocks, four to three aces.