Club Volleyball
Europeans Abroad: Kurek helps Wolfdogs continue at the top in Japan
European volleyball players are spread all over the world during the 2022-2023 club season, playing big roles in their teams. Many of them are currently away from the continent, competing in some of the top leagues on the planet, and we'll help you follow their journeys by providing periodic updates on how they're doing.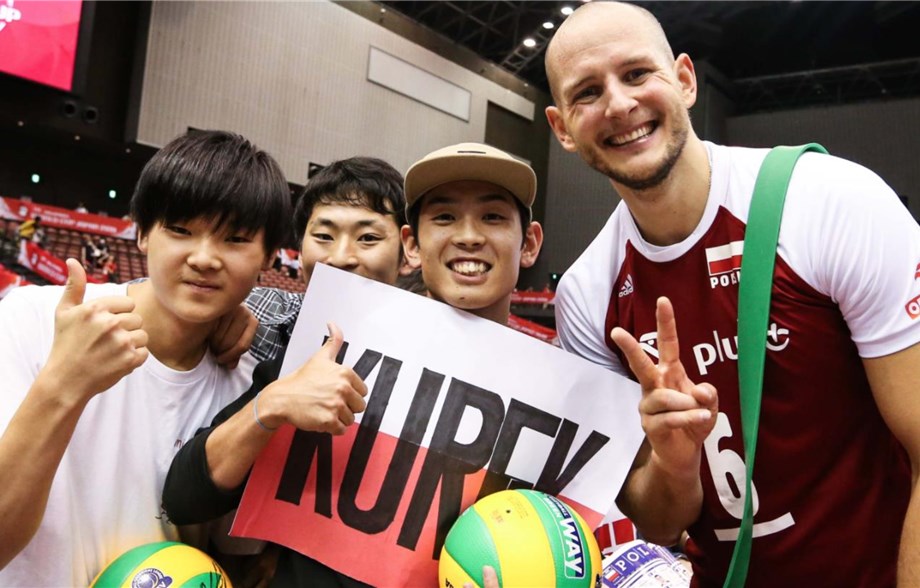 Japan
Polish national team captain Bartosz Kurek helped his team and defending Japanese V. League champions Wolfdogs Nagoya remain at the top of the standings with a pair of wins over the Tokyo Great Bears on the weekend.
The 34-year-old opposite produced 24 points (22 kills, two blocks) on Saturday, when the Wolfdogs won 3-1, and added another 19 (14 kills, four blocks, one ace) on Sunday, when his team needed only three sets to secure the win.
Two other European players were in the spotlight in the duels involving the Panasonic Panthers and the Toray Arrows. Having Polish outside hitter Michal Kubiak as a key player with 23 points (19 kills, two blocks, two aces), the Panthers won Saturday's duel in four sets. On Sunday, Hungarian opposite Krisztián Padar carried the Arrows to a five-set victory with 30 points (29 kills, one ace) – Kubiak scored 21 (18 kills, two blocks, one ace).
The Toray Arrows female team also counted on big performances from a European star to earn points over the weekend. With Azeri opposite Jana Kulan in great form (she scored 29 points on Saturday and an impressive 41 on Sunday), the team fell to the NEC Red Rockets 3-1 in the first encounter but came back to win 3-2 in the second.
Turkish national team player Tugba Senoglu was also in great form over the weekend, helping her team Kurobe Aqua Fairies earn back-to-back victories over the Okayama Seagulls. The outside hitter produced 20 points (19 kills, one ace) on Saturday, when the Aqua Fairies won 3-1, and added another 18 (17 kills, one ace) the next day, helping her team prevail in the tie-breaker.
Indonesia
The Indonesian Women's Proliga completed its fifth round of matches this week and the two teams that sit in first and second place in the standings have gotten there with strong help from European players.
League leaders Jakarta Pertamina Fastron played only once this week, on Friday, and relied on their European outside hitter duo of Oleksandra Bytsenko and Marija Zelenović to top Jakarta BIN 02C 3-1 on the road. While the Ukrainian came off the bench to produce 20 points, the Serbian delivered 16 in her starting role.
Turkish opposite Ceren Kapucu helped her team Bandung BJB Tandamata to tie Jakarta's 4-1 win record to rank second with back-to-back victories against Jakarta Popsivo Polwan on Thursday and Jakarta Elektrik PLN on Saturday. Kapucu tallied 15 points in the first encounter and 17 in the second.
In the men's league, Bulgarian outside hitter Rozalin Penchev scored ten points and helped his team Jakarta STIN BIN defeat Surabaya BIN Samator 3-0 on Sunday and solidify its third place in the standings.
Brazil
Dutch national team captain Anne Buijs had her first start with Dentil Praia Clube since December 6, but despite her excellent performance, which generated 20 points (18 kills, one block, one ace), the Brazilian Superliga leaders fell to SESC Flamengo in four sets on Friday, facing their first defeat of the season after 12 consecutive victories.
Polish opposite Malwina Smarzek, on the other hand, helped her team Osasco São Cristovão Saúde secure its third win in a row. Smarzek had six points (all in kills) as Osasco swept SESI Vôlei Bauru on the road on Saturday.