Club Volleyball
Skra Bełchatów and Zenit Kazan with one foot in #CEVCupM final
Author:
Martyna Szydłowska
Only four teams left in the quest for the CEV Volleyball 2022 Cup - Men title. On Thursday night they entered the courts in Bełchatów and Monza to lock horns in home matches. Eventually, the encounters in the first leg of semifinals were won by PGE Skra Bełchatów and Zenit Kazan, who upset Tours VB and Vero Volley Monza, respectively. The clash between clubs from Poland and France turned into an electrifying five-setter, once the team from Kazan won 3-1 over Monza. These victories are obviously an important step towards the #CEVCupM final, but still everything is possible as next week the teams will play against each other again in the decisive games. The re-matches are scheduled on next Wednesday, March 2.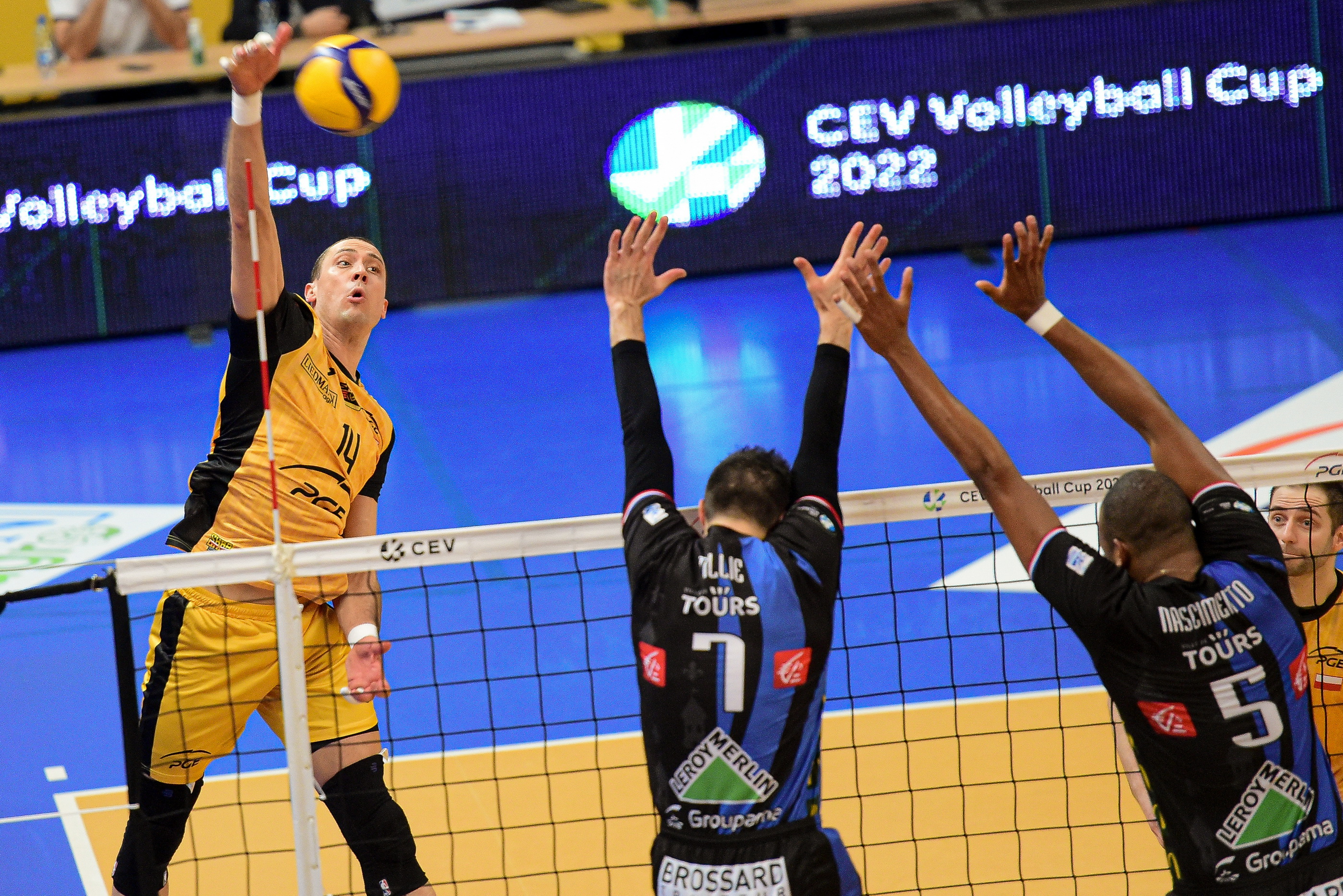 PGE Skra BEŁCHATÓW vs TOURS VB 3-2 (24-26, 25-22, 25-20, 22-25, 15-13)
In the first semifinal clash PGE Skra Bełchatów took on Tours VB. The Polish club, in front of their home crowd at Energia Bełchatów, were eager to continue their winning streak, however the visiting team set the bar high from the beginning of the match. Although, Skra opened the game well, with an early 8-5 lead, and kept the margin of at least three points until 21-17, the French team was not giving up. With Dmytro Teryomenko on serve, they scored six consecutive points to take a 23-21 lead and eventually won the opener. Skra, by themselves, gave away as many as 13 points in the first set to opponent by own mistakes.
The second set had a very similar scenario. Skra was a leading side (16-12), but then got in trouble in the decisive part (19-19). However, this time Mikołaj Sawicki came into the court going directly on the service line. He delivered two aces which were invaluable help to his team.
The hosts kept the momentum and with full self-confidence they went through the third set, improving their game in all components. Serving as many as six aces (two again by Sawicki, another two by Atanasijević and one by Tahta and Łomacz), they didn't make it easy for the opponents who were struggling in receptions.
Once most expected Bełchatów to close the game in fourth set, it turned out to be Tours' show. The French team was using every mistake and inaccuracy of their opponents. Powered by duo Graciano Da Silva and Palonsky (five points apiece) they extended the game into the tie-break.
The fifth set is always a battle of nerves and it was also the case in Bełchatów. The hosts took an early lead 5-2, but Tours tied at 12-12. Learning the lesson from the previous sets, coach Slobodan Kovac gave his team precise instructions during time-out that brought a positive result. Robert Taht was a hero of the fifth set as he contributed with four points, including a match point. His solid performance in the entire match was recognized with MVP award, as he also scored match-high 23 points.
"It was a semifinal of the CEV Cup so it was important for us to win for our crowd here in Bełchatów. It was a good game between two amazing teams. Tours VB won against Modena which is one of the best teams in the world. They are also first in the French Championship so we can expect more difficult match in France. I hope we will be even more prepared for the second game."
Aleksandar Atanasijević
opposite of PGE Skra Bełchatów
"It was very tough game but we realize that it is always hard to play in Bełchatów. It is great atmosphere there. 2:3 is not the worst result because we still have chances to go. We made too many mistakes in receptions today so we have to look some videos, analize that game and be prepared for the second game. I played in Poland and it is always good to be back and feel that atmosphere."
Luke Perry
libero of Tours VS
Vero Volley MONZA vs Zenit KAZAN 1-3 (14-25, 20-25, 25-19, 19-25)
The second semifinal duel was held at Arena Di Monza. The hosts from Vero Volley Monza had a difficult task as they faced Zenit Kazan. The visiting side totally dominated on the court in the opener, and the home side couldn't find a way to stop powerful rivals. Thanks to really good reception, Micah Christenson could set the ball to any of his teammates, what he actually did, leading a well-balanced game that resulted in a 25-14 set win.
The team under guidance of coach Massimo Ecchieli started to visibly improve their game in the second set. The hosts led by Gyorgy Grozer (5 points) took courage, but even if they didn't let the opponents run away for a few-point lead it was still not enough. Especially, that the second set was a brilliant performance by Dmitrii Volkov, who scored as many as seven points (86% of success in attack).
The hosts, sparked by their fans present at the venue, were motivated to prolong the game and it resulted by a fierce head-to-head race at the beginning of the third set. From 8-8 with Milan Katic on serve and Grozer successfully spiking, the Italian team took an 11-8 lead. The Russian side tried to fight back, but Vero Volley were quickly re-building their advantage. Leading 22-17 in the decisive part, they closed the set with Gianluca Galassi's spike.
The Italian side managed to jump to a two-point lead at 7-5. But the players from Zenit Kazan were highly-motivated to leave Italy with three points. They erased the gap and regained control on the court. From 13-12, they scored six in a row improving their advantage to 19-13 and never looked back. Dmitrii Volkov topped the scorers' chart with 19 points and was named MVP of the game. Monza's leader Gyorgy Grozer had 18 points to his name.
"We approached the match in a solid and decisive way. Monza is a well organized team, which when it lights up can hurt both on the serve and on the block. We will also have to push in the second leg, starting from our serve, to impose our rhythm and go the final".
Micah Christenson
setter of Zenit Kazan
"For us it is a bittersweet evening and with a bit of regret. A few thought that we could win against Kazan and we - even if we failed to do so - kept them fighting for every ball until the end. In their home it will still be difficult, but until the last ball falls we will be there to give our best to achieve our dream about reaching the final."
Gianluca Galassi
middle blocker of Vero Volley Monza