Features
2022 Beach Outlook: Norway, Czech Republic & France
The years immediately after the ones in which the Olympics are played are typically the stage for massive changes in beach volleyball. From players retiring and new teams being formed to tournaments being revamped, 2022 won't be an exception and will have all of it.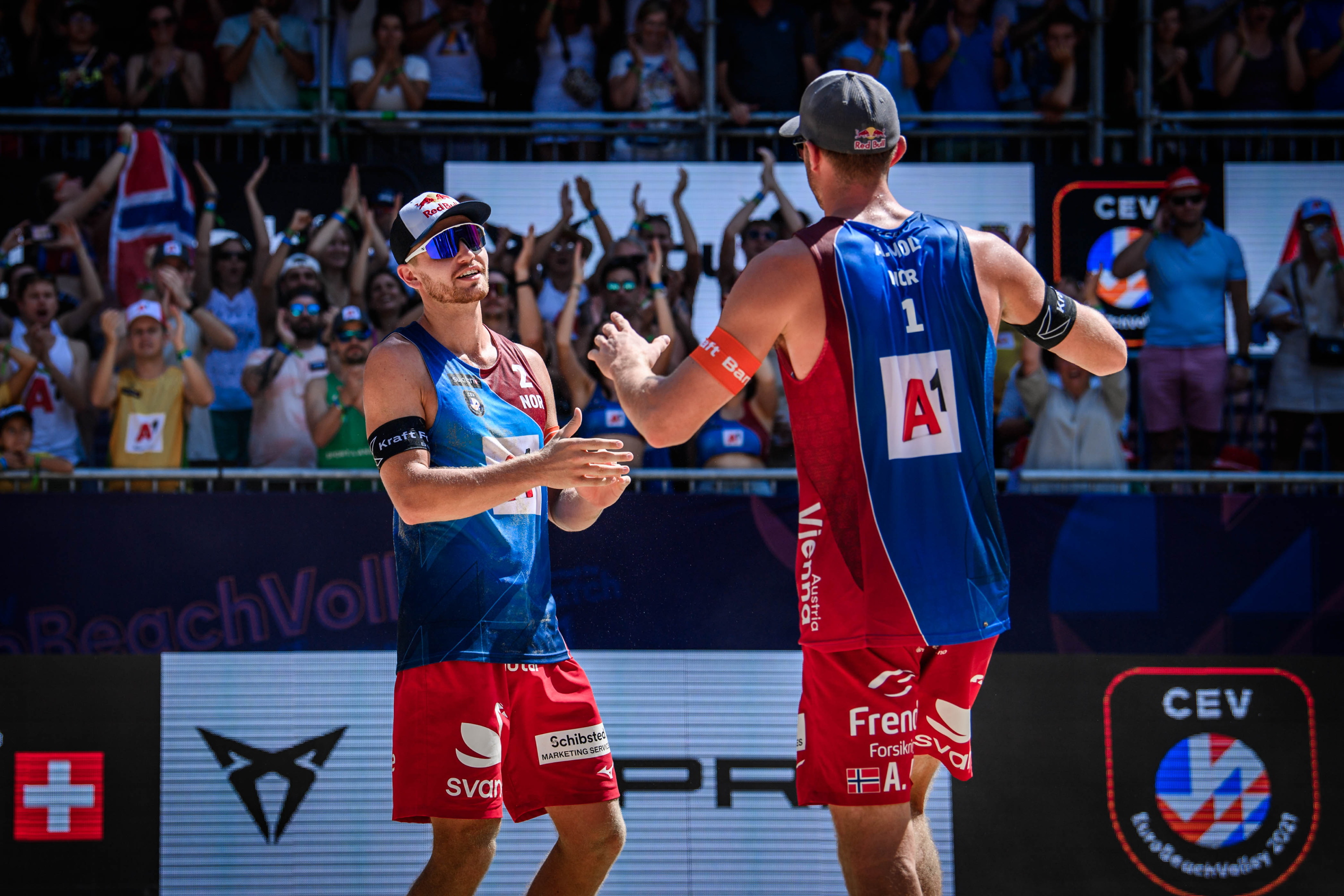 The Beach Volley Vikings Mol and Sørum will come for more in 2022
The exceptionally long five-year period between the Rio 2016 and the Tokyo 2021 Games has kept teams around the world together for longer than ever before, but now with Paris 2024 just three years away, several moves have been made over the last couple of months. The international season has started in March with the new Volleyball World Beach Pro Tour and several European teams already in action after intense training camps, a handful of them in Tenerife, the 'Island of Eternal Spring'.
If you couldn't keep track of all the moving pieces, here's where you'll get up-to-date on them. Norway, Czech Republic and France are the three countries we're going to present in today's article.
Norway
If there's a team we always knew for sure it would remain together in 2022, it's Anders Mol/Christian Sørum. The Beach Volley Vikings have won the Olympic gold in Tokyo, their fourth-straight title EuroBeachVolley title and the World Tour Finals in 2021 and seem poised to have several more years of domination ahead of them under the solid leadership of coach Kare Mol, the winner of the CEV Beach Volleyball Coach of the Year award in 2019 and 2021.
Anything in Norway besides them could be up for a change, though. After forming the country's second-best team over the last few years, cousins Hendrik Mol and Mathias Berntsen will be tested alongside younger players and could have a handful of different partners during 2022. Among the up-and-coming options are Anders and Hendrik's younger brother Markus, Nils Ringoen, Jo Gladsoy Sunde and 30-year-old Sven Solhaug.
On the women's side, changes in the team's top two teams have already been confirmed with the retirements of Ingrid Lunde, who's expecting twins, and Ane Tveit Hjortland. Their former partners, Emilie Olimstad and Sunniva Helland-Hansen will team up to become the top Norwegian duo to compete internationally in 2022. Veteran Oda Ulveseth and youngsters Birgitte Maaseide, the daughter of the great Bjorn Maaseide, and Frida Berntsen are some of the options to compose the country's second team.
Young Player/Team to Watch: Born in a family with a strong volleyball tradition, Markus Mol could be the next great Norwegian player. He's been praised by his famous brother Anders and showed great potential by taking silver at last year's CEV U20 European Championship. A lefty, he could have even better opportunities than his older brothers had as Norwegian beach volleyball continues to develop.
Czech Republic
Czech Republic, on the other hand, will start the 2022 season without its most accomplished player in the last decade as Marketa Slukova has announced she was stepping away from the sport after the Tokyo Olympics and is now pregnant. The originally temporary union between her former partner Barbora Hermannová and Marie-Sara Stochlová has now become permanent and represents the country's best chance of competing for medals on the women's side, especially after Michala Kvapilova has also put her career on hold.
Among the men, the Czechs will have their top team intact as Ondrej Perusic and David Schweiner, who obtained some of the country's best-ever results over the last couple of years, remain solid as partners. The picture is not very clear regarding the country's second team, which leaves the door open for younger players like Tomas Semerad, Jakub Sepka, Lukas Kittel and Matyas Dzavoronok to make a leap and take advantage of the opportunity.
Young Player/Team to Watch: The opportunity of playing with an accomplished player as Hermannová appeared and Stochlová jumped at it. The 22-year-old enjoyed some success with Martina Williams as a blocker and even if the move to defense can be tough, she has shown interesting skills, such as her fighting spirit and outgoing personality.
France
The next few years will arguably be the most important for French beach volleyball with the country set to host the Paris 2024 Games and the nation's Federation has done a good job in giving experience to their most promising teams. Alexia Richard and Lezana Placette have been competing together since 2018 and have, at moments, challenged some of the best teams in the world. A recent change happened in the country's second team with Alexandra Jupiter going back to playing indoors and leaving partner Aline Chamereau with Clemence Vieira.
The most successful French men's team of the last few years has also split as Quincy Aye has dropped Arnaud Gauthier-Rat to join forces with younger brother Calvin. Gauthier-Rat and Youssef Krou are now together and should quickly become another competitive team.
Young Player/Team to Watch: They might still be a couple of years away from being ready to compete with the best in the world, but Téo Rotar and Arthur Canet's victory at last year's FIVB U19 Beach Volleyball World Championship has created some hype about the youngsters. Without a lot of pressure on their shoulders because of their young age, they could surprise anyone on a given night.
2022 Beach Outlook