Features
France crowned the Olympic champions at Tokyo 2020!
After intensive two weeks at the majestic Ariake Arena, on Saturday two extremely thrilling five-setters determined the medallists of the men's tournament at Tokyo 2020. In the all-European gold medal match France beat ROC to become the newly crowned Olympic champion, claiming their first ever Olympic medal. Tokyo 2020 was only the fifth appearance at the most prestigious sports competition in the world and 33 years after their debut at Soul 1988 they can celebrate the greatest success in their history. It's been a long journey for France, also during the Tokyo 2020 tournament, as Laurent Tillie's squad was on the edge of elimination in the pool phase to eventually become the champions. French leader Earvin Ngapeth was named the MVP of the Olympic tournament. ROC earned silver, returning to the Olympic podium after missing it at Rio 2016. Earlier, on Saturday, Argentina beat Brazil in the bronze medal match, winning their first medal since 1988, when they also claimed bronze.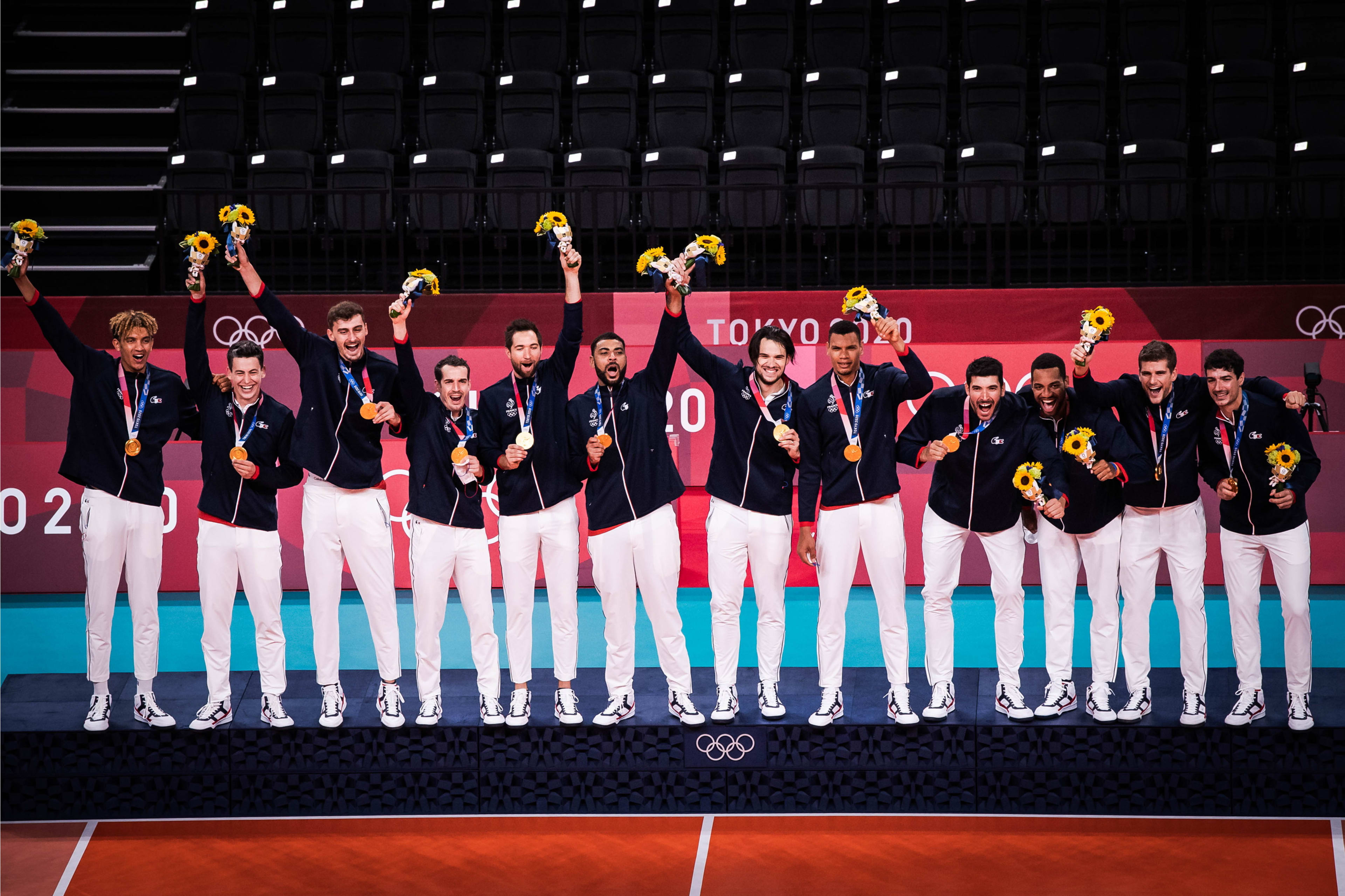 Team France - the 2020 Olympic champions! At Paris 2024 they will have a chance to defend the title on home soil (Photo by Volleyball World)
France vs ROC 3-2 (25-23, 25-17, 21-25, 21-25, 15-12)
The epic gold medal match was full of surprising twists. ROC, the Olympic final routinist, opened the match better, being two-three points ahead during the entire set, but in the decisive part France, headed by Earvin Ngapeth, showed their strength not only levelling the score, but also winning the opener. In the second set they kept the momentum. Earvin Ngapeth played out of this world in the first two and half sets, receiving most of the balls from Antoine Brizard. Coach Tuomas Sammelvuo made a few important changes, he decided to put Igor Kobzar on the bench and gave playmaking duty to Pavel Pankov and it was a right move which started to bear fruit in the third set. Even if France stormed to a 12-9, ROC tied at 15-15 starting a passionate point-by-point battle. Great plays from Yaroslav Podlesnykh made the difference. In the fourth part ROC handled the pressure better with Egor Kliuka and Maxim Mikhaylov as main powerguns and it was tie-break to decide on the title. ROC started it confidently with 3-0 lead, but scoring four points in a row France jumped to 7-6. A point-by-point race was ended by an ace from Jean Patry which gave France three-point advantage at 12-9, ROC tried to battle back, but in the first match point for France Maxim Mikhaylov's attack went out and the French celebration had started. The biggest difference in the stats was on service, as France served as many as nine aces (4 came from Brizard, 3 from Ngapeth and 2 from Patry), once ROC only one. Earvin Ngapeth topped the scorers chart with 26 points (21 kills, 2 blocks and 3 aces), once Jean Patry contributed 15 towards French victory. On the ROC side Mikhaylov tallied 21 and Kliuka 20.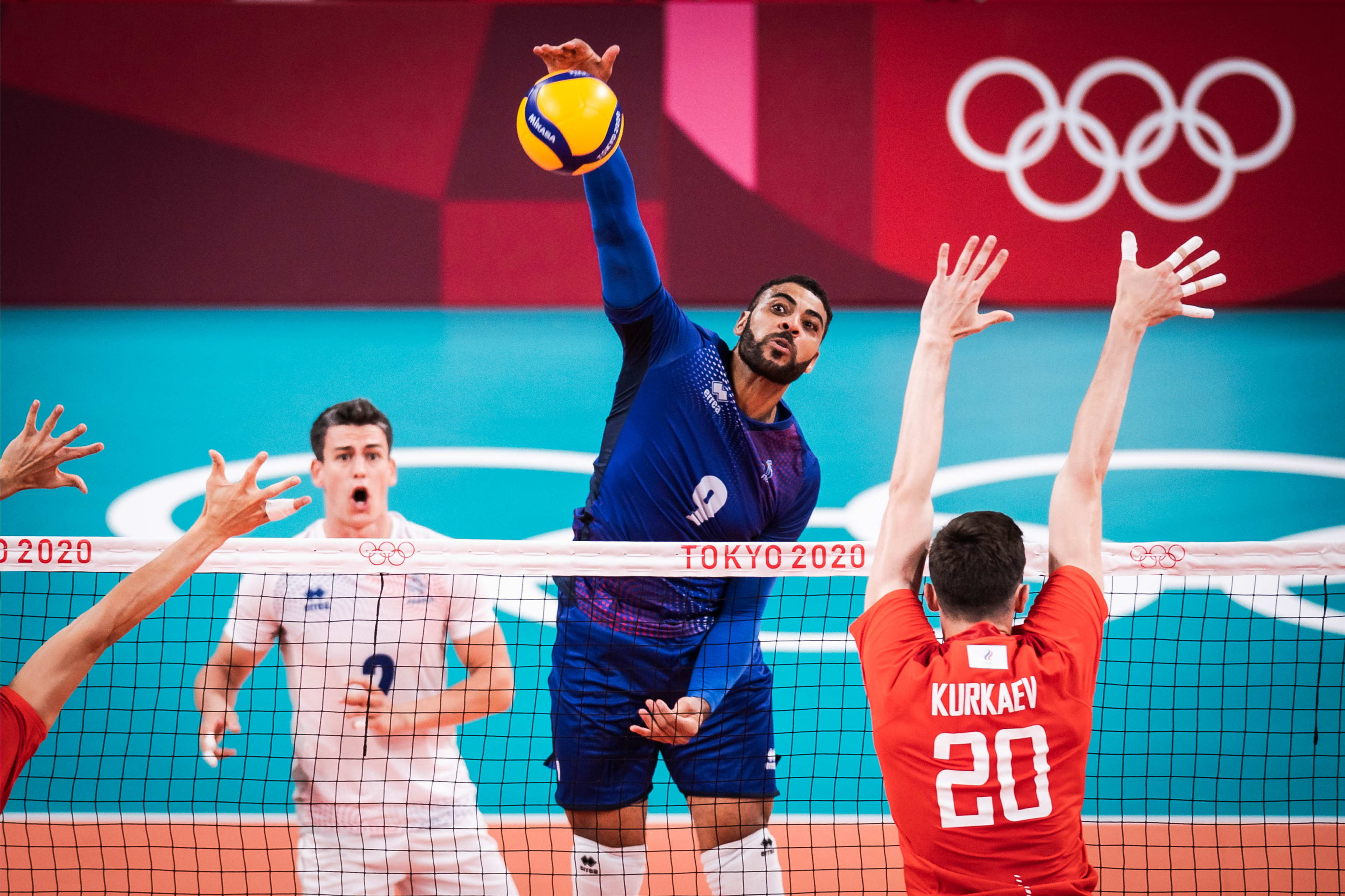 The men's final between France and ROC at Tokyo 2020 was the first all-European gold medal match since Sydney 2000 (Photo By Volleyball World)
"It's incredible. We are champions, Olympic champions."
Kevin TILLIE
outside hitter of France
The gold medal of the Olympic Games is definitely the best possible farewell for coach Laurent Tillie, who himself represented France as a player in the Olympic debut at Seoul 1988 and now in his last tournament at the helm of the French coach his team earned historic gold, which is their first ever Olympic medal.
"It's an extraordinary feeling. Every athlete dreams of becoming an Olympic champion. Every coach dreams of becoming an Olympic champion. This is a moment of magic. It's a dream come true, and I think everybody agrees with me that it's a fairy tale. It's been a fairy tale since the beginning. It was important to be together with these players. They have given me so much. I leave with a happy and full heart. They have a long way ahead of them with many more titles to come."
Laurent Tillie
head coach of France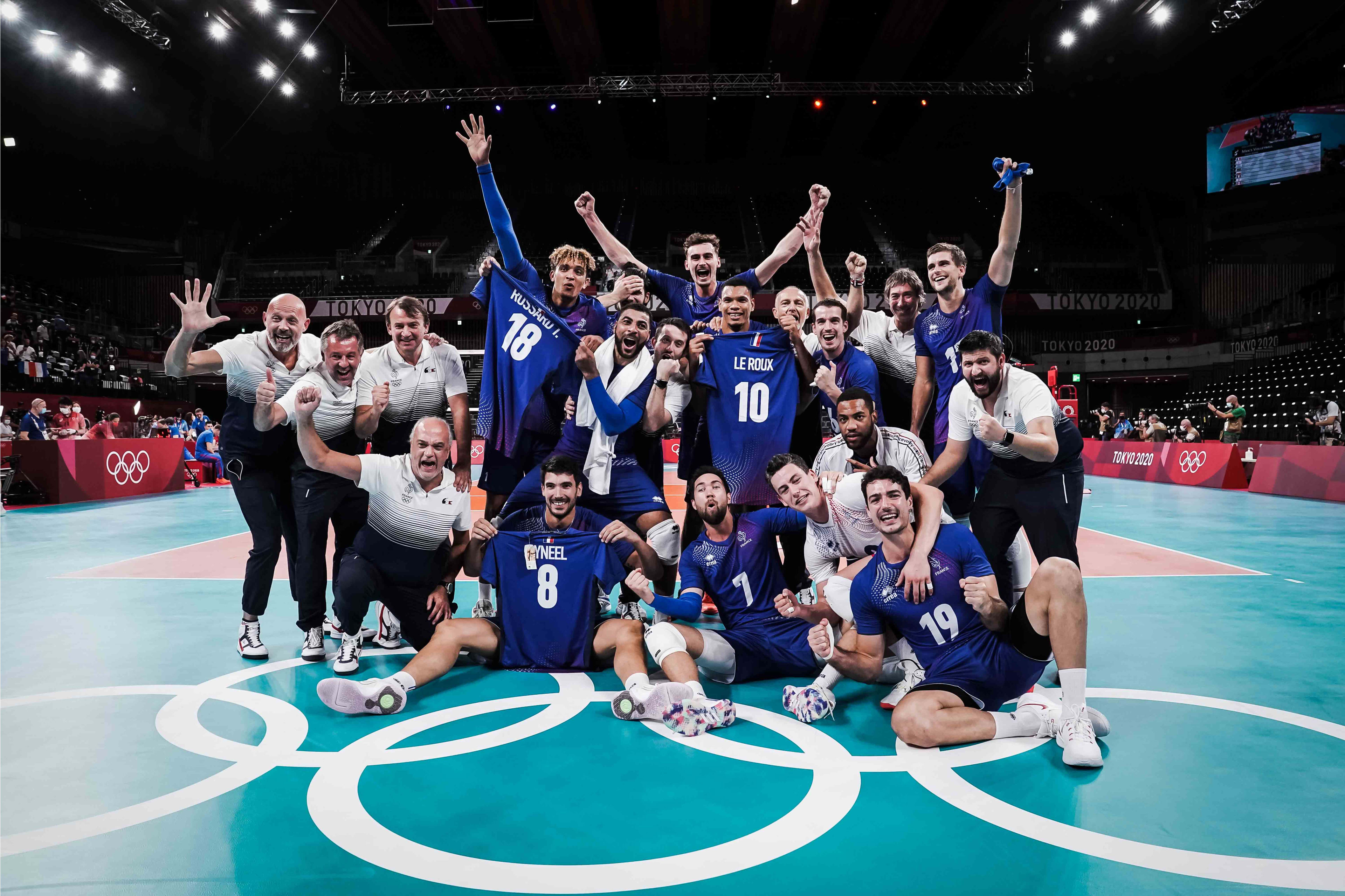 Gold from Tokyo 2020 is not only the first Olympic medal for France, but also their greatest achievement in history (Photo by Volleyball World)
"It's incredible. It was 2-0 and then the Russian team played very well and made it very difficult for us because they spiked very hard. We are very happy to win the tie-break — this is crazy, it's unbelievable."
Jenia GREBENNIKOV
libero of France
ROC returned on the Olympic podium after missing it at Rio 2016 (Photo by Volleyball World)
"I don't have the feeling of emptiness. We have lots of emotions, apparently. I have a feeling of completion. We didn't win, but I still feel that we have finished something. Everyone understood this was a very spectacular game. It was a game worth of the finals. And I'm sure that everyone who was watching agrees with this."
Igor KOBZAR
team captain and setter of ROC
Men's Dream Team at Tokyo 2020:
MVP: Earvin Ngapeth (FRA)
Outside hitters: Earvin Ngapeth (FRA), Egor Kliuka (ROC)
Setter: Luciano De Cecco (ARG)
Middle blockers: Barthelemy Chinenyeze (FRA), Ivan Iakovlev (ROC)
Libero: Jenia Grebennikov (FRA)
Opposite: Maxim Mikhaylov (ROC)