Snow Volleyball
Italy crown first three-a-side Snow Volleyball national champions
Teams Arcaini/Dalmazzo/Breidenbach and Hanni/Burgmann/Seeber/Grober have claimed the very first Italian Snow Volleyball national championship titles since the introduction of the three-a-side rule. All of the participating teams – 16 in the men's tournament and six in the women's competition – showed much enthusiasm for the event run for the first time by the Italian Volleyball Federation (FIPAV) in close cooperation with Snow Volley Italia. The successful delivery of this championship bodes well for the further development of Snow Volleyball in Italy.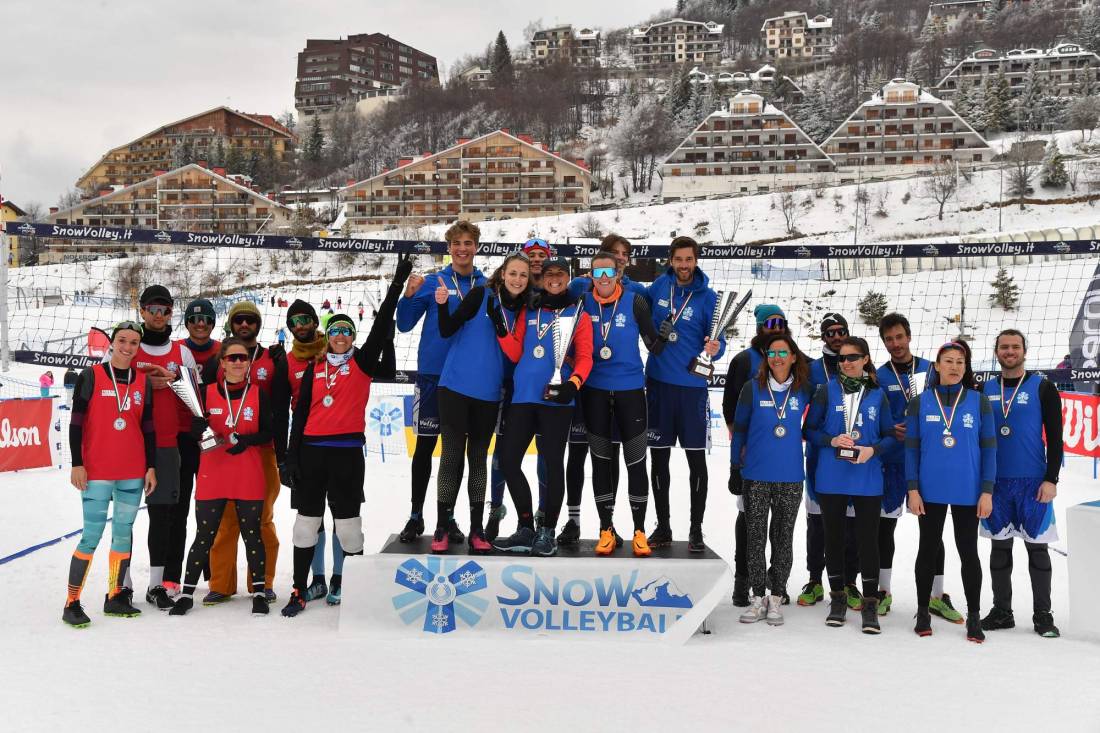 The newly-crowned Italian champions standing on top of the podium in Prato Nevoso
Hanni/Burgmann/Seeber/Grober, all from South Tyrol, an area that has traditionally accounted for most of Italy's success in winter sports, emerged as the eventual winners of a close men's final match (21-19, 15-12) against Pizzileo T./Pizzileo E./Pizzileo F./Carucci.
Despite his young age, Theo Hanni has already achieved success in Beach Volleyball – as he is the reigning U20 Italian national champion and last year he claimed a bronze medal from the European Championship in the same age category held in Izmir, Turkey – doing so together with Filippo Fusco.
Breidenbach, Dalmazzo and Arcaini played two very close sets to claim the women's final (18-16, 16-14) against Priore, Michelon, Tagliapietra. The first set was hard fought, as neither of the two teams could break away. In the end, some errors by Priore, Michelon, and Tagliapietra allowed the opponents to close the set in their favour. In the second set, Breidenbach and her teammates managed to claim an early advantage and were able to hold on to it to secure a historic triumph.