Snow Volleyball
Teams Dynamo Tatarstan and Olympic claim Russian Snow Volleyball titles
Kemerovo, Russia, April 5, 2021. Teams Dynamo Tatarstan from Kazan and Olympic from the city of Mytishchi claimed on Saturday the men's and women's crowns at the 2021 edition of the Russian Snow Volleyball national championships. The event took place at the Sheregesh ski resort in the Kemerovo Region.  
The players representing Dynamo Tatarstan – Kirill Ivanov, Adel Kayumov, Victor Markov and Vitaliy Shabalin – secured their second triumph in as many domestic competitions as they had previously finished on top of the charts at another national event held in Novosibirsk in late March. Three of their players – Kayumov, Markov and Shabalin – have a wealth of experience and a truly impressive resume from European and World Tour competitions as well.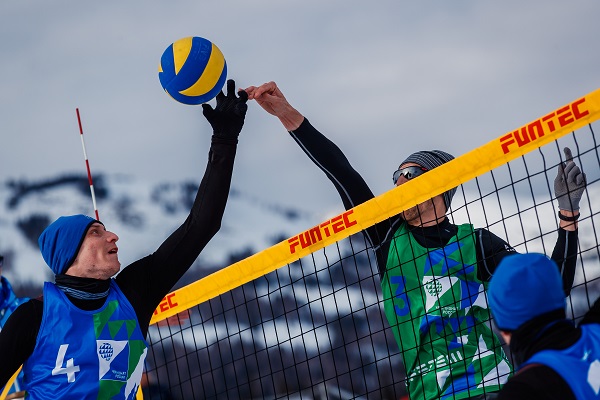 Team FRPV-COP (Petr Bakhnar, Nikita Kuzmin and Daniil Shapkin) finished second, as Team Komus (Ruslan Daianov, Vsevolod Bobrikov, Yury Bogatov and Vladislav Mikhalev) ended the competition in third place.
Team Olympic claimed the women's title, with the quartet from the Moscow Region comprising of Anna Romashova, Elizaveta Terentieva, Olga Filina and Polina Tsyganova. Team Peppers (Elena Babaeva, Natalia Dorokhova, Yulia Kovaleva, and Yulia Mandzhieva) were the recipients of the silver medals, with Titans Volleyball, winners of the previous event held in Novosibirsk, settling for third place this time with a roster including Angelika Alpatova, Alina Reva, Marina Chernysheva and Anna Chupina.