Volleyball
Czech captain Kossányiová reflects on EuroVolley qualifiers and upcoming World Champs
The day after securing they would make the journey to CEV EuroVolley 2023 following their victory over Finland, the members of the Czech women's national team had an official photo and short spots shooting, with a focus on the upcoming FIVB World Championships. The Czech Volleyball players are having a hot summer. Not only when it comes to the weather, but in terms of their busy schedule as well. "True, we did not enjoy the summer very much. We have been in Tábor for almost two months. The CEV EuroVolley 2023 Qualifiers are almost over, but the FIVB World Championships will be such a cherry on the cake for us," says team captain Andrea Kossányiová.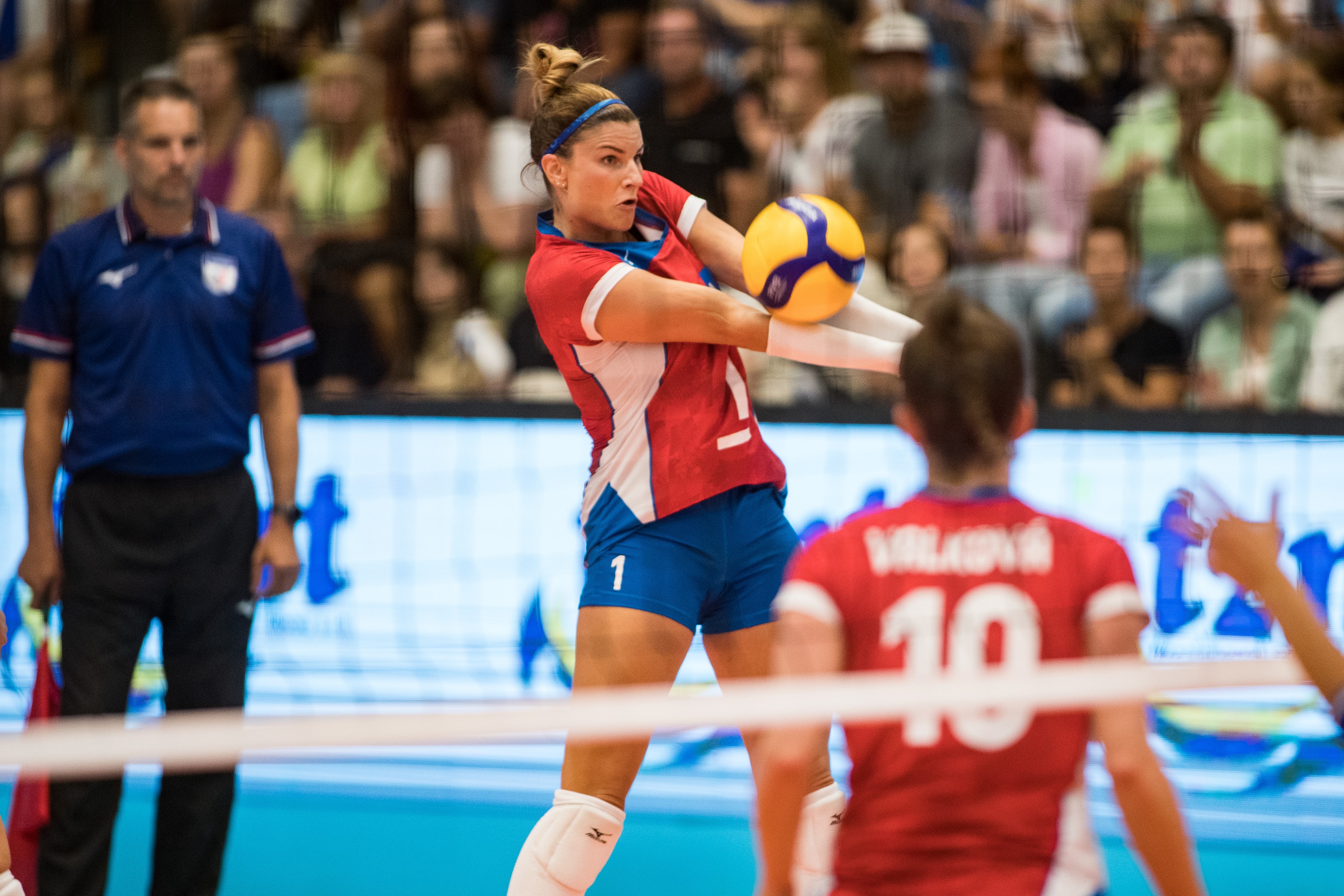 Andrea Kossányiová has helped the Czech team claim five straight wins in the CEV EuroVolley 2023 Qualifiers
She finished Wednesday's duel against Finland with a successful smash in front of a sold-out Tábor Arena. On Sunday, the Czechs will complete their duties in Iceland with a clear task - to claim a sixth victory in a row and top spot in their pool without a single setback. After that, they will start preparing for their departure to Arnhem, the venue of the FIVB World Championships. The team will start the competition by playing Brazil on September 24.
Honestly, do you feel you would rather take a break from Volleyball for a while?
Volleyball is what we love. A hobby and a job all rolled into one. It is still an enjoyable activity, better than going somewhere for a six to six shift, if not more. We do what we enjoy. I take it for what it is, and that is just the life of an athlete.
When things are going well, everything is easier. You have won all five games in the CEV EuroVolley 2023 Qualifiers so far. Is the team in ideal shape?
We started at home against Iceland. It was a bit nerve-wracking, but we had an easier opponent to start with, and we were able to try out what we needed. We got into it, started the euphoria, which showed in the games against Finland and Montenegro. If we can play our Volleyball, there is not much to talk about and I hope we can continue to do that. We leave for Iceland on Saturday, and I hope it will go well there too. I believe that we will extend our winning streak and go to the World Champs in good shape.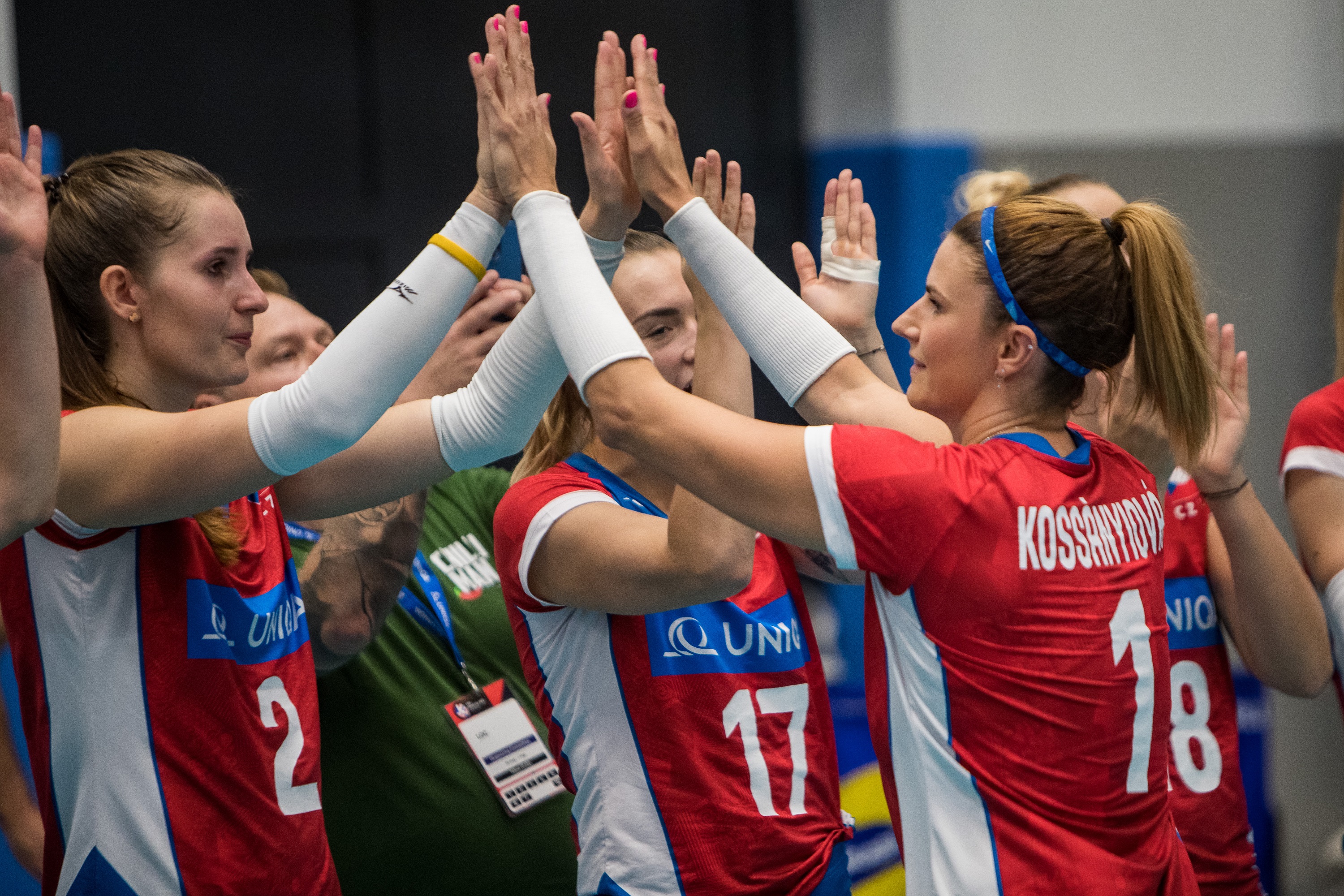 Shortly after the EuroVolley Qualifiers, Andrea Kossányiová and her teammates will compete at the FIVB World Championships in the Netherlands
You had already secured your qualification after four rounds by winning in Montenegro. Was it a problem to keep the motivation for the next match at home against Finland?
Not really. In the team, each of us is aware that we want to win the group sovereignly. Even our coach is leading us to do that. Every match we go all out, every point counts for the world ranking. This is also important for us. We are motivated all the time, from the coach, from each other. We are on the same page and we want to win.
In Tábor, you could also rely on an excellent atmosphere. For the match against Finland, the fans of the opponent, who had come to Prague for the FIBA EuroBasket, joined as well.
The arena is full for every game. It is not that big, but it fills up well. Now the Finnish fans from EuroBasket came, and it was very nice. It added an extra touch to the atmosphere. We have been preparing here for a long time, we feel at home in the hall and in the city.
Do you sometimes go out for ice cream at the famous café by the square?
Yeah, sure. I do not want to advertise, but they are extremely good. We walk from the hotel, where we stay, to the sports arena, and when we have time, we make it more pleasant with coffee and ice cream. Tábor is nice, no big city, we have known it for a long time, and we have excellent conditions here.
At the end of the national team season Kossányiová is due to move to Romania to join CS Volei Alba BLAJ
From here, you will travel to the FIVB World Championships. Are you already thinking about it?
I still want to finish the CEV EuroVolley 2023 Qualifiers so that we complete our journey without any defeat. However, of course, I already have the World Champs in my head. It is going to be quite an experience, the biggest Volleyball superpowers are coming, and we are going to meet the best players in the world. We are looking forward to it and it is the cherry on the top of this summer. Actually, qualifying for EuroVolley is a preparation for the FIVB World Championships.
The Czech women will participate in the event after twelve long years. You were already close to make the trip to Japan in 2010, were not you?
I was very young. Mr Šiller was coaching the national team, I was on the roster, trained with the girls, but I eventually did not go to Japan. So now, it is going to be a big debut for me. Just like for the other girls on the team, no one remembers Japan.
For years, you played in Poland, which co-hosts the World Championship with the Netherlands. Do you regret that the Drawing of Lots sent the Czech team to Arnhem in the Netherlands and not to Gdansk or Lodz?
I am sorry, and I admit it. I know Poland, I know the language, and I know how many fans are there for Volleyball matches. The arenas are full, and the atmosphere is great. We could have experienced it. I am not saying there will not be anything like that in the Netherlands, but it will not be as intense for me as in Poland. I regret it, but I could not influence this.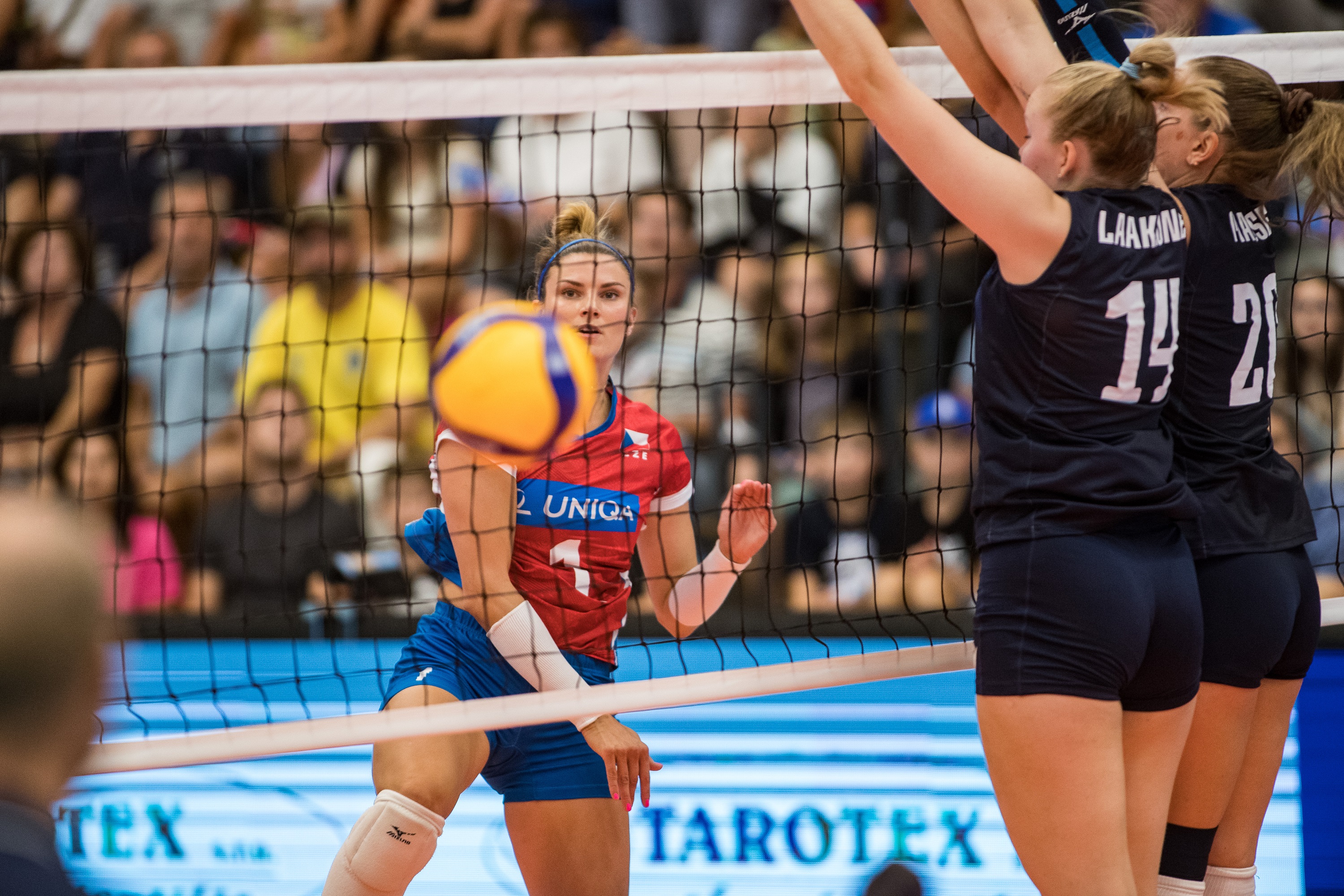 Kossányiová is enjoying a busy, yet very successful summer with the Czech national team
Are you staying in Poland for the next season?
I am not. I could have, I had offers, but I decided to move on. Maybe to get out of my comfort zone. Therefore, I am moving.
Where to?
To Romania and more specifically to CS Volei Alba BLAJ. They will play in the CEV Champions League. I tried that years ago, but I have not played it for a long time and it is very tempting. It is a new challenge. I already felt a bit at home in Poland, but now I am going to try something different for a year. What is next, I do not know yet. In sports, you do not know what is going to happen in two months, let alone a year.
What challenges do you give yourself in relation to the national team? The Olympics, a dream goal?
Yeah, but we have to be realistic. It is harder for us in indoor Volleyball. Our sport in the Czech Republic has definitely picked up, but we are not yet far enough to compare ourselves with China, Brazil and other superpowers. I am not saying it is impossible, but it is still a long way off.
Since 2019, Greek coach Ioannis Athanasopoulos has been leading the Czech national team. Is English still the official language in the group?
English rules and he will occasionally shout in his own language, Greek. We understand that too, we know some words. However, English rules.
Are you training well under his leadership?
Personally, I like it! He is a very communicative and sociable person. I think he can bring out the best in us. As a human being and as a coach, he is very nice and the results show that it is the right way to go.